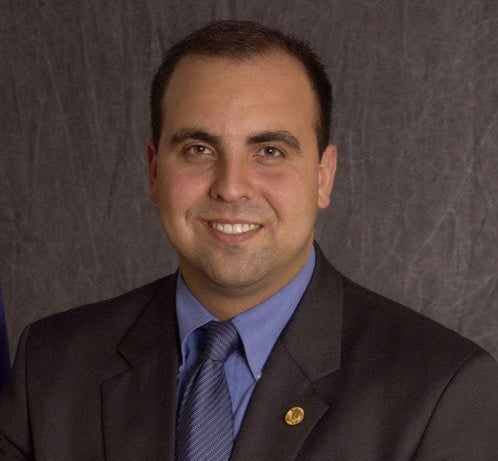 A Texas state representative says he's lucky to be alive after he was hit in the head by a stray bullet in the early hours of New Year's Day.
Armando "Mando" Martinez (D-Weslaco) was with his wife and children early Sunday outside of his home, which is just north of the Mexican border, when he told The Monitor that the sound of celebratory gunfire prompted them to seek shelter in a garage.
After the shooting stopped, he said they went back outside to watch some fireworks. It was then that he felt something hit him in the back of his head.
"It felt like a sledgehammer hit me over the head," he told CBS 4 News from a hospital.
Martinez said he and his wife didn't immediately realize he'd been hit by a bullet.
"I grabbed [my head] and she said, 'What's wrong?' I said, 'I was hit by something,'" he recalled to The Monitor.
He was taken to a hospital, where surgeons found and removed a bullet from his skull after a 45-minute procedure.
"Before, the [Rio Grande] Valley wasn't as populated as it is now, and growing up you used to hear gunshots many times," he told The Monitor, referring to celebratory gunfire. "But you can't do that now because somebody's going to end up getting hurt. Unfortunately, last night it was me who got hurt."
Celebratory gunfire, or any other type of reckless gunfire within a city's limits, is a misdemeanor offense in Texas.
A man in Houston was also struck by a bullet just after midnight Sunday. The bullet, which is believed to have fallen from the sky, narrowly missed his heart, the victim's friend told ABC 13 News.
According to a post on the Dallas Police Department's Facebook page, a bullet fired into the sky can travel up to 2 miles in the air before falling back to the ground at a speed of 300 to 700 feet per second.
"Stray bullets kill dozens of people annually," it warned.
A request for comment from the Hidalgo Sheriff's Office, which is now investigating Martinez's shooting, was not immediately returned Monday.
Calling all HuffPost superfans!
Sign up for membership to become a founding member and help shape HuffPost's next chapter
BEFORE YOU GO