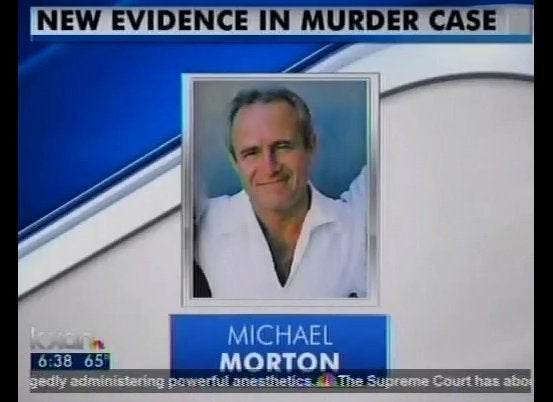 GEORGETOWN, Texas (AP/Huffington Post); Texas prosecutors agreed Monday to release an Austin man sentenced to life in prison in the 1986 beating death of his wife in 1986 after new DNA tests showed another man was likely responsible.
Michael Morton's case will likely raise more questions about Williamson County District Attorney John Bradley, a Gov. Rick Perry appointee whose tenure on the Texas Forensic Science Commission has been controversial. Bradley has been critical of the commission's investigation of the Cameron Todd Willingham case. Willingham was executed in 2004 after being convicted of arson in the deaths of his three children, but experts have concluded the forensic science in the case was faulty.
The Innocence Project, a New York-based organization that specializes in using DNA testing to overturn wrongful convictions, has accused Bradley of suppressing evidence that would have helped clear Morton.
Morton was convicted on circumstantial evidence and sentenced to life in prison for his wife's August 1986 beating death. But new DNA tests done on a bandana found near Morton's home found blood from his wife and a California felon.
Authorities are now investigating whether that man was responsible for at least one other Austin slaying, that of Debra Jan Baker, who was bludgeoned to death in her bed in 1988. In fact, cold case investigators say they now believe the man may have been a serial killer who operated in the area in the 1980s.
A judge has said he would set terms for Morton's release, which is expected Tuesday or Wednesday.
District Judge Sid Harle said it was up to a court of appeals to make a final determination on overturning Morton's conviction.
Prosecutors claimed Morton became enraged and bludgeoned his wife, Christine Morton, when she wouldn't have sex with him following a dinner to celebrate his 32nd birthday.
Morton maintained his innocence, contending the crime was committed by an intruder.
The Innocence Project has claimed in court documents that Bradley, who has been the county's DA since 2001, suppressed evidence that strengthened Morton's case during the DNA proceedings. That evidence - a transcript of a police interview indicating that Morton's 3-year-old son said the attacker was not his father - was ultimately obtained by the Innocence Project through a request under the Texas Public Information Act.
Perry, the leading candidate for the Republican presidential nomination, appointed Bradley to the forensic commission in 2009. The Texas Senate refused to confirm him as head of the commission after he told reporters Willingham was a "guilty monster."
Bradley later succeeded in getting an attorney general's ruling limiting the scope of the inquiry. The science commission is due to release a report Oct. 14, but it will only offer guidance on investigating arson cases, not a ruling on the evidence in the Willingham case.
That case could become an election issue for Perry because a report indicating that the science in the Willingham case was faulty was submitted to his office as part of the appeals Willingham's lawyers filed before his execution.
Calling all HuffPost superfans!
Sign up for membership to become a founding member and help shape HuffPost's next chapter