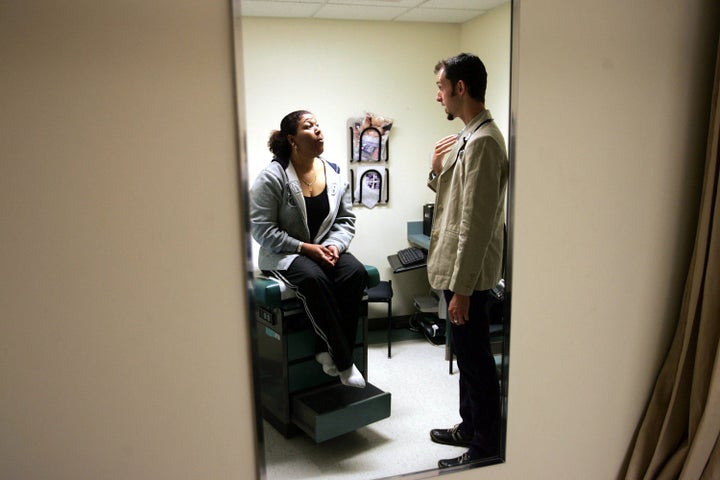 Following a national trend in which legislators force broad women's health issues onto the battleground of anti-abortion politics, the Texas state Senate has put the future of the state's Medicaid Women's Health Program (WHP) in limbo.

If the legislation that established the WHP is not renewed by December, the five-year-old program -- which provides approximately 90,000 uninsured women who earn under $1,679 a month with family planning education; contraceptive care; and screenings for sexually transmitted infections (STIs), cancer, anemia and hypertension and often serves as their only source of primary health care -- will expire.

A program that has previously been considered uncontroversial across the ideological spectrum is now mired in anti-abortion politics as the result of new provisions in its renewal bill. Passed in a 5-1 committee vote, the provisions of the pending bill would bar affiliates of abortion providers, namely Planned Parenthood, from continuing to receive funding for the program. State Sen. Bob Deuell (R-Greenville) also added what women's-health advocates are calling a "poison pill" that will automatically defund the entire program if Planned Parenthood successfully sues to rejoin.

When the WHP was created in 2005, Deuell attached an amendment that banned abortion providers and their affiliates from participating, even when the affiliates themselves did not provide abortions. None of the Texas Planned Parenthood facilities that were to be excluded actually provide abortions. Lawyers at Health and Human Services (HHS) however, asserted that this ban could be ruled unconstitutional, and consequently Planned Parenthood was allowed to participate after all. (Attorney General Greg Abbott has disagreed with the HHS' public statements, saying that the ban is constitutional.) But the effort to exclude Planned Parenthood has not died, and this explains the new poison-pill provision, which some have called the "self destruct button."

"I am dumbfounded that a program that actually saves state money and brings health care to women has become a political thing," said Kelly Hart, director of Public Affairs for Planned Parenthood of North Texas.

Hart explained that, unlike most nonprofit-organization policy proposals that project only long-term monetary benefits, WHP provides almost immediate savings. Costing less than $3 million to administer, the WHP saved Texas over $20 million in 2009 and the Legislative Budget Board estimates $83 million in savings over the next two years. Every dollar Texas spends for the WHP is matched with $9 of federal cash, providing contraceptives for women who would qualify for Medicaid once pregnant. The Health and Human Services Commission predicted 9,101 pregnancies for 2008, while only 3,375 pregnancies actually occurred.

"I realize they are calling this the nuclear option," Deuell told The Huffington Post. "I'm torn, I want the program to continue … but given the environment in the House in Texas, the pro-life people said it would never pass and be renewed unless a clause guaranteed [that affiliates of abortion providers couldn't get funding.]"

Senator Jose Rodriguez (D-El Paso), the lone dissenting vote in committee, "doesn't buy" Deuell's explanation for the provision and believes this to be a political attack on Planned Parenthood.

"It seems like bad policy, the argument was that this is the only way we can pass this program," Rodriguez said. "If everybody acknowledges and … agrees that this program has been successful and that the need is there, why would we pass a bill that calls for its destruction?"

"Taxpayers will be protected from indirectly funding Planned Parenthood's abortions," said Joe Pojman, executive director of the Texas Alliance for Life, which influences state legislators.

The poison pill essentially forces Planned Parenthood into a game of chicken; according to Ken Lambrecht, CEO of Planned Parenthood North Texas, the organization has no choice but to sue.

"At Planned Parenthood, one of our core values is that we stand up for those who are disenfranchised, those who are underserved … the 42,000 women who rely on us [for the Women's Health Program,]" Lambrecht said. "It is unfortunate that the legislature is playing politics with women's health care."

Pojman believes that even if Planned Parenthood were to sue, they would not win and thus the Women's Health Program would not be in jeopardy.

The question remains as to whether the WHP will be able to operate at capacity without Planned Parenthood, which services 40 percent of the program's participants.

Deuell, a physician, said "I started looking at other programs in the state and we have found other providers. I think that the access is covered so that the women who will be going to these clinics will have access to a different provider."

"There are numerous alternate providers," Pojman said. Noting that most Planned Parenthoods are unable to treat illnesses for which they screen, he added, "Women in Texas deserve much better care than Planned Parenthood is willing or able to provide them."

Those familiar with the mechanics of the WHP, however, question the feasibility of other health centers picking up the 42,000 women who would no longer be treated by Planned Parenthood.

"The coverage will continue, but that may not mean much if you look at the overall picture," said Jose E. Camacho, Executive Director of the Texas Association of Community Health Centers. "Health centers' funding is being leveled, so we can't say in good conscience that [Federally Qualified Health Centers (FQHCs)] have the capacity to take these women in."

FQHCs are serving one million people, 230,000 of childbearing age. The future of health care for close to a quarter million clients is also hazy, Camacho says, considering the House's recent cuts to Title XX, V, and X programs. To add 40,000-plus former Planned Parenthood patients would be a 20 percent increase and "just can't be done over a night or two without funding."

In 2005, Deuell implemented budget Rider 56, which cut $10 million in state family-planning money, allocating it to FQHCs.

According to Fran Hagerty, CEO of the Women's Health and Family Planning Association of Texas, clients provided with health care services dropped by 41,561 the first year following implementation of Deuell's budget Rider 56. Furthermore, due to their limited family planning services, FQHCs were unable to spend all the money allocated to them. Between 2006 and 2010, $18,179,314 of the funds went unspent.

"The diverted funds in 2005 was devastating," Lambrecht said, noting that many of the women who ceased to seek and receive healthcare have not been reintegrated into the system years later.

Pojman and Deuell, however, point to private medical practitioners and family planning centers they believe can pick up the slack. Deuell, himself, is training to become a women's health provider.

Hagerty, however, is suspicious; 78 percent of women in the Medicaid Program use family planning clinics similar to Planned Parenthood, while only 14 percent use private physicians and 7 percent FQHCs.

"Physicians and hospitals don't know it [the WHP] exists," Hagerty said, also noting that while family planning clinics are mandated to participate in the programming in order to maintain state funding, hospitals and doctors do not have that incentive.

"It is a very onerous program to administer, the reporting requirements are huge the billing is complex, you don't get paid for a long time and when you do it isn't enough to cover the cost," Hagerty said.

"I would like to see them make up a list of every health care provider and have them write out how many of these [42,000] women they would take individually," Lambrecht said.

Half of the patients at Women's Center at the University Medical Center of El Paso qualify for the WHP. Those working there have witnessed how state budgeting policies impact the ebb and flow of patients receiving basic health care.

"Oh my God, yes, our number of patients dropped [after the implementation of Deuell's Rider in 2006]," said Carmen Diaz De Leon, director of the center, which also lost employees through defunding. "Patients would call, and they were used to having their annual exam and we would let them know that there would be a charge now since we had half of our funding. A lot of the women stopped coming."
 De Leon noted that patients did not know to come back after the implementation of the Women's Health Program years later.

"Even now we have women who call to make an appointment who haven't had a pap smear since 2006," De Leon said. "The role of women here, especially when they already have a family, is: your kids are first, your household is first, you come after it all. If nothing hurts then everything is ok."

The bill has been placed on the intent calendar in the state Senate; it could be brought to vote as early as today.

Staffers at the state Capitol wonder if the bill will be brought up at all due to a lack of votes. Texas' "2/3 rule" requires 2/3 of members to vote in agreement to bring a subject up for debate. If all 12 Democrats (31 members of the Senate) were to stand together against the bill, it would not move forward. They did not stand in solidarity for the sonogram bill last week, although this bill is less enmeshed in abortion policy.

If the bill is not voted on by May 30 when the Senate's session ends, however, the WHP will not be renewed. The governor would have to call a special session to discuss program renewal.

Women's rights advocates are torn about their stance on the bill. Pro-choice state Rep. Garnet Coleman (D-Houston), has introduced a sister bill in the House, indicating his willingness to eliminate Planned Parenthood's participation to see the health program renewed.

"You cut off legs of the program [Planned Parenthood] or the head," Hagerty said. "Without the head we can't live, but without the legs we can come back… if it's a matter of staying alive, it's a poison pill we have to swallow."

Calling all HuffPost superfans!
Sign up for membership to become a founding member and help shape HuffPost's next chapter