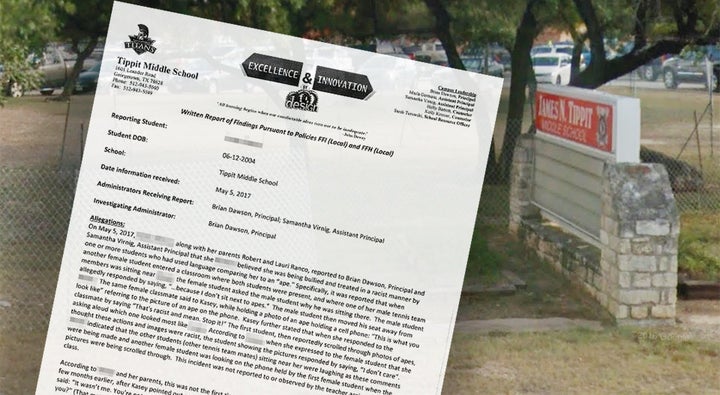 A Texas middle school where white students subjected a 12-year-old African American girl to months of racist insults failed to appropriately discipline the offenders or use the opportunity to teach tolerance, the girl's father said.
The incidents at Tippit Middle School in Georgetown, Texas, which school officials deemed "racially harassing," according to a report obtained by HuffPost, included students calling the girl an "ape" and a "slave" and pretending to whip her.
"It was horrifying that her friends would say and do these terrible things and not think twice about it," Robert Ranco, a civil rights lawyer who is the girl's father, told HuffPost. "We raised our daughter with the understanding that no one deserves to be treated badly by anybody."
The harassment, first reported Saturday by The Austin American-Statesman, began in early March and continued until last month. Ranco said he learned of it in a May 5 text from his daughter.
"It said something to the effect of, 'Hey dad, is it racist when people call a black person an ape?' I asked for some context and she said they'd taken her phone, looked up pictures of apes and said that was what she looked like," Ranco said.
That day, another student in the same class was accused of saying, "I don't sit next to apes," and moved his seat away from the girl.
A report authored by Principal Brian Dawson details two other times the girl was harassed by classmates:
The same female student who made the ape remarks reportedly followed [the girl] around the tennis court with a long piece of trash, pretending to whip [the girl] and saying words to the effect of, "You're my slave now!"

A few months earlier, after [the girl] pointed out a male student as the source of a lunchtime dispute, the boy reportedly said: "It wasn't me. You're not really going to take the word of a black person over the word of a white person, are you?"
Dawson's report says his investigation "determined that [the girl] was a victim of more than one incident of racially harassing conduct from classmates on May 5, 2017, and also in the two incidents in March."
The students involved in the "substantiated misbehavior" were disciplined in accordance with the school's code of conduct, according to Dawson's report. The report doesn't elaborate on the discipline, except to say that school officials "provided additional re-teaching" to the offenders.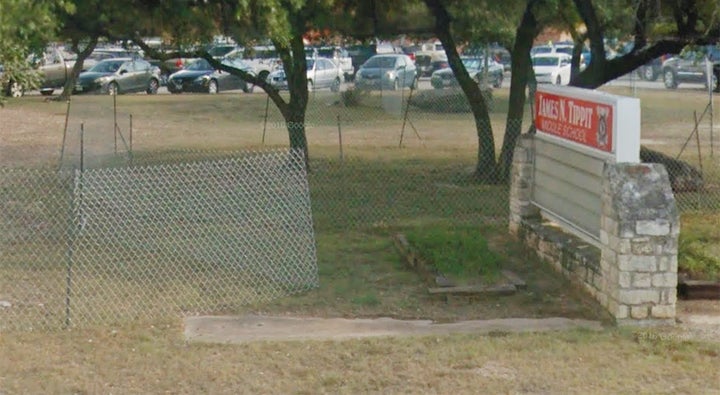 "He said they didn't determine that she had a belief that she was in physical danger, so they did not feel it was bullying," Ranco said.
The father said school administrators also refused to tell him how the students – most of whom are his daughter's teammates on the school tennis team ― were disciplined.
"We're in the dark and probably the most hurtful thing was right afterward, when my daughter had to play next to these girls in a tennis match," Ranco said. "She had to watch them run around laughing, giggling and having fun like nothing they did was wrong."
Suzanne Marchman, the school district director of community engagement and communications, told HuffPost the behavior of the students was inappropriate and unacceptable.
"In addition to other disciplinary measures, [the] students involved were counseled regarding their behavior, were required to complete relevant 'No Place for Hate' lessons, and complete community service," Marchman said in an email.
Ranco said he's not satisfied with that explanation.
"Those are words," he said. "It's hard to know exactly what happened. One thing I know didn't happen was they didn't turn this into a learning opportunity for everyone involved. I can excuse children for being ignorant, but this was a missed opportunity in that we all should've been able to sit down and talk about it."
Ranco's daughter will attend a different school next year. He said his family took a much different approach when they addressed the abuse at home.
"We told her these kids learned it at home, the school got it wrong and she didn't deserve be treated like that," he said. "Now we move on from here."
David Lohr covers crime and missing persons. Tips? Feedback? Send an email or follow him on Twitter.