A Fort Worth, Texas, police officer pushed a mother and two teenaged daughters to the ground and arrested them after the mother called police Wednesday to report her 7-year-old son had been assaulted, according to a viral cellphone video.
Jacqueline Craig, 49, said the neighbor grabbed her son by the neck because he tossed a piece of paper and refused to pick it up, according to the video, taken by Craig's cousin Porsha Craver, the Star-Telegram reports. The video of Wednesday's confrontation has been viewed more than 1 million times.
An officer who responded to the complaint, whose name wasn't released, quickly drew anger from Craig and other family members when he appeared to belittle the complaint.
"Well, why don't you teach your son not to litter?" the cop asked.
"He can't prove to me that my son littered," Craig responded. "But it doesn't matter if he did or didn't. It doesn't give him the right to put his hands on him."
"Why not?" the officer challenged. 
Other family members are heard shouting at the officer, who escalates tensions with a threat to throw Craig in jail. As one of Craig's daughters approaches her mother, the officer puts his hands on her shoulders. The women began screaming profanities and calling the officer "pig" amid some pushing and shoving.
The officer pushed Craig to the street and handcuffed her, then subdued her two daughters, 19-year-old Brea Hymond and a 15-year-old whose name wasn't released because of her age. The officer wielded a Taser stun gun during the confrontation, but it's not clear he used it.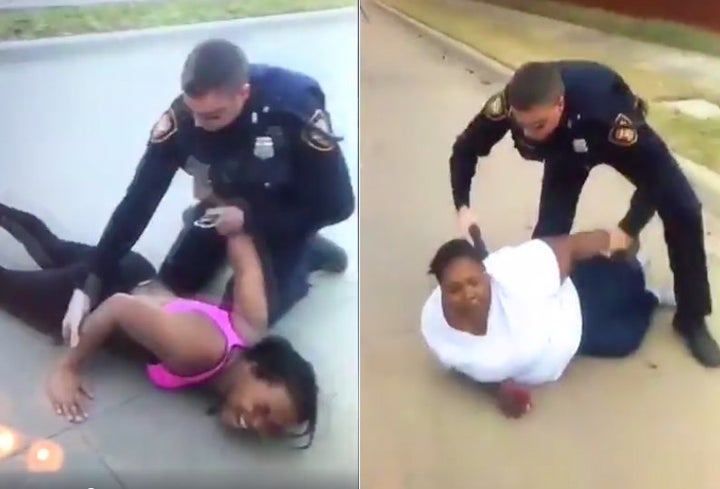 "My son is 7 years old. You don't have the right to grab him, choke him ... You could have came to me. Don't put your hands on my son," Craig calmly told the officer before the situation disintegrated.  
Craig's 15-year-old daughter was released Wednesday night. Craig and Hymond were expected to be released on bond Thursday night from a jail in Mansfield, Texas. 
"It wasn't just the action of one rogue officer, it was a failure by the Fort Worth Police Department as a unit," Lee Merritt, the Craig family's attorney, told The Huffington Post on Thursday.
The arresting officer has been placed on administrative suspension during a police internal affairs investigation, Merritt said.
Fort Worth police said in a statement Thursday that Craig and Hymond had been interviewed in jail as part of the internal investigation.
"We acknowledge that the initial appearance of the video may raise serious questions," the police statement says. "We ask our investigators are given the time and opportunity to thoroughly examine the incident and to submit their findings."
Police did not immediately return requests for additional comment.
Merritt said the reasons for his clients' arrests are "clearly factitious" and all charges should be dropped immediately. 
The family asks that the offending officer be fired and slapped with criminal charges. The family also wants the neighbor who allegedly attacked Craig's son to be investigated and arrested.
Language describing the incident has been slightly amended to more accurately characterize events shown in the video.
REAL LIFE. REAL NEWS. REAL VOICES.
Help us tell more of the stories that matter from voices that too often remain unheard.
BEFORE YOU GO
PHOTO GALLERY
Hashtags That Helped Black Twitter Combat The Trauma Of Police Brutality