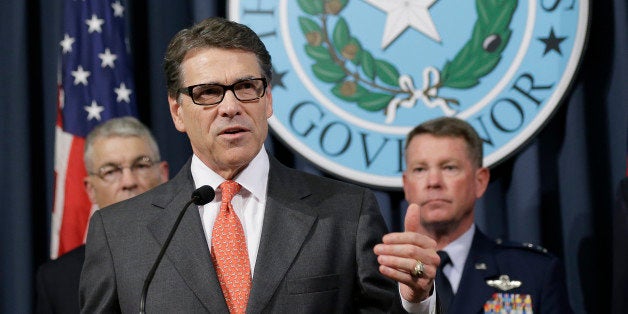 WASHINGTON -- National Guard troops deployed to the border in Texas are visiting a food bank because they can't afford food and gas ahead of their Sept. 5 payday, according to a report Friday by local station Action 4 News and a state senator.
Action 4 News reported that a Rio Grande Valley food bank had been contacted about 50 Texas National Guard troops who needed assistance. The troops are reimbursed for their meals, but pay for them upfront, stretching the finances of some troops who were called to southern Texas earlier this month to address an increase in unaccompanied minors crossing the border illegally.
State Rep. René O. Oliveira, a Democrat, called the situation "heartbreaking," and offered to buy meals for troops serving near his district in Brownsville, Texas.
"These brave men and women have apparently been sent on a mission without accommodating for their most basic needs," he said in a statement. "We need to find immediate solutions for these hungry soldiers."
Texas Gov. Rick Perry announced in July that he was deploying up to 1,000 National Guard troops to the southern border, which has borne the brunt of a recent influx of unaccompanied minors. Texas officials said at the time that the project, dubbed Operation Strong Safety, would cost about $12 million per month, which they plan to bill to the federal government.
The Texas National Guard said in a statement that it offers financial support services to its service members and will continue to do so in light of the recent reports.
"The well-being of our service members remains a top priority, and all members supporting the operation are furnished with lodging, meals, transportation, and the equipment required to perform their mission," it said in a statement. "Service members supporting this operation receive pay, allowance for housing, and per diem for meals on the normal state payroll schedule."
BEFORE YOU GO
PHOTO GALLERY
Why Latin Americans Really Come To The U.S.