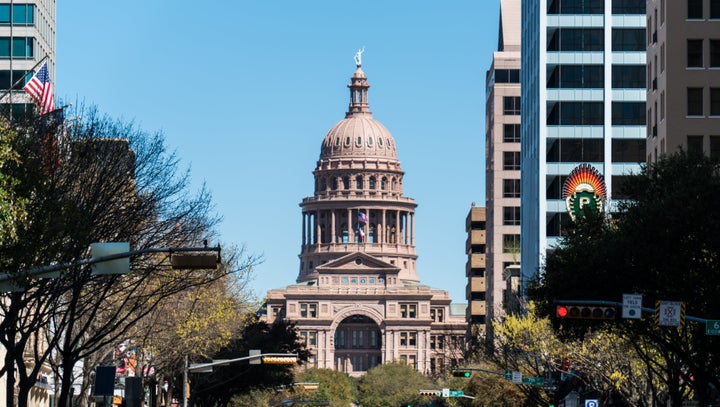 In June 2015, Texas resident John Woods moved from Travis County to Harris County. That fall, he went online to change the address on his driver's license.
Woods had been registered to vote at his old Travis County address. When he was updating his driver's license, he also checked a box indicating that he wanted to register to vote in Harris County.
Election Day arrived about two months later and Woods called Harris County election officials to find out where his new polling place was. Even though he had checked that box online, they told him he wasn't registered in the county. He decided to vote anyway by casting a provisional ballot, which ultimately was not counted.
It turns out that when Woods checked the box online, he hadn't actually registered to vote. Instead, the Texas website had directed him to go to a separate website with a voter registration form that he was supposed to complete, print out and mail in.
On Friday, a federal judge in San Antonio ruled that process violated the National Voter Registration Act (NVRA), a 1993 federal law requiring state motor vehicle agencies to offer people the opportunity both to register to vote and to use their driver's license application or renewal form as their voter registration form.
The Texas Civil Rights Project, which brought the lawsuit on behalf of Woods and three other Texas voters, argued in court that the state's process was needlessly duplicative and unjustified because officials got all of the information they needed for voter registration when someone updated their driver's license online. The civil rights lawyers pointed out that, unlike the online process with its extra form, Texans who renew their licenses in person or by mail need only check one more box to register to vote.
The group asked Chief U.S. District Judge Orlando Garcia to compel Texas Secretary of State Rolando Pablos (R) to "take all appropriate measures necessary to remedy the harm" caused by the registration system. From 2013 until 2015, more than 1,800 people had complained to Texas officials that they were unable to register to vote using the online system. The state has over 15 million registered voters.
Texas officials argued in court documents that the case was moot because each of the plaintiffs had since successfully registered at their new address and was able to vote in the 2016 general election. They said that Texas state law requires a voter application to be signed and that anyone who renewed their license in person or by mail would have to submit a written signature. And they contended that the NVRA deals only with registration practices for federal elections and that Woods had not tried to vote in a federal election.
Garcia ruled in favor of the plaintiffs on Friday and said he would issue a full opinion soon. Sam Taylor, a spokesman for the secretary of state, declined to comment on the ruling in Stringer v. Pablos.
But Beth Stevens, voting rights director at the Texas Civil Rights Project, praised Garcia's decision in a statement. "For too long," she said, "the state of Texas has ignored federal voting rights laws intended to ensure that all eligible voters have an opportunity to register to vote."
Stevens told HuffPost that the ruling would affect the more than 1 million Texans who update their driver's license in any given year and that her group also planned to target other state agencies that are required by the NVRA to offer people the chance to register to vote.
"This is the first huge step towards getting the state of Texas into compliance with the National Voter Registration Act that has been a long time coming," she said.
Calling all HuffPost superfans!
Sign up for membership to become a founding member and help shape HuffPost's next chapter
BEFORE YOU GO
PHOTO GALLERY
Best Scenes From Houston On HuffPost's Listen To America Tour