 Police across Texas often violate the Constitution and put the lives of officers and civilians at risk by entering homes unannounced, a civil rights group blasted on Tuesday.
The Texas Civil Rights Project claims there is a widespread problem of cops bursting into homes because many law enforcement bodies don't have written rules specifying when deputies and officers must first knock.
"Not having a solid policy in place exposes the police and people in the house to personal danger and sets the police up for liability in a federal lawsuit," said TCRP Director Jim Harrington in a statement.
A grand jury dropped a murder charge against the shooter, Henry Magee, but indicted him on Feb. 5 for alleged marijuana possession while possessing a deadly weapon, the Bryan Eagle reported.
"It is a natural inclination to protect one's home at night when unidentified individuals suddenly burst through the front door," the TCRP said in a statement accompanying the "Police Overuse of No-Knock Entries" report.
Courts have ruled that officers don't need to knock prior to every search, such as when narcotics might be quickly destroyed by suspects.
The TCRP surveyed 161 law enforcement agencies in Texas and found that only 53 had adopted written policies outlining when officers must knock. The lack of formal rules allegedly gives officers too much discretion and makes it easy to violate Fourth Amendment protections, the report's authors wrote.
The absence of written polices is a red herring, according to the executive director of the Texas Police Chief's Association.
"I really don't think it's up to the individual officers or commanders. The courts are pretty plain on when you knock and when you don't," said James McLaughlin, head of the TPCA. "There are usually procedures in most agencies on how do I get a warrant...[and] how do I serve that warrant. Those are pretty common policies."
Police forcing their way into residences without first identifying themselves entered the spotlight after a controversial 2009 search by police for an alleged San Antonio meth lab.
Officers entered the home of two women who were handcuffed and interrogated about a man police claimed cooked meth inside their home, the TCRP report says.
"After enduring nearly two excruciating hours of terrifying paramilitary-esque intrusion and K-9 unit search of their home, the women were finally released," the report says. "As the lead officer was leaving out the front door, he jokingly stated that the couple should 'get their door fixed' and that 'next time they would knock.'"
Before You Go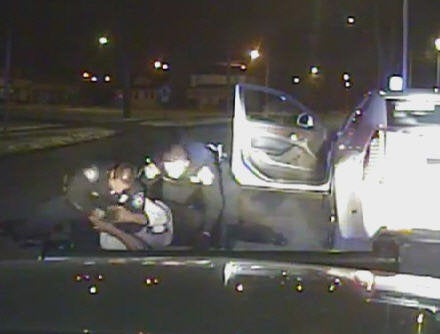 Police Brutality Incidents
Popular in the Community