Hundreds of demonstrators descended in McKinney, Texas on Monday -- just two days after a video that captured a police officer's use of force against a black, female teenager went viral.
Elroy Johnson, a 25-year-old teacher who grew up in the neighborhood, told The Huffington Post that he couldn't recall the last time he witnessed a protest that large in his town.
The crowd gathered near the Craig Ranch Community Pool -- the same site where 19-year-old Tatiana Rhodes' now-infamous pool party was held last Friday. The teen's party, which was chaperoned by her mother, Laushana Burks, was meant to celebrate the end of the summer. Burks told HuffPost that, instead, the gathering ended with violence after two white women made racist comments to a group of black teens and subsequently attacked them.
"A number of community members made it known they were upset about what happened at the pool party on Friday," Johnson said. "Seeing all of that action was definitely amazing."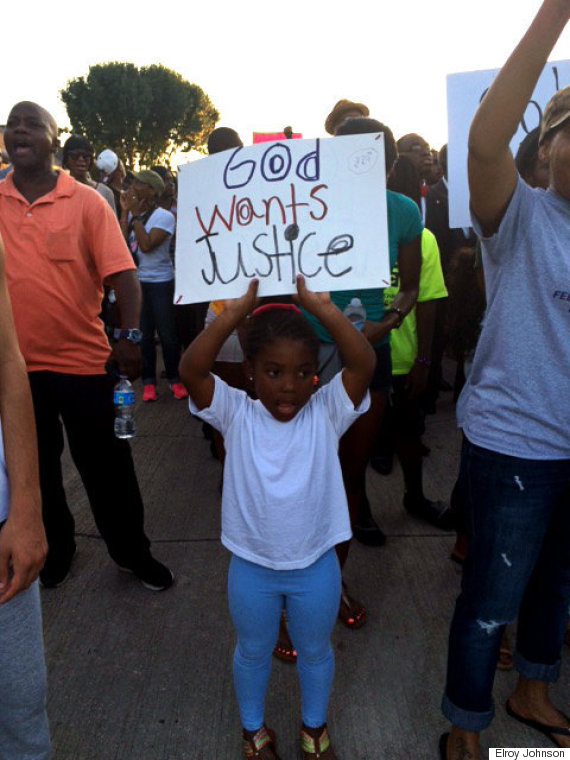 A young girl holds a sign as part of Monday's protest. (Photo by Elroy Johnson)

Police initially arrived at the scene on Friday in response to a disturbance "involving multiple juveniles at the location, who do not live in the area or have permission to be there, refusing to leave," the police department wrote in a Facebook post. However, Rhodes told Johnson on camera that the students she invited were all local residents. Rhodes said officers singled out black teen partygoers and detained them for further questioning, even arresting some.
The video has been viewed more than nine million times and both the McKinney community and the African American community at large are outraged over the officer's actions.
Members of local activist groups, residents, community leaders and many of the teens from Friday's party gathered near the pool on Monday to speak out against Casebolt's actions and make a series of demands.
Demonstrators not only called for Casebolt to be fired but they also urged for charges against the white women who initiated the incident. They also demanded overall better training among officers of the police department.
"It was an overwhelming feeling that gave you the sense that although you may be a minority, you're not alone," Johnson said.
At one point, protesters sat in the middle of the street deliberately blocking traffic as they chanted, "If we can't swim, you can't drive!" Throughout other portions of the march, crowds yelled "Let's go swimming!" -- an activity black partygoers were denied on Friday.
Others held signs that read "Protect our youth!" and "My skin color is not a crime."
View scenes from the protest here: