WASHINGTON -- When Miles Jai Thomas arrived at a party at the Craig Ranch North Community Pool in McKinney, Texas, on Friday night, he said the pool was open to everyone who'd been invited -- until a security guard showed up and removed black partygoers from the area.
"Then he started making up rules to keep us out," Thomas, 15, told The Huffington Post.
A white woman at the pool started making racist comments, Thomas said, such as telling black teens at the party to get used to the bars outside the pool because that's all they were going to see.
Grace Stone, 14, who is white, told BuzzFeed News that she and friends objected to an adult woman making racist comments to other teens at the party and that the woman turned violent.
This is when, according to Thomas, a 19-year-old black woman told the belligerent white woman to stop fighting with the teenagers. The white woman called the black woman a "young bitch," then walked up to her. After the young woman said her age out loud, the older woman punched her in the face. Another unidentified white woman jumped in as well before Thomas, who was recording the incident, and his friends went to break it up.
It was after this incident that the cops showed up and "started cursing and yelling at us," Thomas said. He described an officer manhandling a young girl, as shown in this video embedded above.
"So a cop grabbed her arm and flipped her to the ground after she and him were arguing about him cursing at us," Thomas said.
When two teens went toward the cop to help the girl, they were accused of sneaking up on the cop to attack.
"So a cop yelled 'get those motherfuckers' and they chased [us] with guns out. That's why in the video I started running," Thomas said.
"I was scared because all I could think was, 'Don't shoot me,'" he said.
About 20 people were handcuffed during the incident, Thomas estimated. McKinney Chief of Police Greg Conley said in a press conference that one arrest was made, according to BuzzFeed News.
Clarification: Language has been amended to indicate that the pool is not a public facility.
Before You Go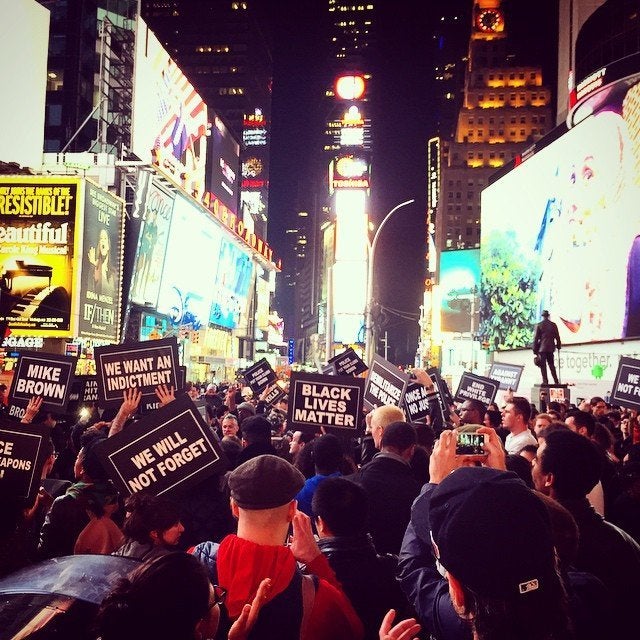 Ferguson Protests Around the Country