AUSTIN, Texas ― Republican state senators took a first step toward licensing two controversial family detention centers as child care facilities on Wednesday, selling the possible change as a way to keep the Trump administration from splitting up immigrant mothers and children at the border.
At a hearing of the Texas Senate's Veterans Affairs and Border Security Committee, Republicans said a bill relaxing standards for child care licenses would help the family detention centers skirt problems posed by ongoing lawsuits.
But critics ― including legal groups, members of the Catholic Church and immigrant rights advocates ― described family detention centers as little more than "baby jails." Citing the fact that most of the mothers and children in detention are Central Americans fleeing violence who apply for asylum, they say there's no need for family detention centers at all.
A Honduran woman named Norma who spent more than a month detained at the Karnes County Residential Center told the committee her daughter turned 5 while locked up there. "My daughter knew she was a prisoner," Norma said. "I don't think that a place full of cameras and security guards is a place for children."
Reed Smith ― the regional vice president of GEO Group, the private prison contractor that runs the Karnes facility where Norma was detained as a for-profit enterprise ― praised the bill. He insinuated that failing to approve it would force the company to convert Karnes into a detention center for adults, leading the Trump administration to separate asylum-seeking mothers from their children at the border.
"There's nothing in the immigration laws that says the mother and the children have to be housed together," Smith told the committee. "There would be nowhere to put the children together [with their parents]."
"My daughter knew she was a prisoner. I don't think that a place full of cameras and security guards is a place for children."
Republican members of the committee heeded the warning, describing the bill as a humanitarian measure. "What we are trying to avoid is the potential to have parents separated from their children," state Sen. Donna Campbell said.
But opponents, who have long questioned the need for any family detention, viewed Reed's comments as a threat. Several who testified pointed to GEO Group's own 2016 filing with the Securities and Exchange Commission that described Karnes as a "short-term processing facility" seeking a child care license only to "allow for longer lengths of stay."
"Texas should not be complicit in pretending that baby jails are licensed child care facilities," Astrid Dominguez, an immigration expert with the American Civil Liberties Union of Texas, told the committee.
The Department of Homeland Security is likely keeping close tabs on the bill's progress. Some 1,500 miles away on Wednesday, DHS Secretary John Kelly met with Democratic lawmakers and made only vague remarks about whether he's still considering splitting up mothers and children at the border.
The Obama administration hastily expanded the all-but-abandoned family detention policy back in 2014, as tens of thousands of Central American migrants crossed into the United States. Two family immigrant detention centers, both run by private prison contractors, currently operate in Texas. But the policy of detaining mothers with their children for extended periods has prompted lawsuits.
U.S. District Judge Dolly Gee ruled in 2015 that locking up immigrant children with their mothers violated the Flores settlement, which requires children to be detained in non-secure facilities and generally favors their release. The Texas Department of Family and Protective Services issued emergency rules that year to reclassify the state's detention centers as "child care" facilities under state law to help them comply with the ruling.
But in a case brought by former detainees and the activist group Grassroots Leadership, a state judge later ruled that family detention centers simply don't fit the definition of a child care facility under Texas law.
The bill, filed in late February by Republican state Sen. Bryan Hughes, specifies that family detention centers can be licensed as child care facilities without meeting all the state's requirements.
Like the GEO Group, GOP lawmakers argue that without the licenses, the family detention centers would eventually have to be converted into adult immigrant detention centers, leaving nowhere to put families.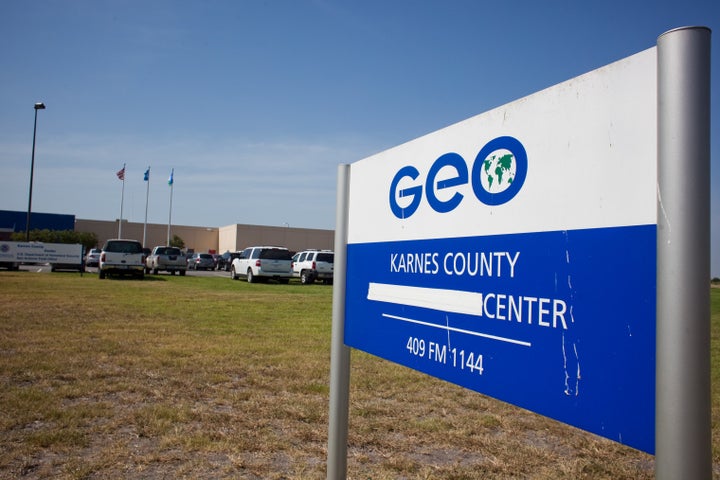 In fact, both family detention centers in Texas currently operate without licenses. To comply with the federal ruling, most women and children are released after three weeks.
And authorities wouldn't actually have to separate mothers and children at the border if the family detention centers became adult facilities. Nothing in immigration law requires them to be detained at all.
In practice, many of the undocumented women and children apprehended by authorities never see the inside of a detention center after crossing into the United States. Instead, they receive a notice to appear in immigration court and fight their cases from outside detention. Most of them petition for asylum or some other permission to stay in the United States for humanitarian reasons.
In December, for example, more than 16,000 mothers and their children crossed into the United States, according to Customs and Border Protection. The three family detention centers the federal government operates have a combined capacity of fewer than 4,000 beds. (Like the two Texas facilities, the third center in Pennsylvania also lacks a child care license.)
"It's crucial for you to understand that family detention is not necessary," Manoj Govindaiah, the director of family detention services with the legal group RAICES, told the committee.
It's unclear whether issuing child care licenses will resolve the centers' ongoing legal problems. The lawsuits note that children sleep with unknown adults at the facilities ― something state child care facilities forbid to protect children from abuse. Child care facilities also let kids leave for excursions. At the family detention centers, however, kids are locked in.
The committee closed the hearing without taking a vote on the bill.
Elise Foley contributed reporting.
Popular in the Community