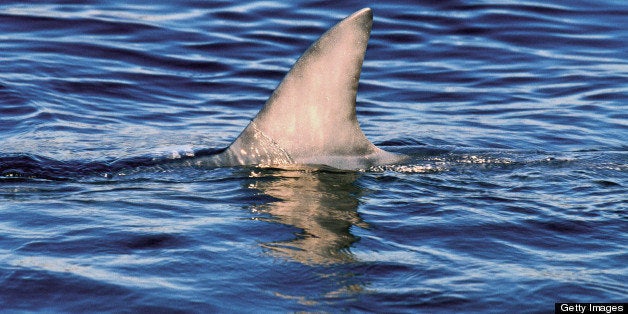 Endangered Species Day may be yesterday's news, but animal advocates around the nation continue fighting to save species from what scientists term the 6th Great Extinction. Sharks, long portrayed in the media as surfer-stalking predators with a personal vendetta, are among the most exploited of ocean species. According to the latest research, 100 million sharks are disappearing from our oceans each year, primarily driven by the lucrative trade in shark fins, the main ingredient in shark fin soup. Once a dish for emperors, shark fin soup is now served at banquets and in restaurants to satisfy the appetites of Asia's upwardly mobile society.
The Chinese consumers who are bent on showing off their new money through the consumption of this tasteless delicacy may not fully comprehend the consequences. As apex predators, sharks are the regulators of the sea. Their presence is critical for maintaining a balanced ecology on which fisherman and tourists rely, as well as the two billion of the world's poor who depend on the ocean for their main source of protein.
To counter the ecological devastation from this wasteful and cruel practice that is driving some shark species toward extinction, states are passing legislation to ban the sale and consumption of shark fins. Delaware just became the 7th state to pass such a law, joining Hawaii, Washington, California, Oregon, Illinois, and Maryland with similar laws. Several other bills from east coast states now await their governors' signatures to become laws. Texas has a historic opportunity to join them by becoming the first red state to lead on this issue.
HB 852, a bill that would prohibit the sale and consumption of shark fins in Texas, passed the Texas House with a two-thirds majority. Last week the bill was unanimously moved out of the Natural Resources committee to the Senate floor. However, this bill faces a fight ahead. Due to the nature of this legislation, which is essentially about the sustainability of our oceans, it runs the risk of falling into a political crevasse. Some Texas legislators do not recognize the ecological and economic benefits of live sharks at sea so much as the political advantages of protecting the individual rights of a few to profit from a destructive practice. With opposition from several charter fishermen, a small yet powerful voice in a coastal state, the outcome is still uncertain.
Since launching a campaign with Shark Stewards and The Humane Society of the United States, I've been writing op-eds on shark conservation for the past year. I've seen some battles along the way, but none like during the past week. To counter the escalating opposition, grassroots volunteers from around the state are mobilizing citizens at all stages of political involvement. Last week, our coalition's efforts culminated in an outpouring of support from Texas' leading institutions; nearly 30 organizations signed the joint statement within 24 hours in support of HB 852. Such collaboration is essential for conservation. Given the powerful economic interests involved in the animal trade, no single entity or NGO can fight the battle alone. But together, these represent the collective voice of thousands of Texans.
Many legislative decisions often come down to how many citizens take the time to call their offices. It's that simple, and that complicated at the same time. Getting people to care enough to participate in the democratic process, become informed on an issue, and have a sense of agency to speak on it is no mean feat. But in the battle to save the sharks, I have also seen individual Texans rise to the challenge with extraordinary results. Even young Texans have lobbied on behalf of this bill, from my own children and niece and nephew to Sawyer Chandler, the 11-year-old daughter of actor Kyle Chandler.
Texas Director of the Humane Society Katie Jarl, who has tirelessly worked in Austin on a daily basis on behalf of this bill, says that the grassroots support is what has kept her going.
When I first became engaged in this issue in late 2011, I wondered what I could possibly do as a volunteer to make a difference. Since assuming the role of Texas chair of Shark Stewards, a San Francisco-based non-profit started by shark conservationist David McGuire, I have witnessed the value of volunteers at every stage in the process. Individual Texans from ages 5 to 85 have shown their support by participating in special events at Whole Foods, attending educational events at aquariums, circulating petitions, lobbying legislators, spreading information, and making calls. Due to the overwhelming grassroots support for sharks, we have been able to convince the powerful few to hear the voice of many.
Such an accomplishment is a victory in itself, one that we hope our senators will complete by passing our bill and allowing it to move to Governor Rick Perry's office to become a law.
Regardless of the outcome of this legislation, Texans have been activated to conserve our oceans through the protection of sharks. As critical as collaboration has been in this endeavor, education is even more crucial. Children taught to respect the value, vitality and beauty of animals living in their natural habitats will not grow up to debase or objectify them.
We are losing approximately 150 species per day, or three every hour. At this rate, we should begin treating every day like Endangered Species Day. Unless we change attitudes and behavior of our children, our future leaders will continue allowing practices that perpetuate this staggering loss of biodiversity, to the detriment of us all. Here in Texas, advocates are off to a good start by working to save the shark. Regardless of the outcome of HB 852, let's remind ourselves that the real work has only just begun.
Related
Popular in the Community