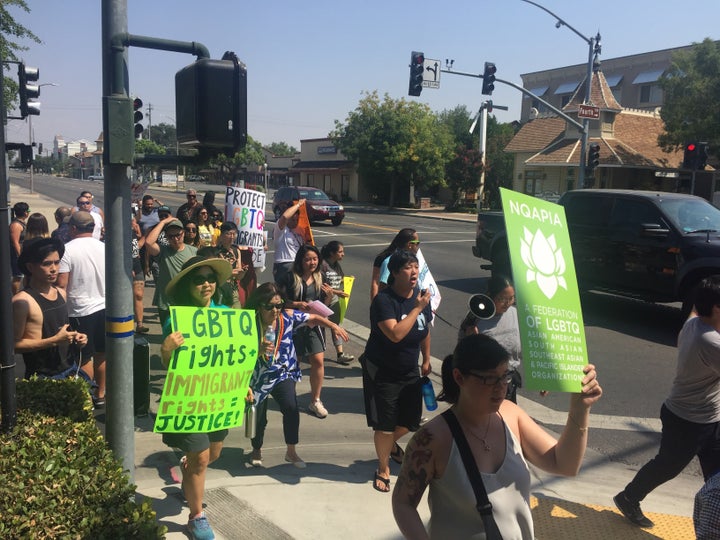 Texas SB4's Impact on Asian Americans – Why We Should Care
By Debbie Chen of OCA-Asian Pacific American Advocates Greater Houston Chapter & Glenn D. Magpantay of the National Queer Asian Pacific Islander Alliance (NQAPIA)
On Friday, September 1, Texas Senate Bill 4 is scheduled to go into effect. Last May, Texas Governor Greg Abbott signed one of the most rigorous anti-immigrant laws passed since Trump took office. It would allow racial profiling and subject ethnic and racial minorities to unlimited questioning about their immigration status -- all by local law enforcement officials with little or no training in immigration law.
As part of its prohibition against so-called "sanctuary cities," the bill would also levy heavy penalties against local officials who don't comply with federal immigration authorities, including up to a $25,500 daily fine, misdemeanor charges, and loss of elected or appointed office.
The pushback against the bill was clear and rapid: Just one day after the bill was signed into law, city and county officials in Texas, along with the League of United Latin American Citizens, filed a lawsuit against both the Governor and State Attorney General Ken Paxton.
Since then, the four largest cities in Texas – Houston, San Antonio, Dallas, and Austin – have joined the lawsuit, along with other cities and organizations throughout Texas. Other related lawsuits are also pending. Several national civil rights groups, labor unions, and legal experts have condemned the law, arguing that it would violate the U.S. Constitution by impeding free speech and equal protection.
But as is often the case when it comes to mainstream portrayals of immigration issues in the U.S., Asian Americans seem to be missing -- or at least standing by the sidelines.
Asians Americans are the fastest-growing racial minority group in the country. We also form the largest segment of documented and undocumented immigrants coming to the U.S. One million Asian Americans are undocumented. In Texas, 44% of the state's population is Latinx, Asian American, or Arab American.
It is also important to note that there is an estimated 263,000 LGBTQ API immigrants, of which nearly 40,000 are undocumented. Studies have found the LGBT undocumented immigrant population to be disproportionately Asian.
Texas SB 4 would equally subject both Latinx and Asian Americans, and LGBT people who are ethnic and racial minorities, to illegal profiling regarding immigration status.
Texas Senate Bill 4 would subject both Asian Americans and Latinxs to discriminatory stops and interrogation about their immigration status, even for people who have not been charged with any crime. If this law is allowed to go into effect, it stands without question that our community members will be caught in the crossfire.
The parallels between today's immigration struggles and the history of Asians people in America run deep. Asian Americans have endured unjust profiling by law enforcement because of our race, over the years and today.
The Chinese Exclusion Act of 1882, later made permanent in 1902, was the first law ever enacted to permanently exclude a specific ethnic group from immigrating to the United States based on race and also excluded Chinese immigrants from applying for US citizenship and essentially legalized racial discrimination. The Japanese American internment during World War II stemmed more from racism and prejudice than from any calculated analysis of security threats. The traumatic experiences and memories of internment continue to shape the fabric of Japanese and Asian American consciousness today. Texas was home to three of those internment camps.
Our South Asian community members have faced intensified scrutiny and profiling since 9/11 and, more recently, since the election of Trump. These encounters, interrogations, and attacks are often driven by Islamophobia and motivated by blanket perceptions of all South Asian people as Muslim. This kind of everyday profiling happens at airports, on public streets, in gated communities, and on the subway.
The targeting of Chinese American scientists forms another dimension of racial profiling in America: Wen Ho Lee, Xiaoxing Xi, Sherry Chen, Guoqing Cao, and Shuyu Li, among others, were all accused of espionage, only to have their charges dropped with little or no explanation. Even so, the consequences of having been accused of spying reverberated in these individuals' lives long after the government had moved on.
As Asian Americans, we must take a stand against Texas Senate Bill 4, because our collective histories demonstrate that no one should be singled out and discriminated against merely for looking Latinx, gay, Asian, queer, Muslim, or trans.
OCA-GH stands strongly against SB4 and organized an AAPI advocacy Day during this recent State Legislature for members to speak with their representatives on this issue and our members urged to the Houston City Council to join the lawsuit against the state. OCA-GH supported the joint community press conference on the negative impact of SB4 on the Texas economy and families and continues to hold community education forums on the impact of SB4.
NQAPIA organized its Texas member groups and several more from throughout the South to write letters immediately after Texas' governor signed Senate Bill 4 into law. Our coalition of LGBTQ API organizations hand-wrote 50 letters to the Harris County sheriff, the Houston mayor and police chief, and the city's council members. We urged these officials to sue the state so as to block the law from taking effect, and we thanked them for taking a stand against the bill.
The following month, the Houston City Council voted to join one of the pending lawsuits against the bill.
Our voices as matter. We can make a difference. The first step is to educate yourself. (You can read up on the details of Texas Senate Bill 4 here, and there's a know-your-rights breakdown here.) Then -- whether it be in the form of a handwritten letter, a phone call, a protest, or a rally -- show up and hold space in solidarity with our immigrant family.
The writers are: Deborah Y. Chen is the Civic Engagement Programs Director of OCA-Asian Pacific American Advocates Greater Houston Chapter, and Glenn D. Magpantay is the Executive Director of the National Queer Asian Pacific Islander Alliance (NQAPIA).
Support HuffPost
The Stakes Have Never Been Higher
Related
Popular in the Community