AUSTIN, Texas ― The Republican-dominated state Senate on Tuesday passed a bill that would force trans Texans to use bathrooms of the gender on their birth certificates, rather than the one they identify with.
The 21-10 vote on party lines, with one Democrat defecting, came after more than 200 opponents ― including many trans Texans ― testified against the bill on Friday. Procedural rules require three readings of the bill before final passage, but it is likely to formally sail through the state Senate sometime this week. It still needs state House approval and the governor's signature to become law.
"I believe it to be right for Texas, and reflective of our values," state Sen. Lois Kolkhorst (R-Brenham), the lead author of the bill, said on the floor of the Senate. "The proverbial silent majority thinks this is common sense."
Under the legislation, Texans would only be allowed to use bathrooms, locker rooms and showers in schools and government buildings that match the gender on their birth certificates. An amendment adopted before the vote would allow people to use state-issued IDs to identify their genders. (Changing the gender listed on a Texas ID requires an updated birth certificate or a court order.)
The bill also would overturn non-discrimination ordinances passed by cities like Austin and San Antonio to make public bathrooms accessible to transgender people.
Kolkhorst and other supporters described their efforts as a public security measure designed to protect women and children from sexual predators. Texas Lt. Gov. Dan Patrick, an outspoken social conservative, forced the special session of the legislature that began this month largely to pass the bathroom restrictions.
But LGBTQ groups and the business community have widely criticized those concerns as manufactured and unnecessary, since assault in any setting is already illegal. The only group directly affected by the proposed law are trans Texans, who often face bureaucratic obstacles when attempting to change the gender identification on their birth certificates.
"Transgender people are under attack in the state of Texas," Lisa Scheps, the director of the Transgender Education Network of Texas, told HuffPost. "We are under attack by the legislature, and the governor and the lieutenant governor… But that doesn't stop our resolve."
"It doesn't address a problem of bathroom predators, because there is no problem of men dressing as women to assault women in public restrooms," Acevedo said. "It doesn't make us safer, it creates confusion for ordinary citizens, complicates law enforcement's job, and puts a target on the backs of LGBT Texans. It solves no problems, while creating a host of new ones. And worst of all, it facilitates discrimination."
Democratic senators grilled Kolkhorst over the bill on Tuesday, with Sen. Kirk Watson (D-Austin) likening it to Jim Crow-era restrictions that kept black Texans out of bathrooms used by whites. But Democrats' numbers are too small to keep the bill from advancing.
"We all agree men should not be in women's restrooms," Sen. Judith Zaffirini (D-Laredo) said. "This bill, however, does not achieve that goal. In fact, it would do the exact opposite ― it would force transgender men into women's bathrooms and force transgender women into men's bathrooms, putting them in danger."
Instead, the debate is playing out between the state's hard-line conservatives, led by Patrick, and more moderate Republicans. It remains to be seen whether Patrick and his allies will get their way after SB 3 passes to the House of Representatives.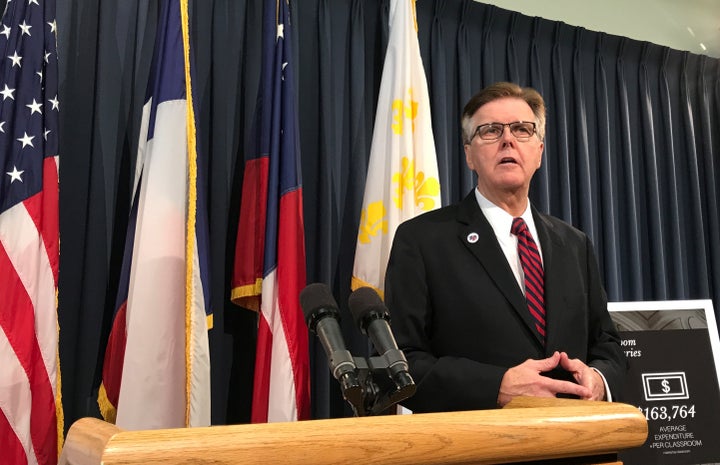 Texas House Speaker Joe Straus (R-San Antonio) has loudly voiced his opposition to legislating trans bathroom use, saying it would undermine the safety of "very vulnerable young Texans" and would be a shot in the foot to the state's business community. Two studies that figured prominently in the public debate over the bathroom proposal predict that Texas will sacrifice billions in tourism revenue if the measure becomes a law that provokes boycotts.
Straus and his loyalists will likely find a way to kill SB 3 in the House, according to Rice University political scientist Mark Jones.
"SB 3 will never see the light of day," Jones told HuffPost. "It will be dead on arrival. Speaker Straus will send it to the State Affairs Committee and it will sleep in a drawer."
The question will then become whether Straus and his more moderate and business-friendly Republican colleagues will abandon the idea altogether, or try to cobble together a compromise to appease social conservatives like Patrick and Gov. Greg Abbott (R), who have pressured Straus to pass some version of the bathroom restrictions.
Texas Rep. Ron Simmons (R-Carrollton), for example, has filed a similar bill in the House that would overturn the state's non-discrimination ordinances, but doesn't specify that people must use the bathroom of the gender on their birth certificate.
Groups organizing to kill SB 3, however, don't see a way of watering down the proposal enough to make it acceptable.
"There is no compromise on discrimination," Dan Quinn, the communications director for the Texas Freedom Network, told HuffPost. "Either you discriminate or you don't. There's no middle ground."
Multiple federal courts have already ruled that transgender students' rights are protected by Title IX, the section of federal law prohibiting sex discrimination in education, according to Kali Cohn, a staff attorney with the American Civil Liberties Union. While the ACLU doesn't comment about its plans to file lawsuits, Cohn described the various proposals to keep trans Texans out of the bathrooms they identify with as unconstitutional and vulnerable to challenge in the courts.
"The practical effect of what those bills do is the same ― they target transgender students for discrimination," Cohn said. "If they pass as drafted, [Texas] will be in violation of federal law and the Constitution."
Popular in the Community