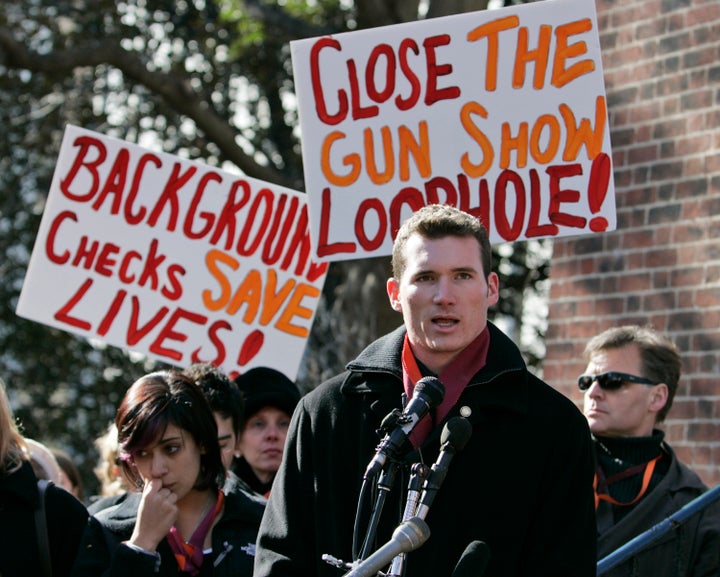 A bill that would require Texas universities to allow guns on campus was postponed in the state's Senate due to lack of support today, a surprising turn for legislation that was once considered a slam-dunk.
The bill, SB 354, would make Texas the second state after Utah that prohibits colleges from banning guns on campus -- but author Sen. Jeff Wentworth (R-San Antonio) withdrew the legislation from the floor this morning when it failed to mobilize the two-thirds majority necessary for discussion. Two senators, Sen. Eddie Lucio (D-Brownsville) and Sen. Mario Gallegos (D-Houston), had previously agreed to support the bill, but withdrew their support in order to consider amendments.
Gun control advocates are hoping today's events will derail the bill's passage, which looked likely as recently as last month, when the Senate Criminal Justice committee approved the bill by a 4-2 vote and 87 state representatives signed on to the House's version.
"Certainly what happened today stops the bill's momentum," said John Woods, an advocate whose girlfriend died during the Virginia Tech shooting in 2007.
But lawmakers who support the bill are saying that the delay is a mere hiccup caused by quirks in the Texan political process. 21 out of the 31 members of the senate must vote to discuss a bill, despite the fact that the legislation itself can pass with only 16 votes.
"I needed 21 votes today and when I went on the floor I had had 22, but as the debate progressed two of the senators asked for the delay," explained Wentworth, who said he planned to reintroduce the bill on Monday.
Sen. Lucio requested the extra time to consider amendments that would clarify the law's impact on middle and high schools that sit on college campuses. In his district, one of the A&M Kingsville campuses comingles a community college with a high school. Lucio wants the whole campus to be exempt from the legislation.
"Because of local concerns, Lucio wasn't quite comfortable with the bill as it is," said communication director Ben Wright. "We can't have a one-size-fits-all approach to Texas."
Other amendments proposed would exempt teaching hospitals from the legislation -- non-teaching hospitals in Texas can choose to be gun-free zones by posting appropriate signage, but teaching hospitals could be subject to the new law -- or even allow public colleges to opt out. The latter amendment would be an effective death sentence to the bill, which centers on a shift from letting individual colleges set their policies to establishing a unified rule about guns being allowed outside and inside university buildings, provided the carried has a concealed handgun license.
Texas is one of nineteen states that recently has or currently is considering loosening restrictions about guns on campus. Florida, Virginia and Idaho all shot down similar laws in February and March, but legislation is still pending in more than a dozen state capitals. Today's delay in Texas also comes on the heels of a fatal shooting on a community college campus in Opelika, Alabama, where a man killed his soon-to-be ex-wife and wounded her two family members.

In Texas, the legislation has been particularly unpopular on college campuses, and dozens of university presidents, including the University of Texas System Chancellor Francisco Cigarroa, have come out against the bill. Officials at the Alamo Colleges, a string of community colleges around San Antonio, were particularly outspoken because an employee of one of the schools, North East Lake View, was shot and killed in 2008 by another employee who had a concealed handgun license.
Gun control advocates believe that incidents like these show that the bill's supporters aren't really concerned about students' wellbeing.
"This isn't about campus safety; it's an ideological agenda," said Woods. "These are people who are saying you should have a gun to protect yourself because we don't know who else we gave the guns to."
Yet lawmakers and gun-rights advocates reject these arguments.
"Ninety-eight percent of people in Texas don't have concealed handgun licenses, and the ones that do are of the most law-abiding members of society," said Wentworth. "This bill is designed to give somebody the ability to defend themselves if a deranged person who is both suicidal and mentally unbalanced comes into the classroom -- which has happened."

Calling all HuffPost superfans!
Sign up for membership to become a founding member and help shape HuffPost's next chapter