Authorities have identified one of the suspects in Sunday night's shooting in Garland, Texas.
The suspected gunman, Elton Simpson, was the subject of a previous terror investigation, ABC News reports, citing a senior FBI official.
The FBI and local authorities conducted a search of Simpson's home early Monday. The other suspect is thought to be Simpson's roommate, according to ABC.
On Sunday evening, two men fired toward the Curtis Culwell Center where the Muhammad Art Exhibit and Contest was taking place. Security guard Bruce Joiner was shot in the lower leg and suffered non-life-threatening injuries.
The two gunmen were then shot and killed by authorities.
The Muhammad Art Exhibit and Contest was organized by Pamela Geller, president of the American Freedom Defense Initiative, an anti-Islamic organization that is listed as a hate group by the Southern Poverty Law Center. The contest offered a $10,000 prize for the best depiction of Muhammad, NBC News reports.
The federal law enforcement source told CNN that Simpson apparently sent out a tweet just minutes before the shooting with the hashtag #texasattack.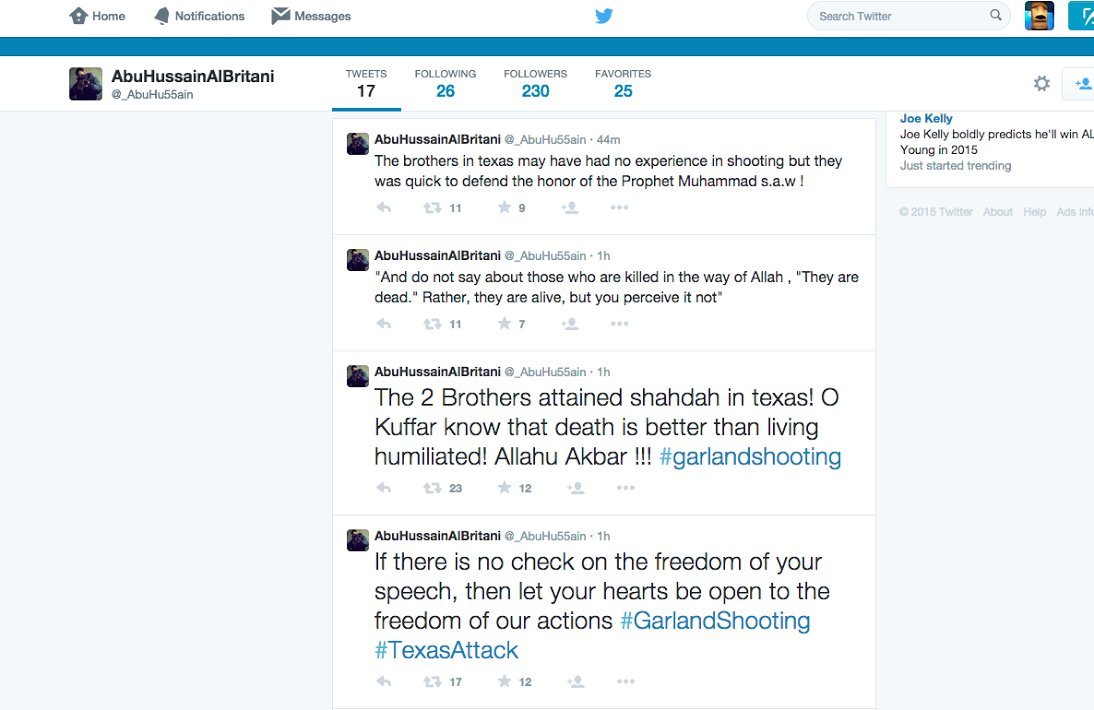 Simpson was convicted in 2011 of making a false statement involving international and domestic terrorism and sentenced to three years of probation, CNN reports.
At the scene of the shooting, police detonated the suspects' car as a precaution, according to WFAA.
UPDATE: At a morning press conference, authorities declined to name either of the suspects in the shooting. But law enforcement officials granted anonymity by the Washington Post said the second shooter was Nadir Soofi, 34, Simpson's roommate.
Related
Popular in the Community