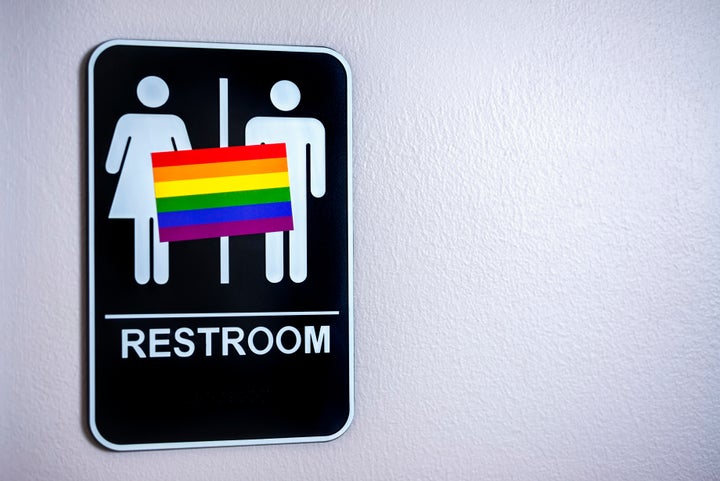 The Texas Legislature re-convened yesterday to begin a 30-day special session in the middle of summer. And make no mistake: The entire session is for the purpose of passing a draconian "bathroom" bill to restrict rest rooms that transgender people can use, stigmatizing trans people under state law and putting them in physical danger every day of their lives.
After an attempt during the regular session earlier in the spring failed spectacularly, Lt. Governor Dan Patrick―who introduced the failed Senate bill back in April―held hostage a must-pass bill needed to keep several Texas agencies operating. This so that Governor Greg Abbott, himself one of the most anti-LGBT governors in the country who recently pushed and signed an anti-LGBTQ adoption bill, would have no choice but to call the special session. 
There are other bills legislators have put off for the session too, including one aimed at restricting abortion coverage under private plans for health insurance, but the main event is the trans bathroom bill. Patrick's original bill was modeled on North Carolina's infamous HB2. When it was successfully beaten back by opponents, including Democrats buffeted by big companies that spoke out, anti-LGBTQ House members were successful in passing a narrower bathroom amendment attached to a bill pertaining to school emergency plans, which would have allowed school districts to restrict the bathroom and locker room use of trans students.
But that wasn't enough for Patrick and other extremists, who voted it down and pushed for the special session to get the more broad-based bill passed attacking all transgender people statewide.
Activists have already been successful at bringing attention to the hatefest underway, with a photo that a trans woman took posing with Gov. Abbott ― who didn't know she was trans ― going viral after she shared it on Facebook on Monday, captioned, "How will the Potty Police know I'm transgender if the Governor doesn't?" 
And major corporations have gone on the offensive. Austin's prominent tech industry leaders, including those at Dell and IBM, have spoken out forcefully this week about the harm that will come to the industry in retaining and recruiting workers. And the Austin Statesman American reported more than a dozen corporate executives of companies that employ thousands of Texans statewide signed on to a letter to the governor warning of the economic consequences ― similar to what North Carolina experienced―that will befall the state: 
This legislation threatens our ability to attract and retain the best talent in Texas, as well as the greatest sporting and cultural attractions in the world..[T]he so-called "bathroom bill" that the Texas Legislature is considering would seriously hurt the state's ability to attract new businesses, investment and jobs.
This battle is a much larger showdown between the increasingly powerful extremist religious zealots in the Texas Republican Party and the dwindling, more moderate, business-friendly GOPers, as noted by the New York Times: 
[Legislators] will most likely decide the fate of the Texas version of North Carolina's bitterly divisive legislation regulating the access of transgender people to public bathrooms. But something else will be on the line, too: whether moderate Republicans have a role to play in a state party increasingly dominated by far-right Christian conservatives, and whether the last powerful moderate Republican in Texas can keep his job and his influence.
The Republican speaker of the Texas House, Joe Strauss, in an interview with Lawrence Wright of the New Yorker recently, forcefully denounced the efforts to restrict transgender people:
I'm not a lawyer, but I am a Texan. I'm disgusted by all this. Tell the lieutenant governor I don't want the suicide of a single Texan on my hands.
For a Texas Republican in the current climate, those were remarkably strong words. And Strauss is now under assault by anti-LGBT activists and fellow lawmakers. Republican leaders in his own county, Bexar, passed a resolution calling for "a change in leadership in the Texas House speakership." In interviews, Strauss is undeterred and determined to beat back the attacks on civil rights. 
This is a test of how formidable big business can be in a large, urban state that is greatly reliant on it but where anti-LGBT religious conservatives turn out to vote in low-turnout GOP primaries, electing legislators who are determined to thwart and roll back LGBT rights, as well as rights for women and minorities. Under a Trump presidency, they have the wind at their backs, and they underscore how LGBTQ activists must fight not only at the national level but in states in which zealots are using the current national climate to enforce a radical agenda. 
REAL LIFE. REAL NEWS. REAL VOICES.
Help us tell more of the stories that matter from voices that too often remain unheard.