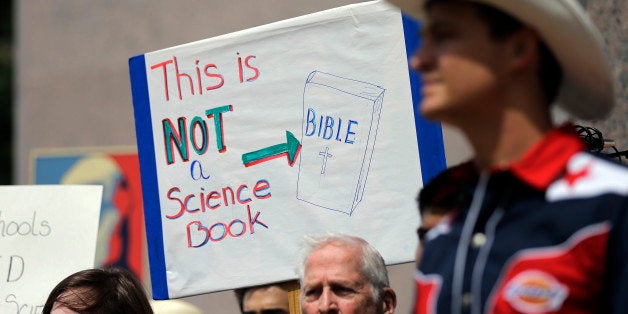 Another battle could be brewing over Texas textbooks, this time because scholars say the proposed lessons distort history.
New social studies books, on which the Texas State Board of Education is set to vote in November, promote pro-Christian religious and conservative political biases, according to a report released Wednesday from the nonprofit Texas Freedom Network Education Fund. History scholars argue in the report that a number of the books under consideration contain misleading information on topics like America's founding and world religions.
The textbooks on American government, U.S. and world history, and religion in world history and geography were submitted by publishers including Pearson Education, Houghton Mifflin Harcourt and McGraw-Hill Education. They were designed to fit Texas' curriculum standards for history, which some critics have charged contain their own conservative biases.
Ten scholars, including professors from Southern Methodist University and doctoral students from the University of Texas at Austin, were contracted by the Texas Freedom Network to review the textbooks. While the experts praised some of the books for navigating the state standards in a fair way, they criticized others for capitulating to political concerns and disregarding evidence.
"In all fairness, it's clear that the publishers struggled with these flawed standards and still managed to do a good job in some areas," said Kathy Miller, president of the TFN Education Fund, in a statement. "On the other hand, a number of textbook passages essentially reflect the ideological beliefs of politicians on the state board rather than sound scholarship and factual history."
Emile Lester, a political science professor at the University of Mary Washington, took issue with much of the content he saw in the U.S. government textbooks. "The [State Board of Education] and these textbooks have collaborated to make students' knowledge of American history a casualty of the culture wars," he wrote in the report.
Lester specifically criticized a proposed Pearson textbook for "a treatment of affirmative action [that] verges on the offensive." He mentioned two cartoons (see below) in which space aliens discuss affirmative action. In a call with reporters on Wednesday, he said those cartoons "imply that recipients of affirmative action ... are un-American."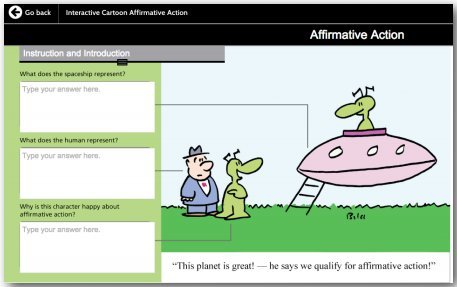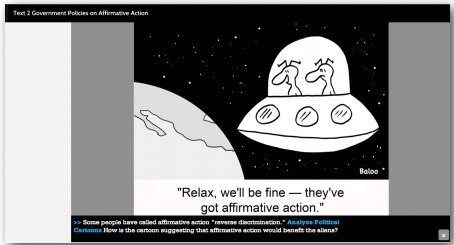 Lester also said a Pearson book contained an unbalanced discussion of taxes, failing to mention the social programs that taxes support, like Social Security. He criticized the text for the following cartoon: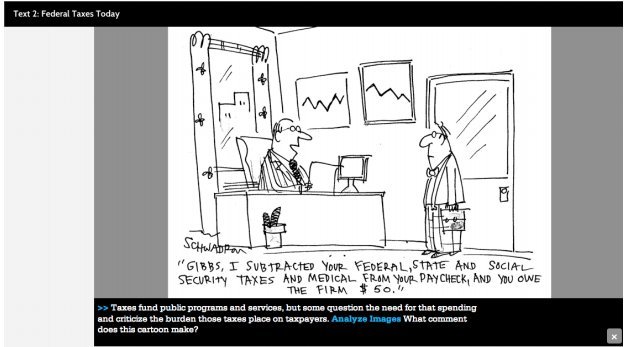 A spokesman for the publisher said in a statement, "Pearson works diligently to ensure its instructional materials are compliant with Texas standards. We will review the TFN report and listen to all interested stakeholders as we enter the public hearing process."
Brian Belardi, a spokesman for McGraw-Hill, similarly said, "Many of the points in the report stem from the alignment of our products with Texas educational standards. As Texas Freedom Network has expressed views on education that run contrary to these standards, it is understandable that these critiques extend to our programs."
The Texas State Board of Education will hold its first public hearing on the proposed textbooks on Sept. 16, when community members will be able to comment on the books. But some board members have already dismissed TFN's criticisms.
"Being that the Texas Freedom Network actively recruits liberal opponents to run against the board, I don't think they are going to make much headway with the board's majority," David Bradley, a Republican member, told the Texas Tribune. "If Texas Freedom Network is unhappy with [the textbooks], then I am probably going to feel pretty good about them."
Thomas Ratliff, another Republican board member, noted that the board can't do much about the Texas curriculum standards adopted several years ago.
"We're very focused and limited on what we can and can't weigh in on," Ratliff told the Austin-American Statesman. "If there's a complaint about the standards, that ship has sailed."
Texas last approved new social studies textbooks in 2002.
Before You Go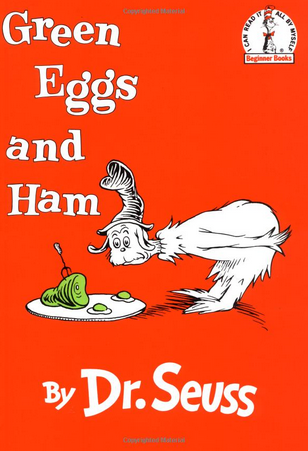 The Most Popular Books For American Students
Popular in the Community