Testimony for Public Hearing Wednesday, September 13, 2017 at the Texas Education Agency before the Texas State Board of Education submitted by Tony Diaz on behalf of "The Mexican-American Studies Toolkit".
At the time, public reaction to the book was focused on some of the offensive content of the text which consisted of stereotypes; however, after having a year to reflect on the matter, and now after having undergone the process for a textbook adoption, I can see that there was an even larger issue at stake.
It seems apparent that while the former board member sat on the Texas State Board of Education she was studying the textbook adoption process; however, she was not studying it with the intention of streamlining it or improving it. She was studying the process with the intention of benefitting from it.
This became crystal clear to me as I conducted research on the process and discovered the letter she sent to the TX SBOE just before it was set to vote on her book.
I'm not a lawyer, but in my opinion the letter told the TX SBOE that it had to vote to approve her book, and she threatened to sue them if they did not. She also dishonored the process by not seeing it to its complete fulfillment and refused to make any additional changes.
Again, she was very familiar with the process that she oversaw for so many years, but she was not seeking to make the process more perfect for other publishers so that good textbooks would get to Texas students, and she refused to further cooperate with you, even though she once sat where you sit.
I commend you for defying her threat. Moreover, I commend you for living up to the highest goal of your office. You united across party lines to unanimously reject that flawed textbook and to re-open the call for Ethnic Studies textbooks. That is Texas at its best. You did not let a former colleague bully you, and you kept in mind the best interest of Texas students.
I'd like to think that one year later we are in a parallel universe.
I am proud to have submitted "The Mexican-American Studies Toolkit" for your consideration. This book is very different than the book from last year, and unlike my predecessor, I am here to work with you. After having gone through the process, I understand your work better. I commend you for fine-tuning and striving to improve the process, and I look forward to collaborating and once again uniting to create the best educational system that we can.
This is the written version of the remarks I gave to the Texas State Board of Education Public Hearing regarding the adoption of "The Mexican American Studies Toolkit". I am the lead writer and editor for the textbook. Speakers are given 3 minutes to address the board. I used this written version as a guide for my live remarks.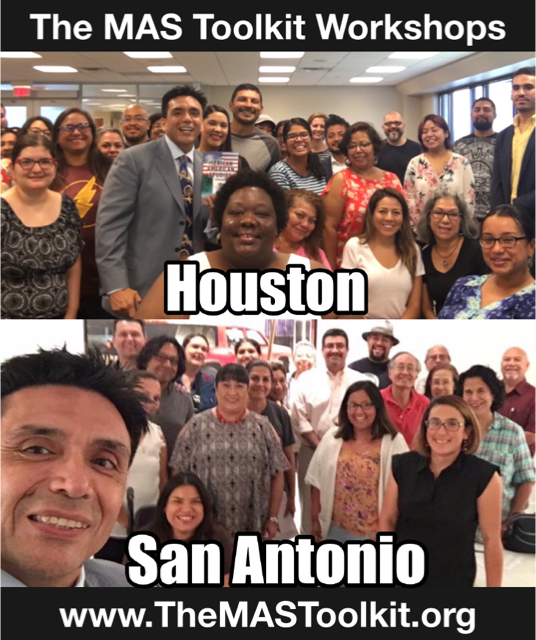 Hurricane Harvey
I opened my remarks by thanking the Texas State Board of Education and The Texas Education Agency for their work on Hurricane Harvey Relief. The first item on the board's agenda included an update on those extensive efforts. Of course, since I live in Houston, I have seen first-hand the extent of the damage and disruption caused by Hurricane Harvey.
My own home withstood some damage, and we were without electricity, but luckily my family was not forced to abandon our home as happened to many others.
The National Guard had to save one of my protégés from her home. The college she teaches at will not re-open until September 25, and the library has been ruined by water.
I just gave some workshops in Fort Worth and Dallas where I was told that hundreds of displaced students are being welcomed and accommodated. Thousands of students in our school district are in need. The board reported that there has been an outpouring of support from across the country.
I thanked them for their efforts, and I thanked all of those helping to make sure that our students feel safe, cared for, and supported.
Here is just one link to support Houston Independent School District Students, but there are many places to donate to. This is not to dismiss any of them. This is simply to provide you with one way to act right now if you can, but to also let you know how great the need is.
Next Steps for The Mexican American Studies Toolkit
The Texas State Board of Education will convene again in Austin the week of November 7 to vote on adopting "The Mexican American Studies Toolkit."
You may review the book by visiting the website for the Texas Education Agency, or the website for the textbook: www.TheMASToolkit.org. You can also get more information about events, talks and lessons plans by visiting the website.
More Workshops:
Visit for www.TheMASToolkit.org for a listing of upcoming workshops. Rio Grande Valley teachers and administrators are welcome to attend a free workshop about the THE MEXICAN AMERICAN STUDIES TOOLKIT, the textbook poised to become the first Mexican American Studies textbook approved for statewide use in high schools. To RSVP, please email the following: name, email, phone, school, address and grade level you teach if you are en educator, to: Tony@TheMASToolkit.org.
Although the presentation are tailored for educators, community members are welcome to attend. Here are the dates and times for workshops and events in the Rio Grande Valley:
Wed. October 4: Brownsville
Thurs. October 5: Mc Callen and San Benito
Friday, October 6: McAllen
6p – 7:30 pm Yerberia Cultura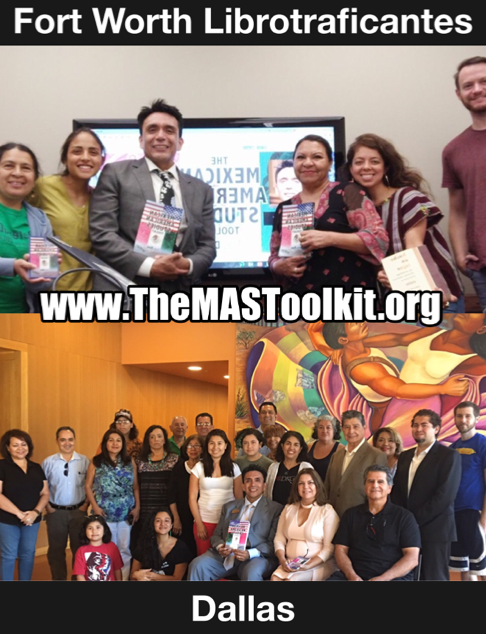 Popular in the Community