AUSTIN, Texas ― Every time Texas State Rep. Eric Johnson (D-Dallas) walks into his office at the Capitol, he passes a plaque that says the Confederate uprising "was not a rebellion, nor was its underlying cause to sustain slavery."
The marker, titled the "Children of the Confederacy Creed," was first hung on the legislature's walls in 1957. It's one of about a dozen laudatory memorials to the Confederacy scattered about the Texas state Capitol, all of which have long disturbed Johnson, one of the state's black legislators.
But after a car pummeled a crowd of anti-racist protesters at a rally called by white supremacists to preserve a statue of Confederate General Robert E. Lee in Charlottesville, Virginia, killing 32-year-old Heather Heyer and injuring several others, Johnson requested the plaque be removed immediately.
"The secession documents of the State of Texas, whose legitimacy are not in question, flatly contradict the claim in the plaque that sustaining slavery was not an underlying cause of the Civil War," Johnson wrote in a Wednesday letter to the Texas State Preservation Board. "The plaque is at best a counterfactual propaganda proffered at the time of its installation nearly a century after the Civil War in order to discredit the growing civil rights movement in the United States."
When the legislature reconvenes, he plans to submit a resolution to remove all Confederate monuments from the Capitol.
After sending the letter, he started receiving angry messages. "Tell Johnson he's a worthless f**kin' prick and he needs to go back to Africa if he don't like the United States," one voicemail said.
The message didn't shock Johnson. But he felt it confirmed his point: Confederate monuments don't educate the public about a contentious history, as many of their supporters claim ― they glorify the losers of a war over racial slavery.
"They are symbols of white supremacy and therefore they are being embraced by white supremacists. It's pretty logical when you think about it," Johnson told HuffPost. "And they need to go."
But his conservative Republican colleagues who dominate both the legislature and the state preservation board have yet to rally behind him.
The Capitol's Confederate monuments remained standing two years ago after white supremacist Dylann Roof shot and killed nine people at a black church in Charleston, South Carolina, prompting a national debate over such racially charged symbols. The Texas legislature ignored an attempt this year to rename "Confederate Heroes Day," a state holiday celebrated on Jan. 19, around the time the rest of the country celebrates Martin Luther King, Jr. Day. And Gov. Greg Abbott (R), who chairs the preservation board, issued a statement Wednesday saying that removing the state's Confederate monuments "won't erase our nation's past and it doesn't advance our nation's future." 
"Racist and hate-filled violence ― in any form ― is never acceptable, and as Governor I have acted to quell it," Abbott's statement said. "My goal as governor is to eliminate the racist and hate-filled environment we are seeing in our country today."
The governor's comments rang hollow to Austin City Council member Greg Casar, a Democrat. As a graduate of the University of Virginia, the weekend's violence in Charlottesville hit him personally. "For those of us working toward racial justice, this isn't about erasing history," Casar told HuffPost. "This is about taking the lies out of our monuments."
Critics like Casar view Confederate monuments as symbols of a history that largely accounts for wealth disparities, police violence, poor health care and other symptoms of racial inequality that persist in Texas. One of the cornerstones of Abbott's legislative agenda this year, Casar noted, was a state immigration crackdown that several city governments, including Austin, have challenged in the courts because they allege it would encourage racial profiling, among other reasons.
"The governor has made it one of his top priorities to increase arrests of minorities and people of color," Casar said. "What he's saying is just a lie, just like when people say that the Civil War wasn't about slavery, it's a lie."
Casar is currently working on proposals to rename the Capitol city's Robert E. Lee and Jefferson Davis roads after civil rights heroes instead of Confederate figures. (One Austin group has also proposed renaming Robert E. Lee road after Led Zeppelin frontman Robert Plant.) Several other Texas cities are reviewing whether to find a new place for Confederate monuments. But city officials have little influence over the monuments on the Capitol grounds.  
Texas House Speaker Joe Straus, a moderate Republican in a state led largely by movement conservatives, offered more conciliatory remarks on Thursday, saying he'd work with Johnson to review the historical accuracy of Confederate markers on the Capitol, including the plaque 40 steps from the Dallas representative's office.
But Straus offered a similar plan to review Confederate symbols at the Capitol two years ago, with little effect. "No task force needed," Johnson shot back Friday morning. "No interim committee needed. No study needed. Just a history book and a crowbar." 
The partisan debate over whether to keep the state's most prominent Confederate monuments mirrors the racial divide of the legislators themselves. Some 96 percent of Texas Republican state legislators are white, while 91 percent of Democratic legislators are people of color, according to a tally by the Texas Tribune. 
No task force needed. No interim committee needed. No study needed. Just a history book and a crowbar.

Texas State Rep. Eric Johnson
While Abbott describes himself as a crusader against racism, the state legislature dominated by his party has built a track record for passing laws that federal courts later strike down as racially discriminatory.
Earlier this year, a federal judge ruled that a Texas law requiring voters to present photo ID was designed to discriminate against minorities. Last week, a panel of federal judges ruled that two congressional districts drawn by the legislature violate the Voting Rights Act by diluting the votes of Hispanic and black Texans. On the same day, Abbott issued the statement in favor of keeping the state's Confederate monuments standing, he also announced that Texas would appeal the ruling ordering the state to redraw the discriminatory districts.
Texas is home to 178 Confederate monuments, plaques and other state-sponsored symbols, according to Politico ― the second-highest number of any state in the country, behind Virginia. Perhaps the most grandiose of all of them is the Confederate Soldiers Monument, on the south lawn of the state Capitol.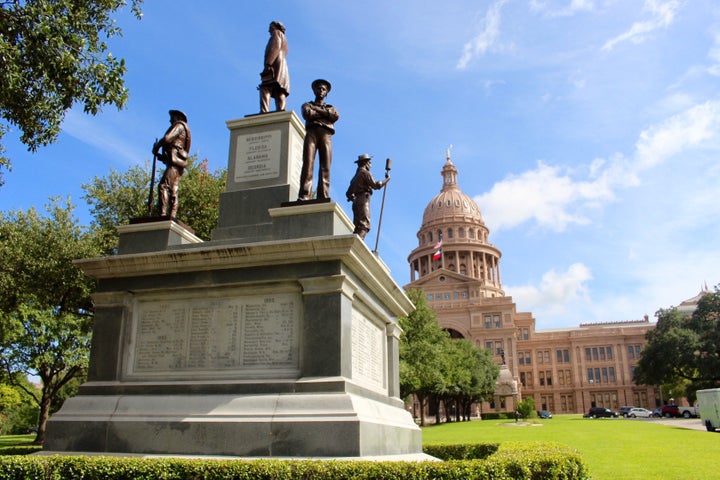 Any visitor who walks up the road to the main entrance of the Texas Capitol here will first pass the towering statue honoring those who died in an effort to secede from the United States. Four bronze figures representing the divisions of the Confederate Army stand atop a granite base. Jefferson Davis, the former President of the Confederacy, is perched at the top. 
"The people of the South, animated by the Spirit of 1776, to preserve their rights, withdrew from the federal government in 1861," the words carved into the monument read. "The North resorted to coercion. The South, against overwhelming numbers and resources, fought until exhaustion." Some 437,000 Confederates "died for states' rights guaranteed under the Constitution," the monument says. The word "slavery" is left unmentioned. 
Former State Sen. Rodney Ellis, a Democrat from Houston who left the legislature this year to serve as a Harris county commissioner, pushed for years to remove the monument. He didn't succeed, but last year the state erected a statue commemorating African-American history at the Southern entrance, a few feet away.
No longer a state senator, Ellis still hopes the legislature will remove statues like the Confederate Soldiers monument. "The tragic events in Charlottesville bring greater urgency to efforts in Texas and across the nation of removing these symbols of racism and hatred," Ellis wrote in an email to HuffPost.
But many Texans view the monument, like Abbott, as a benign symbol of the state's history. Ashley Howard, 38, passed by the statue on Thursday on a bike ride with a friend. "It's been here, so why would we change it?" Howard told HuffPost. "It's part of our culture."
Another visitor, Edward Newland, felt more ambivalent. "I see both sides of it," the 20-year-old Texas A&M University student told HuffPost. "But I think you can have the monuments to educate people. It's a reminder of what was bad in the past."
Asked if he thought about the criticism that the monument whitewashes the role of slavery in the Civil War, Newland pointed toward the African-American history monument that Ellis had pressured to build. 
A group of three black women stood there, discussing the memorial. All of them viewed the violence in Charlottesville as a symptom that white supremacists and neo-Nazis felt increasingly confident expressing their views publicly because of the country's reactionary politics.
Renee Mills said her 18-year-old son showed interest in applying to Texas A&M University. But she feared for his safety after white supremacists scheduled a rally there on Sept. 11, featuring white nationalist speaker Richard Spencer. Texas A&M hosted Spencer for a talk about white supremacy last year, but the university canceled the event scheduled for Sept. 11, citing safety concerns. Organizers are considering whether to challenge the decision in the courts and may still hold a rally there off campus at some point in the future.
"I don't want him exposed to what my grandparents said they were exposed to," Mills said of her son.
Lori Nicholas, 55, said she grew up in New Orleans, where she rarely gave much thought to the prominent monument to Confederate General Robert E. Lee, which the city removed earlier this year.
"But with all this Trump stuff it makes you think, 'why are we glorifying people who fought to keep us enslaved?' They're not heroes," Nichols said. "That's the good thing about the Trump presidency ― we are talking about this now. Unless you have a country-wide conversation, nothing is going to change."  
Calling all HuffPost superfans!
Sign up for membership to become a founding member and help shape HuffPost's next chapter
BEFORE YOU GO
PHOTO GALLERY
Memorial Held For Charlottesville Victim Heather Heyer