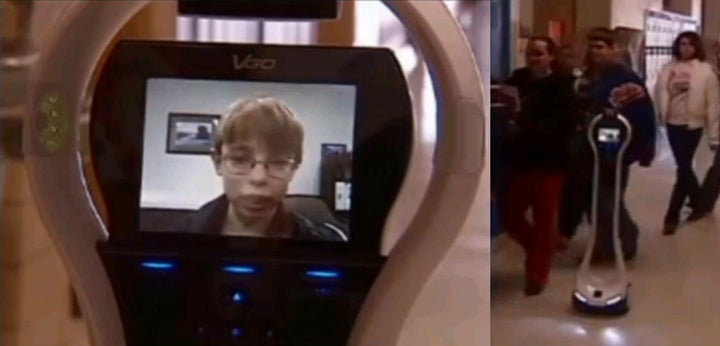 From testing the surface of Mars to teaching lessons about environmentalism, robots have helped us envision the future.
But for one young student in Texas, the future is now.
Unable to attend class due to an immune deficiency, Lyndon Baty uses a robot to communicate and socialize with students at his high school, reports WBIR.
Lyndon Baty lives with Polycystic Kidney Disease, making contact with the outside world difficult. With the help of technology, all that has changed. He told WBIR:
"It's absolutely amazing. I would have never thought when I was sick that I would ever have any interaction, much less this kind. It is just like I am there in the classroom."
From the safety of his home, he can control his proxy with controls on his computer. The full video and audio capabilities allow him to ask his teachers questions and work along with fellow students.
Mike Campbell, Texas' Knox City Independent School District's education specialist for technology, said it made a big difference for Baty.
"This is one of those occasions where we see a dramatic improvement of a student who wasn't able to go to school. But now as a result of the technology, Lyndon has been able to attend class. That's something that most of us take for granted."
Besides classroom instruction, Baty wants pursue something else many take for granted: a social life.
"My best friends were my parents. No offense against them, but I want other friends."
WATCH:
Related
Popular in the Community