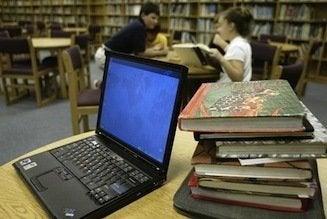 The Texas State Board of Education is expected to consider next week a measure that would prohibit textbooks from pushing Islam over Christianity, as they claim has happened in the past. The Dallas Morning News reports:
A preliminary draft of the resolution states that "diverse reviewers have repeatedly documented gross pro-Islamic, anti-Christian distortions in social studies texts" across the U.S. and that past social studies textbooks in Texas also have been "tainted" with pro-Islamic, anti-Christian views.

The resolution cites examples in past world history books -- no longer used in Texas schools -- that devoted far more lines of text to Islamic beliefs and practices than to Christian beliefs and practices.
Kathy Miller, a spokeswoman for the religious-liberty group Texas Freedom Network, said textbooks currently used in the state's public schools offer a balanced treatment of the world's religions.
"This is another example of board members putting politics ahead of just educating our kids," Miller said. "Once again, without consulting any real experts, the board's politicians are manufacturing a bogus controversy."
Earlier this year, ultraconservative members of the state education board succeeded in approving a series of extremely controversial changes to school texts, dramatically reshaping core curricula in social studies, history and economics taught to millions of students.
The Huffington Post reported at the time on the drastic revisions, including the following:
Curriculum standards also will describe the U.S. government as a "constitutional republic," rather than "democratic," and students will be required to study the decline in value of the U.S. dollar, including the abandonment of the gold standard.
The latest measure being considered by the board is no less controversial. The Morning News reports:
Sponsors of the resolution cautioned that "more such discriminatory treatment of religion may occur as Middle Easterners buy into the U.S. public school textbook oligopoly, as they are doing now." They offered no specific evidence of such investments.

The resolution concludes with the warning to publishers that the "State Board of Education will look to reject future prejudicial social studies submissions that continue to offend Texas law with respect to treatment of the world's major religious groups by significant inequalities of coverage space-wise and by demonizing or lionizing one or more of them over others."
REAL LIFE. REAL NEWS. REAL VOICES.
Help us tell more of the stories that matter from voices that too often remain unheard.