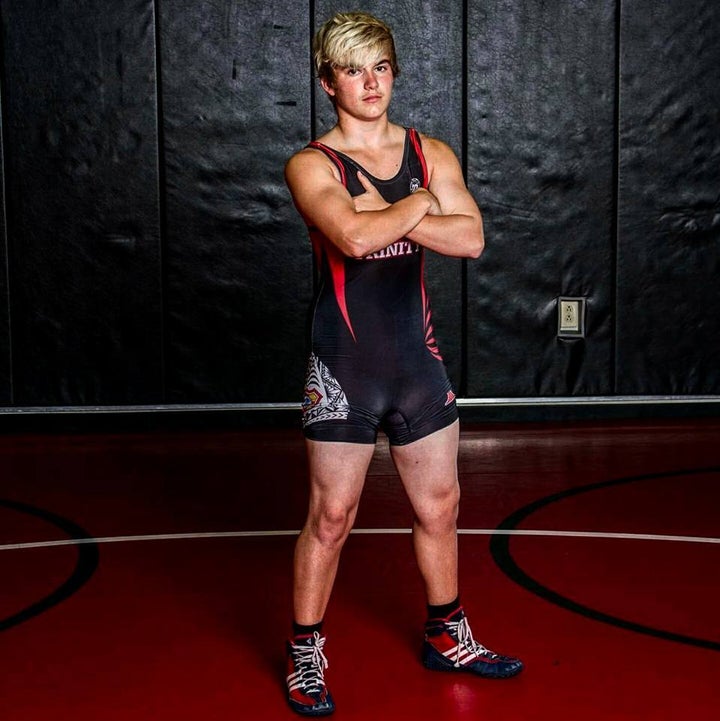 On Saturday February 25th, Mack Beggs won the state of Texas wrestling championship in the 110 pound division. This caps an undefeated season for the Trinity High School junior, in which he was never seriously challenged by any of the fifty-six girls that he fought. In the championship final he demolished Chelsea Sanchez 12-2; Sanchez sported a 50-3 record going into the final match, and had pinned all three of her previous opponents in the state meet. The match was illustrative of Beggs' season, as he is simply too strong and too good to be beaten by the girls he has wrestled.
Beggs is transgender, and in October 2015 he began taking testosterone (T) injections as part of his medically supervised transition. The testosterone resulted in many changes, including a substantial increase in strength. If Beggs were competing in the NCAA, his use of T would compel him to compete in the men's division. The UIL, however, the governing body for most Texas high school sports, requires that student athletes compete in the gender listed on their birth certificate, and Beggs' certificate says female.
I find it incredibly ironic that the decision to use a birth certificate to determine athletic gender for Texas high school students – a decision that was made for the purpose of "protecting" female athletes from transgender athletes – has resulted in a trans athlete dominating his weight division in a girl's sport.
And this leads me to the core difficulty in crafting rules for transgender athletes. How does one ensure that transgender athletes enjoy their inalienable right to participate in sports, while at the same time ensuring that women's sports are not devalued?
I believe that, at the adult level, testosterone levels should be used to define male or female athletic gender, with high-T athletes in the male category, and low-T athletes in the female category. The NCAA, IOC, IAAF and many other sporting bodies agree with me, and the use of a testosterone-based athletic gender is backed by science. While trans men become notably more athletic after taking T, trans women become markedly less athletic when they undertake testosterone suppression as part of their transition.
I also believe that prepubescent athletes should be allowed to select whatever sporting gender works best for them. Of course, this means that the vast majority of children will play in the gender they were assigned at birth. Determining athletic gender in adolescents is more challenging, and I will use details from Beggs' high school wrestling history to illustrate why this is true.
As a freshman, Mack Beggs had a male gender identity but had not started testosterone injections. He ended the year at 25-14 overall in girl's competition, but was pinned in both of his matches at the State championships. Clearly, he belonged in the girl's division that year.
At the start of his sophomore year of wrestling, Beggs started taking T, but the effects of these injections are not instantaneous. Beggs complied a 40-9 record in 2015-16, winning once and losing twice in the state championships. Again, it was appropriate for him to wrestle girls that year.
By the start of his junior wrestling campaign in the fall of 2016, he had been on T for a year, and anyone familiar with the female-to-male transition process would understand that there would be major changes in his athletic ability. On the other hand, given his previous record, it was not totally unreasonable to keep him in the girl's category. There wasn't a guarantee that he would dominate. By the end of this undefeated season, however, it should be obvious to everyone that Mack Beggs belongs in the boys division. It would be a travesty if he were required to wrestle girls any longer.
Beggs' case illustrates why I believe that the correct gender-based category for high school transgender athletes should be determined on a case-by-case basis, with an annual review required. At some point, a trans athlete undergoing hormonal therapy should be moved from the gender assigned at birth into the sporting gender that matches the athlete's testosterone level. The appropriate timing of this shift will vary from one athlete to the next. I also suggest that an endocrinologist should be part of the panel that reviews the cases of adolescent trans athletes.
I would implore the state of Texas, and any other state that requires transgender athletes to compete in their natal sex, to take a hard look at their rules. These states are perpetrating a great injustice upon trans and cisgender athletes alike.
Related
Popular in the Community