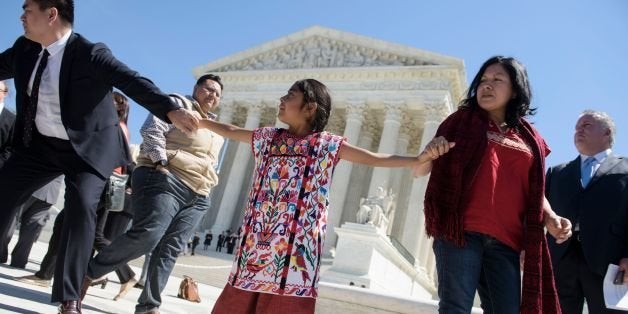 All eyes were on the Supreme Court this past Monday as it heard oral argument in United States v. Texas, which has been dubbed the "biggest immigration case of the century."
At issue was whether immigrant parents of U.S. citizens and lawful permanent residents or other qualified immigrants with long-term ties to our country will be able to apply for work authorization and protection from deportation under two initiatives announced by President Obama in 2014. These initiatives, known as DAPA and the expansion of DACA, are widely supported by major swaths of the public. And a similar initiative from 2012, which Texas is not challenging, has been a dazzling success.
Or at least that's what the case was supposed to be about. But Texas conceded that the president has the legal authority to decide whom to deport and who should have their deportation deferred. Instead, Texas took issue with the fact that individuals who apply for and obtain deferred action can separately apply for work authorization. In their brief to the Supreme Court, they went so far as to say that the government could issue "'low priority' identification cards" to those who would be eligible for DAPA or the expansion of DACA. The real problem, they say, is the granting of work authorization, which they allege will lead to applications for driver's licenses. The fact that they think they will lose money issuing these driver's licenses is their reason for bringing the case to the Court, according to the Texas solicitor general.
Texas is engaging in legal obfuscation they hope others won't notice. First, having work authorization wouldn't make those with DAPA or DACA eligible for licenses. It's having received deferred action that allows immigrants to apply for and become tested, licensed, and insured drivers.
Second, the granting of work authorization has been a part of the immigration regulatory system for decades. In announcing DAPA and the expansion of DACA, the Obama administration simply followed the regulations that have been in place since 1981 by reiterating that individuals with deferred action are also eligible for work authorization. If Congress wants to change the rules on who is eligible for work authorization, it certainly can do so, but these guidelines have been firmly in place and utilized by presidents on both sides of the aisle for decades.
Third, although you would not know this from their arguments, Texas did not sue over work authorization regulations. They filed their lawsuit in federal district court over the Department of Homeland Security directives that created DAPA and the expansion of DACA. As Justice Kagan said during oral argument, "What you should be attacking is not DAPA. You should be attacking the work authorization regulations that the DHS, or before that the INA, has had for 30 years."
What has become clear from Texas's legal arguments is that they support keeping parents of U.S. citizen children stuck in a woefully out-of-date immigration system and working without the proper authorization, which only benefits unscrupulous employers. Texas says it doesn't mind keeping people in limbo, but it wants to prevent these people from ever receiving the work authorization they need to better provide for their families.
This proposed "solution" hurts all workers and helps abusive employers who can continue to exploit the immigration system to hire workers under the table. Furthermore, Americans recognize that our current system doesn't work, and they agree that we should allow people to come forward, pass a background check, register, and then work toward contributing more fully to their communities.
Yesterday, Texas betrayed its true motive for filing the lawsuit against DAPA and DACA. This lawsuit is simply a brazen attempt to use the courts to push its political agenda. I hope the justices see through the smokescreen and remind Texas that politics belong in the statehouse, not the courthouse.
Popular in the Community