UPDATE: April 22 — The Austin County Sheriff's office has finished its investigation, and Texas veterinarian Kristen Lindsey's case is now with Austin County District Attorney Travis J. Koehn.
Lisa Tobola, a legal assistant at the DA's office, told The Huffington Post it's possible that Lindsey could be charged with a felony, but that as of now, they "don't really know" when the review will be completed. The case might proceed to a grand jury.
Texas veterinarian Kristen Lindsey quickly lost her job after posting a photo of herself holding a cat that appears to have been shot with an arrow. The picture caused massive public outcry last week, but authorities are still looking into the incident.
"Right now this case is under investigation," Austin County Sheriff Jack Brandes told The Huffington Post on Monday afternoon. "That takes a little time."
Animal advocates are now calling for action against the vet, who for the past two years worked at the Washington Animal Clinic in Brenham.
The caption on the woman's Facebook post, which has since been taken down, read: "My first bow kill, lol. The only good feral tomcat is one with an arrow through it's head! Vet of the year award ... Gladly accepted."
Warning: The following photo may be disturbing to some readers.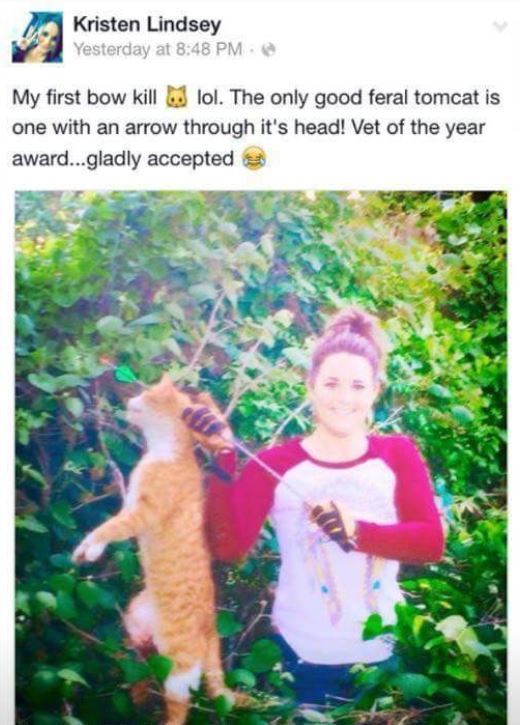 "I just want everybody to know several things. We can't arrest and charge someone like that based on a picture on the internet. We have to make sure that is true and correct," Brandes told the Dallas Morning News. "Anybody can take a computer and alter a photograph."
Brandes told HuffPost he couldn't say if any tips had been called in but added "any information we can get would be extremely appreciated." He also couldn't say if the cat's body has been recovered, or when he expected the case to be referred to the prosecutor's office.
Alley Cat Allies attorney Liz Holtz said she is hopeful that someone with firsthand knowledge will come forward with information.
"The fact that a veterinarian, a profession charged with caring for animals, may have committed this crime and regardless thinks that the violent death of a cat is funny, demonstrates that animal cruelty is a serious problem and should be treated accordingly," she said.
Alley Cat Allies, in the meantime, has petitioned the Texas State Board of Veterinary Medical Examiners to investigate Lindsey, and, if appropriate, revoke her license.
"If the veterinarian actually committed the act depicted in the photo, she is in violation of the state cruelty code," reads the complaint, which was provided to HuffPost. "Regardless of the validity of the photo, which is presently being investigated by the Austin County Sheriff's Office, the veterinarian's actions and callous disregard for animal welfare is in violation of the Texas State Board of Veterinary Medical Examiners' rules of professional conduct."
Loris Jones, a representative for the Board, said the group is taking any complaints "very seriously" but "doesn't want to say one way or the other" if the alleged cat killing could lead to Lindsey losing her license.
The American Veterinary Medical Association said in a news release that it's pursuing its own investigation, as well.
"Unfortunately, we have a lot of experience with animal cruelty," Holtz said. "I believe that this case has already brought greater awareness of cruelty against cats and sparked a conversation about humane education. I hope that the conversation continues and police and prosecutors begin investing time and resources in investigating and prosecuting these types of cases."
Dr. Bruce Buenger, with the Washington Animal Clinic where Lindsey worked, issued the following statement to KBTX: "Our goal now is to go on and try to fix our black eye and hope that people are responsible and understand that those actions don't in any way portray what we are for here at the Washington Animal Clinic. We put our heart and soul into this place."
We've been thinking in memory of Tiger and how much we're fighting for justice for him, we could also do that for other cats and kittens in shelters still needing homes.

Perhaps we could all spare a few tins of cat food or some cat toys and really make these cats days a bit more happier as they must be feeling really glum, in fact we could spare something for all animals in shelters.

If you do not live near a shelter you could put down a tin of tuna for the strays that may live near you, anything helps!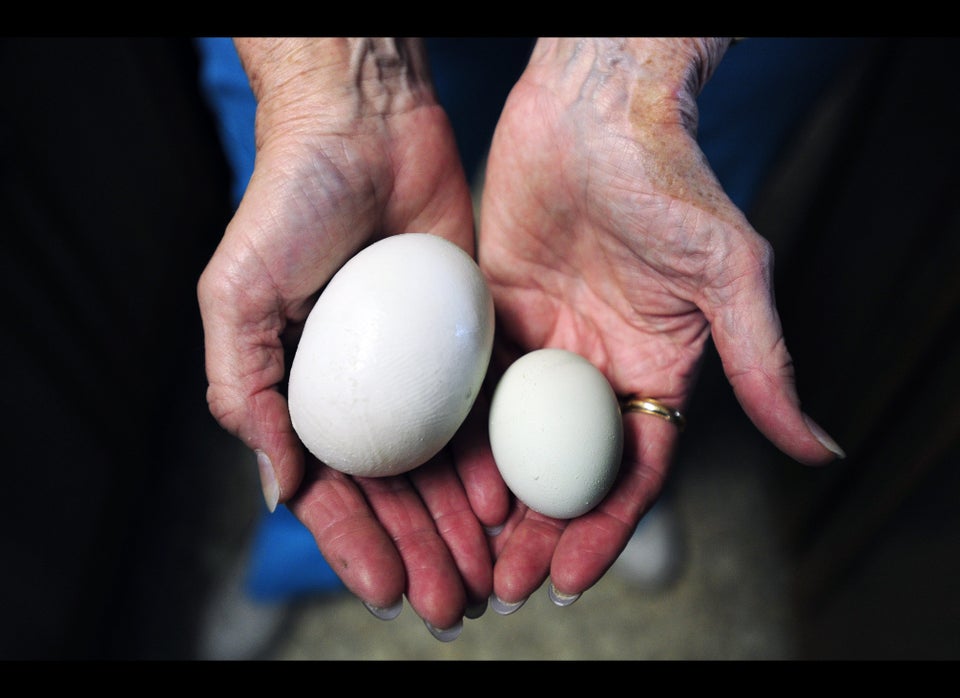 Animals In The News
Popular in the Community