A federal court on Wednesday struck down a new Texas voter ID law that was meant to fix a previous law that was determined to be intentionally discriminatory.
In June, Texas adopted a voter ID law, called SB 5, which was meant to serve as a remedy to Texas' 2011 voter ID law, SB14, that a federal judge had blocked, ruling it was passed with the intent to discriminate against black and Latino voters. The initial law was challenged over the types of identification the state allowed voters to use, a list that included a handgun permit but not a student ID.
The new law tried to fix SB 14 by allowing voters to present different documents to prove their identity. Voters could present documents such as a voter registration certificate, a utility bill or a bank statement after the new law took effect next January.
But in a 27-page ruling Wednesday, U.S. District Court Judge Nelva Gonzales Ramos decided the new law did not fix the discrimination of the initial one.
"The only appropriate remedy for SB 14's discriminatory purpose or discriminatory result is an injunction against enforcement of that law and SB 5, which perpetuates SB 14's discriminatory features," Ramos said.
"Along with continued provisions that contribute to the discriminatory effects of the photo ID law, SB 5 on its face embodies some of the indicia of discriminatory purpose — particularly with respect to the enhancement of the threat of prosecution for perjury regarding a crime unrelated to the stated purpose of preventing inperson voter impersonation fraud," Ramos wrote.
"SB 5 does not meaningfully expand the types of photo IDs that can qualify, even though the Court was clearly critical of Texas having the most restrictive list in the country," Ramos wrote. "Because those who lack SB 14 photo ID are subjected to separate voting obstacles and procedures, SB 5's methodology remains discriminatory because it imposes burdens disproportionately on Blacks and Latinos."
Texas Attorney General Ken Paxton said in a statement Wednesday that the state would appeal.
"Today's ruling is outrageous. Senate Bill 5 was passed by the people's representatives and includes all the changes to the Texas voter ID law requested by the 5th Circuit," Attorney General Paxton said. "The U.S. Department of Justice is satisfied that the amended voter ID law has no discriminatory purpose or effect. Safeguarding the integrity of elections in Texas is essential to preserving our democracy. The 5th Circuit should reverse the entirety of the district court's ruling."
Voting rights groups were quick to praise the District Court's decision.
"Time and time again, federal courts have made it clear that Texas's strict voter photo ID law is discriminatory," Danielle Lang, senior counsel for Campaign Legal Center, which represented the Texas plaintiffs, said in a statement. "It doesn't matter how many times the state tries to dress the law in sheep's clothing ― its intent is to discriminate and prevent hundreds of thousands of eligible voters from casting ballots. Now, Texas must return to nondiscriminatory ID practices in voting, which do not require photo ID."
Kristen Clarke, president and executive director of the Lawyers' Committee for Civil Rights Under Law, said in a statement: "Once again, a federal court has shut down a discriminatory voter ID law in Texas. Judge Ramos's decision recognizes that a State cannot escape the consequences of its pernicious conduct without completely eliminating all vestiges of discrimination."
Under President Barack Obama, the Department of Justice had supported the challenge to the Texas law. But soon after President Donald Trump took office, the department reversed positions, arguing that SB 5 fixed the discriminatory issues.
Before You Go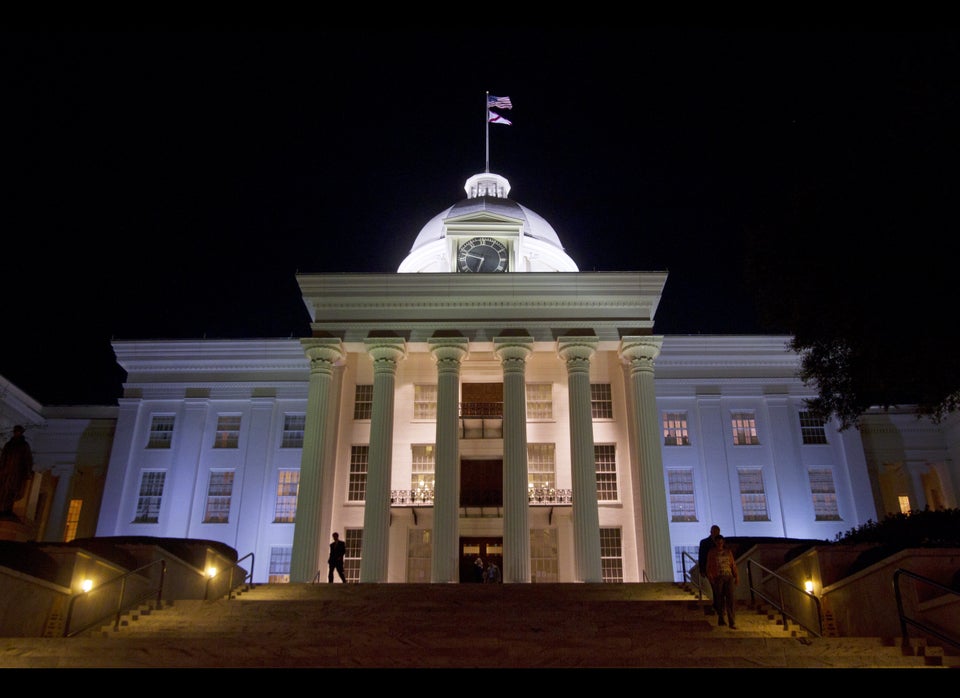 U.S. State Capitol Buildings
Popular in the Community