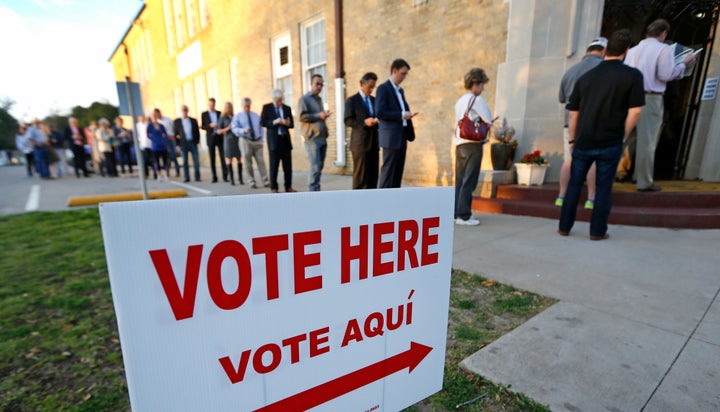 A voter identification law in Texas was ruled last year to have a racially discriminatory effect, but the law remains on the books as voters head to the polls Tuesday.
A federal appeals court ruled in 2015 that Texas' voter identification law violates the federal Voting Rights Act in that it affects people of certain races more than others. But Texans will still have to present one of a handful of acceptable forms of government-issued photo ID Tuesday when they go to vote in the state's primary.
Texas passed its strict voter ID law in 2011, but it was blocked by a federal court under a now-defunct provision of the VRA that required the state to get federal pre-approval for any changes to its election laws. In August 2012, the District of Columbia Court of Appeals ruled that the law would impose "strict, unforgiving burdens" on low-income voters of color. But Texas was able to implement the law in 2013 anyway, after the Supreme Court gutted that section of the VRA in a controversial 5-4 decision.
The law is more strict than other states' photo ID laws because it deems only a few forms of photo IDs acceptable. IDs from state universities don't count, for example, but handgun licenses do. Courts have found that more than 600,000 eligible voters in the state lack an acceptable form of ID.
Republicans who passed the law say that voter ID laws prevent voter fraud, even though documented cases of in-person voter impersonation are exceedingly rare. Democrats and civil rights advocates meanwhile, argue that Texas' requirements disproportionately affect people who are less likely to have the acceptable forms of ID, such as people of color, students, seniors and people with disabilities.
The Texas law is also more likely to present a challenge for women, who may not have the documentation to prove that they had name changes when they got married or divorced, and for low-income people, who may not have birth certificates or other forms of documentation needed to get an ID.
Republicans in the state legislature agreed to create a new form of ID called an election identification certificate, or EIC, which would be provided free to eligible voters. But as The Texas Observer reports, the state Department of Public Safety has issued just 653 EICs, or only one ID for every 1,200 Texans who lack an eligible form of ID to vote.
In August 2015, a three-judge panel of the U.S. Court of Appeals for the 5th Circuit found that the law violated Section 2 of the VRA, which prohibits election procedures that discriminate on the basis of race or color. The justices avoided making a judgment to whether Texas legislators had a discriminatory purpose in passing the law, so they sent that question back to a lower federal court to re-evaluate its determination that lawmakers had been intentionally discriminatory.
The appeals court suggested that the lower federal court could either reinstate voter registration cards as documents that allow someone to cast a ballot, or allow voters to sign an affidavit saying they do not have an acceptable form of identification before they can vote, as other states with less stringent voter ID laws do.
Meanwhile, as the litigation process remains ongoing, Texas voters without an acceptable form of ID will be disenfranchised again on Tuesday.
Calling all HuffPost superfans!
Sign up for membership to become a founding member and help shape HuffPost's next chapter
BEFORE YOU GO
PHOTO GALLERY
Historic Images Of Women Voting