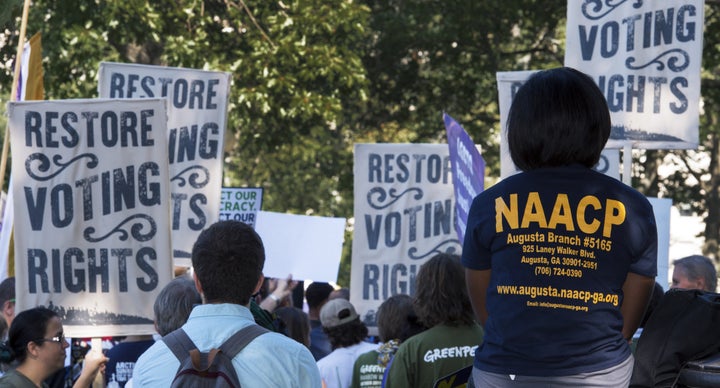 Texas on Friday asked the Supreme Court to take a long, hard look at its voter ID law ― weakened after legal challenges stripped it of much of its teeth.
The move, for now, is only symbolic. The petition for review will have no impact on the November election, since the Supreme Court can take several months before it decides whether to add a case to its docket.
That means the summer ruling stands, and a lower court judge's orders to implement it ahead of Election Day will remain in full force.
In August, U.S. District Judge Nelva Gonzalez Ramos ordered Texas to institute a series of remedies prior to the election to ensure no citizen who lacks ID is turned away at the polls ― including allowing voters to sign an affidavit attesting to their identity.
Still, Texas Attorney General Ken Paxton (R) on Friday repeated what he and many Republican politicians insist it's true about voter ID laws: that they're necessary to keep people from committing voter fraud.
"Safeguarding the integrity of our elections is essential to preserving our democracy," Paxton said in statement, which conceded the state's appeal won't affect its current obligations to offer relaxed rules to voters. "Texas enacted a common-sense voter ID law and I am confident that the U.S. Supreme Court will ultimately reinstate it," he added.
Voting rights advocates, who earlier this week convinced Ramos that Texas was flouting her earlier order and misleading voters about the softened ID rules for voting, said they weren't so sure the state has much of a case left to make.
"Despite four different federal courts finding that its photo ID law is discriminatory, Texas is investing more state time and resources ― to date, more than five years and 3.5 million dollars ― to tilt at windmills against a problem, impersonation voter fraud, that does not exist," Janai Nelson, an attorney with the NAACP Legal Defense Fund, said in a statement.
"Texas enacted a common-sense voter ID law and I am confident that the U.S. Supreme Court will ultimately reinstate it."
But this could be the first time the justices get to examine it in depth, presenting them with an opportunity to revisit their own thinking on voter ID laws. The Supreme Court has blessed voter ID laws in the past, but not since a conservative majority in 2013 struck down an important part of the Voting Rights Act.
As with a similar high-profile dispute in North Carolina, the Texas case is a "test case" by voting rights plaintiffs ― with full backing by the U.S. Department of Justice ― that aims to show voting discrimination is alive and well and that, short of reviving stalled efforts to reauthorize the Voting Rights Act, litigation can be an avenue for reform and oversight for offending states.
In its appeal to the Supreme Court, Texas points to some of these cases, and says that the July ruling against it creates a situation that requires the justices to step in and provide clarity. Without Supreme Court review, state officials warn, the July ruling "threatens countless longstanding election laws" and "subjects the Texas Legislature to the ongoing charge of intentional racial discrimination."
Whether the Supreme Court agrees to get involved in the case will be known in due time ― but after the election.