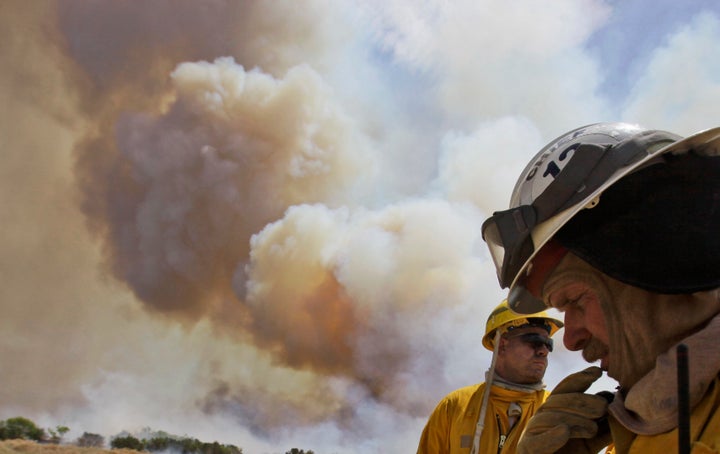 MINERAL WELLS, Texas -- Since evacuating her lakeside Texas home, Jackie Fewell has turned her hotel room into the information hub for one of the state's largest wildfires, working the phones and using the Internet to get the word out to worried residents.
Fewell, her husband and several friends have been updating a blog she created about the fire around Possum Kingdom Lake, a community of mostly weekend homes about 70 miles west of Fort Worth. The fire has burned for nearly a week, tearing through several communities, consuming 150,000 acres and destroying about 150 homes and a church, according to the Texas Forest Service.
CNN quotes Texas Forest Service spokeswoman April Saginor: "We're actually seeing Texas burn from border to border. We've got it in west Texas, in east Texas, in north Texas, in south Texas -- it's all over the state. We've got one in the Dallas area that's four fires that have actually merged together."
Fewell, a partner in a real estate company, said residents have been desperate for accurate information – even sending as many as 100 emails an hour. "It's because they weren't living there to begin with full-time and they didn't know what was going on, and they were hearing these crazy reports," she said.
Armed with cellphones and laptops, Fewell and her team have been chatting with some residents who refused to evacuate, listening to a law enforcement scanner and even watching live feed from a security camera at one of the homes. By Tuesday afternoon, nearly 62,000 people had visited the blog in about 12 hours – up from about 800 visitors on a regular day.
The Possum Kingdom Lake fire is one of several massive blazes across the state that firefighters were battling Wednesday morning, adding up to more than 1 million acres of land burned in a little more than a week in drought-stricken Texas.
Firefighters were being called in from around the country to help fight the Possum Kingdom fire starting Wednesday, said Haven Cook, a spokeswoman for the Southern Area Incident Management Team. Local crews that have been fighting the fire can stay on if they choose, Cook said.
Another team dispatched by the same national agency is managing a large fire in West Texas.
The funeral for a volunteer firefighter killed last week also was set for Wednesday. Eastland firefighter Gregory M. Simmons, 50, apparently was hit by a vehicle driving through a smoky area after he had been battling a wildfire.
But weary firefighters had some reason for hope as rain and higher humidity levels were forecast for the rest of the week in parts of the state.
A 20 to 30 percent chance of rain was forecast for Wednesday and Thursday in North Texas, said Daniel Huckaby, a forecaster at the National Weather Service in Fort Worth.
"Some areas will get some rainfall, but unfortunately most will not. And with the chaotic wind that thunderstorms can produce, and the lightening they can produce, that can make matters worse," Huckaby said. But as the humidity levels rise, "even without the rain, conditions are looking more positive."
The fire that started Friday in the Possum Kingdom Lake area and spread into two other counties still was raging well into Tuesday night. That's when authorities ordered the 400 residents of Palo Pinto, about 50 miles west of Fort Worth, to leave because of the advancing flames, said Trooper Gary Rozzell of the Texas Department of Public Safety. The county's jail inmates also evacuated, as did the nearby community of Graford and the small town of Strawn, south of the lake.
Several roads in the area were closed, and boating access to Possum Kingdom Lake was closed Tuesday to everyone except emergency workers responding to the wildfire. White ash was falling from the sky in several nearby towns throughout the day, and National Guard helicopters from Austin and heavy air tankers could be seen dumping water to aid ground efforts.
Fewell said her blog has kept her from worrying about her home, which she found out Tuesday was not in the path of the fire.
"We've just pushed it to the back of our heads," she said. "It is what it is, and we're all in this together."
Associated Press reporters Will Weissert in San Antonio and Terry Wallace, Schuyler Dixon and Linda Stewart Ball in Dallas contributed to this story.
Related
Popular in the Community