"It's laughable that the same politicians that have devastated Texas women's access to health care -- cancer screenings, birth control, and safe, legal abortion -- are now touting their so-called achievements in women's health," Cecile Richards, president of Planned Parenthood Action Fund, told The Huffington Post in an email. "If that's what they call help for Texas women, we've had quite enough of it."
The Senate Health and Human Services Committee scheduled Thursday's hearing in order to assess the progress of the Texas Women's Health Program and a newly expanded primary care program for women's health services. The programs were intended to replace the women's health services that ended in Texas after the legislature slashed the state's family planning budget by two-thirds in 2011.
State Sen. Jane Nelson (R-Flower Mound), chairwoman of the committee, said at the hearing that she hoped to combat all the "misleading data being circulated to Texas women" about their health care access. She said women's health services are "better funded than ever before."
But 76 family planning clinics have reportedly either shut down or stopped providing certain services as a result of the 2011 budget cuts, and a bundle of new abortion restrictions in the state have forced 12 abortion clinics to close since last summer.
Twenty-nine percent of adult women in Texas have no health insurance, a problem compounded by the fact that many lack access to free or low-cost family planning services. Last year, the state ranked sixth worse in the nation in a report on women's health, economic security and political empowerment by the Center for American Progress.
In May 2013, after researchers projected a huge rise in unwanted births over the next two years that would cost taxpayers $273 million, lawmakers restored $100 million in funding to a primary care program that offers women's health services. But major health care providers like Planned Parenthood are still being denied funding, and an estimated 155,000 Texas women have lost access to birth control and basic preventative health care since 2011.
According to the Texas Health and Human Services Commissioner's presentation at the hearing, more than half (54 percent) of all Texas births are paid for by Medicaid. But instead of investing in low-cost birth control and family planning services, the state has reduced its family planning spending from $111.2 million in 2010 to only $43 million in 2014.
The hearing on women's health did not address abortion access, sex education or the maternal mortality rate, which has quadrupled in Texas in the last 15 years.
Reproductive rights advocates protested the hearing and held a simultaneous press conference outside of it.
"You can't have a serious discussion about women's health care while ignoring critical components of that care, like access to birth control and responsible sex education," said Kathy Miller, president of the progressive Texas Freedom Network. "That's especially true in a state with one of the highest teen birth rates in the country. It's hard to imagine we'll solve that problem when we've got politicians who are afraid even to have an honest discussion about it."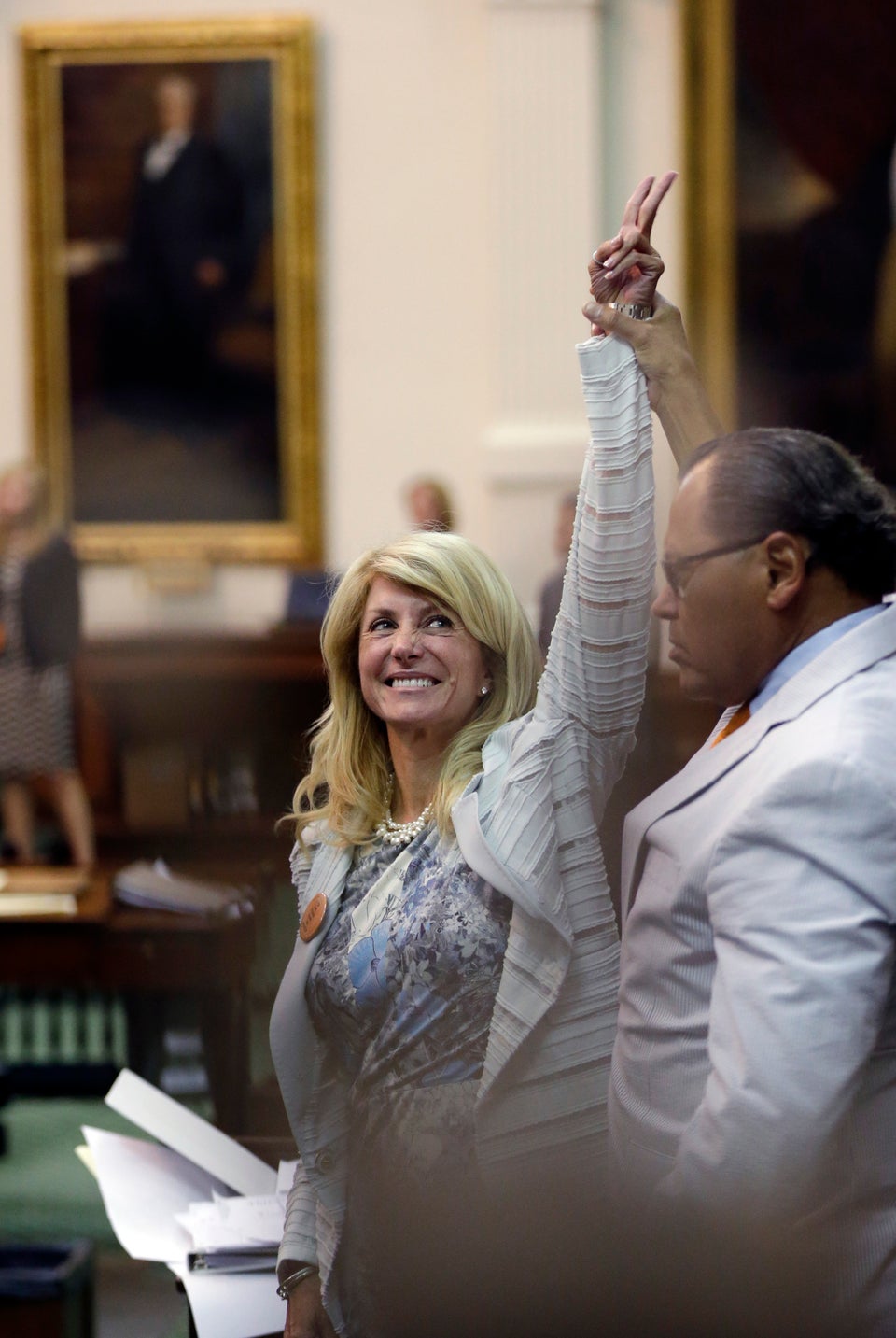 Wendy Davis Speaks For 11 hours On The Abortion Bill
Popular in the Community