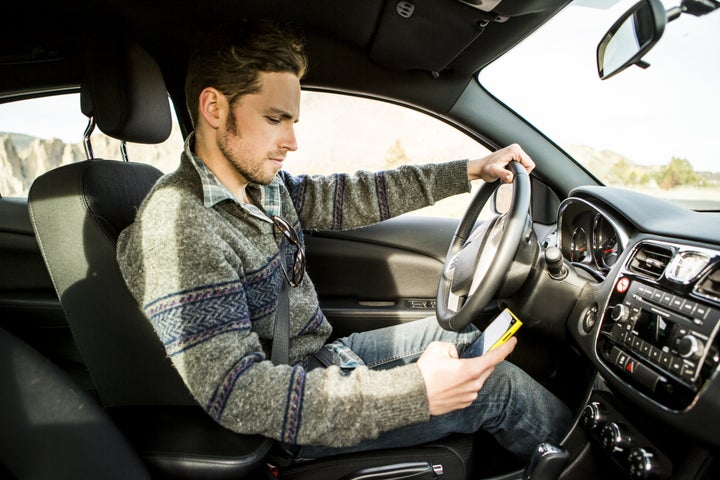 A new device could help cops crack down on distracted driving. Think of it like a breathalyzer, except instead of testing a motorist for alcohol, it's scanning his phone to see if he's been texting behind the wheel.
Cops would use this so-called "textalyzer" at the scene of a crash to check a phone's activity logs and determine whether the driver's eyes were on his phone instead of the road, according to a press release from New York-based advocacy group Distracted Operators Risk Casualties.
Israeli tech company Cellebrite began developing the textalyzer in 2015 after DORC co-founder Ben Lieberman asked the company to build a device that could detect distracted driving.
"I approached Cellebrite about 6 months ago," Lieberman told The Huffington Post in an email, "because they were already respected by police forces throughout the country."
Cellebrite has developed devices for police that can extract call logs, contacts, text messages and other data from mobile phones.
The textalyzer is still in development but could see action soon. Lieberman's group lobbied for a bill in New York that would require drivers involved in car accidents to hand over their phones to police for testing by a textalyzer or similar device. Drivers who refuse to submit their phones for testing could have their licenses revoked, and drivers found to have been texting while driving could face a minimum $200 fine.
Although Cellebrite developed the phone-scanning technology, the proposed legislation does not commit law enforcement to using devices built by Cellebrite, according to Lieberman.
""I have often heard there is no such thing as a breathalyzer for distracted driving -- so we created one"
There's no question that distracted driving is dangerous. One in four car crashes in the U.S. involves cell phone use, according to the National Safety Council. Every day, eight people are killed and over 1,000 are injured in road accidents caused by distracted drivers, according to the Centers for Disease Control.
The New York bill, known as "Evan's Law," is named after Lieberman's son, who died in a crash caused by a distracted driver in 2011. The state's Senate Transportation Committee is currently considering the bill.
"The general public knows distracted driving is a problem, but if people knew the extent of the damage caused by this behavior, they would be amazed," Lieberman said in a release. "With our current laws, we're not getting accurate information because the issue is not being addressed at the heart of the problem—with the people causing the collisions."
"I have often heard there is no such thing as a breathalyzer for distracted driving -- so we created one," Lieberman added.
"If people knew the extent of the damage caused by [distracted driving], they would be amazed."
Unlike Cellebrite's other devices, the textalyzer doesn't collect or display any personal information stored on a driver's phone, according to Jeremy Nazarian, chief marketing officer at Cellebrite. The device simply looks at metadata, which indicates whether a text message was sent, without extracting the content of messages or phone calls.
Scanning a phone's activity logs is "a short process, and we know how to decode and parse it while preserving personal privacy," Nazarian told HuffPost.
But some civil liberties groups worry that the textalyzer might violate drivers' privacy rights.
"The technology may in fact be scanning through the content of people's phones and collecting data, even if that is not apparent," Donna Lieberman (no relation to Ben Lieberman), executive director of the New York Civil Liberties Union, told The Washington Post on Wednesday.
"And even if you finely tune the technology, there are many cases where people will be fined for lawful activity," she added.
CORRECTION: An earlier version of this story incorrectly stated that one in four car crashes in the U.S. involves texting and driving. In fact, these crashes involve cell phone use of some kind, not just texting.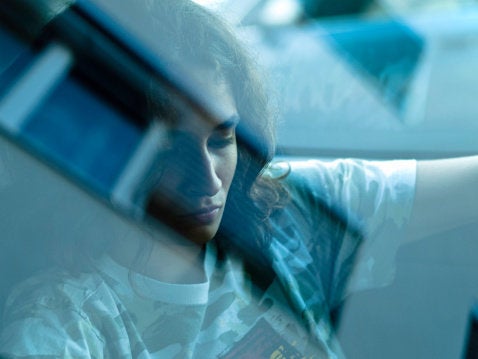 LOOK: Common Distracted Driving Violations
Popular in the Community