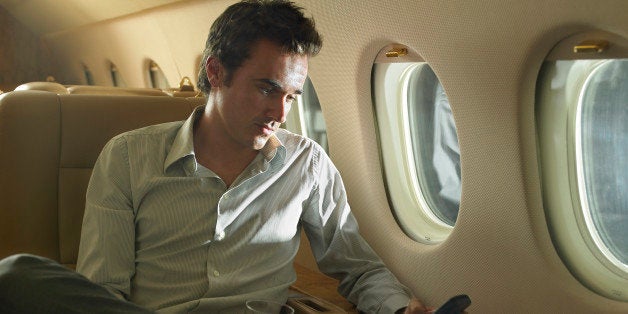 Airplanes have long been an escape from the super-connected world we live in. No texting, no talking and no instant-communication have turned airplanes into veritable havens. But with Gogo's Text & Talk service that all will change.
Gogo, which provides inflight internet service to airlines, unveiled Text & Talk Friday. The service will allow travelers to receive and make phone calls, as well as send and receive text messages.
Users will purchase and activate a software key and log into the service using the airplane's Wi-Fi while the phone remains in airplane mode. Calls and texts are sent using the Gogo Biz app.
The emphasis of the app leans toward the texting feature, as Gogo predicts U.S. airlines are still not likely to allow phone calls, NBC reports.
"There is strong demand for this service and the ability to text in flight," Gogo vice president Brad Jaehn said, according to NBC. "We think a lot of our users will want to have the option to text while in flight."
The new service launch comes shortly after the FAA announced a lift on the ban of personal electronic devices during takeoff and landing. The FAA still prohibits texting and talking, but Gogo's service gets around this by using Wi-Fi and providing the service only above 10,000 feet.
According to CNET, when tested the service proved fast and useful for text messaging. Phone calls were "dodgy," with the connection heavily reliant on the strength of the plane's Wi-Fi.
While a person sending and receiving text messages (with the phone on silent or vibrate) isn't very disruptive to nearby fliers, the prospect of being surrounded by people talking on their cell phones for hours on end is incredibly scary.
It doesn't seem likely that will happen on U.S. flights just yet, but it could be a possibility on international air carriers. With debates in the past about whether airlines should offer special airplane sections for families traveling with small children, planes may one day have to offer quiet or phone-only sections.
Check out the video below via Gogo:
How do you feel about texting and talking on planes? Let us know in the comments!