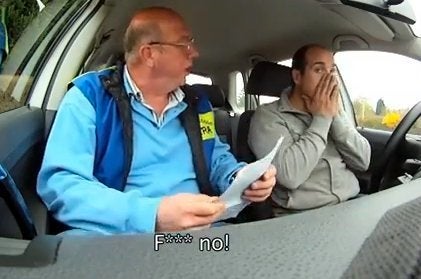 Everyone knows that texting while driving is a bad idea -- but what if it were mandated?
In order to draw attention to the "thousands of people [who] die behind the wheel due to texting" every year, Responsible Young Drivers (RYD), a Belgium-based road safety organization aimed primarily at young drivers, tricked fledgling motorists into thinking that a new law had been passed -- one that required them to text while driving.
The result is an excellent public service announcement that's also pretty funny.
Scroll Down To Watch The Video
In the video, a dashboard mounted camera captures driver reactions and honest testimony about the difficulty -- and stupidity -- of attempting to text while driving. None of the subjects do well, and some of them get very frustrated with the test, cursing (in French) and even bursting into tears (1:39).
"If this becomes law, I'll stop driving," one student declares.
According to RYD, more than 1.2 million traffic accidents occur every year, with most victims of incidents involving driving and texting being younger than 25 years old.
RYD is sponsored by automotive-industry companies like Michelin, Renault and Europcar.

REAL LIFE. REAL NEWS. REAL VOICES.
Help us tell more of the stories that matter from voices that too often remain unheard.
BEFORE YOU GO