As the Tumblr blog explains, Texts From Bennett features texts that the author claims are from his cousin Bennett who, "is a white boy who thinks he's a Crip ... and is one of the most unintentionally funny and brilliant souls on the planet." These texts include Friday's explicit gem: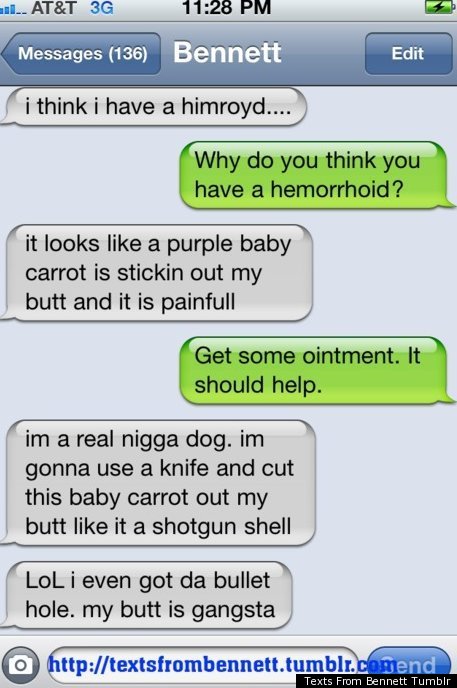 This is all well and good, except that now The Smoking Gun claims "Bennett" doesn't exist. The site reaches this conclusion based on what Sheldon's dad reportedly said when asked about his son's blog.
Asked by TSG if his son had a 17-year-old cousin named Bennett, Sheldon's father, also named David, laughed and said, "That's what he says."

The elder Sheldon went on to note that his son has a friend who is prone to "Yogi Berraisms" and that he uses some of these malaprops for the "Bennett" blog. The friend's name, he said, "has been changed to protect the innocent."
The Huffington Post reached out to Sheldon who defended his blog's authenticity.
"[The Smoking Gun story] is absolutely 100 percent inaccurate," Sheldon said. "My dad was manipulated. They asked him manipulative questions. The most important thing that my dad was trying to express to this guy is we have to protect our family members."
Sheldon also said he wants to make sure the blog stays alive.
"In order to protect this blog, [Bennett] can't know about it," he said. "Not everybody has the Internet."
Sheldon also said "Bennett" was not the legal name of his blog's protagonist.