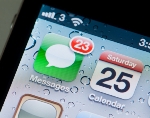 In years past, people placed phone calls and sent emails to connect with one another. Today, text messages represent one of the most popular communication forums for cell phone users around the world. Text messaging may even surpass cell phones in ease of use, as cell phone users quickly and efficiently share information through texts in order to avoid lengthy conversations over the phone. Unfortunately, text messaging often means more than an opportunity to exchange information in real-time. Digital harassers may also use text messages to intimidate and persecute others. Often referred to as textual harassment, this form of digital offense involves repeated and unsolicited text messaging aimed at bullying, threatening or degrading victims.
The topic of textual harassment became increasingly relevant in recent months, as news broke of former Scranton school director Mark Kandel's digital harassment of several underage students by sending repeated sexually explicit texts. A 2011 study collaboration between Associated Press and MTV found that 33 percent of survey participants had received texts or online messages with sexual words. Likewise, 71 percent of respondents indicated that slurs were more likely to occur in text messages than in person.
Textual harassment is so expansive that its reach appears difficult to quantify. For example, sexual messages, unflattering video and photo texts and demeaning comments all contribute to incidents of textual harassment. Making the topic even more difficult to manage, offenders may avoid blame by accessing different phones and sending text messages to victims through computers.
Text messaging harassment also represents a common form of cyberbullying. According to research published by the Cyberbullying Research Center in 2010, cell phone usage and text messaging represent the most common technology uses for teens. In the study, which surveyed more than 4,000 U.S. teens, over 20 percent of respondents reported experiencing cyberbullying victimization at one point in their lives and almost 20 percent of students admitted to cyberbullying others. Even college students, who some may assume have outgrown the digital pressures felt by middle and high school students, experience cyberbullying. A University of Northern Iowa study found that 34 percent of UNI students included in the study had experienced cyberbullying and 64 percent had observed digital bullying behavior.
Textual harassment is yet another form of digital bullying, and one of the easiest to prevent. Our friends and partners at http://www.connectsafely.org provide some simple strategies to help reduce and/or prevent textual harassment; visit the site for a full list:
Don't respond. If someone bullies you, remember that your reaction is usually exactly what the bully wants
Don't retaliate. Getting back at the bully turns you into one and reinforces the bully's behavior. Help avoid a whole cycle of aggression
Save the evidence. The only good news about digital bullying is that the harassing messages can usually be captured, saved, and shown to someone who can help. Save evidence even if it's minor stuff -- in case things escalate
Block the bully. If the harassment's coming in the form of instant messages, texts, or profile comments, do yourself a favor: Use preferences or privacy tools to block the person.
Reach out for help. You deserve backup. Of course you know there are different kinds of help, from talking with a friend to seeing if there's a trusted adult who can help. It's usually good to involve a parent but -- if you can't -- a school counselor can sometimes be helpful. If you're really nervous about saying something, see if there's a way to report the incident anonymously at school.
Popular in the Community