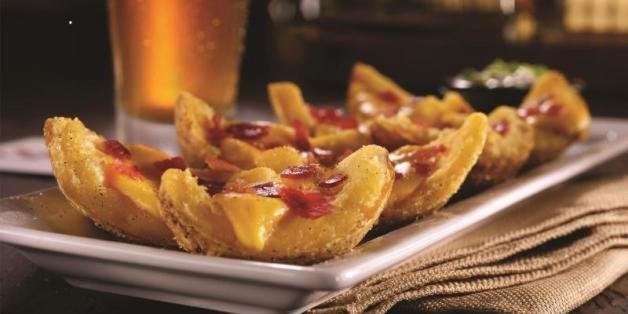 TGI Fridays is so hungry for new customers that it's giving food away.
The chain restaurant launched an all-you-can-eat deal on Monday, offering endless helpings of any one appetizer -- potato skins, mozzarella sticks, spinach dip and other options -- for $10 per person. The promotion is meant to draw new customers, and it's getting heaps of press coverage of the sort not seen since the chain's 1990s heyday.
Yet analysts say the endless apps deal is basically Fridays' swan song, a last-ditch move that ultimately cheapens the company's brand. The apps may be endless, but Americans' desire to visit a so-called "casual dining" chain restaurant is just about over.
"In the short term, [Fridays] will definitely have more traffic, but in the long term it damages their plan and will really destroy them," said Aaron Allen, founder of Aaron Allen & Associates, a restaurant industry consulting firm. "It's the signal of a desperate brand."
David Letterman devoted the Top 10 segment on his show Monday to the promotion:

Sales nosedived at casual chain restaurants during the recession, sending once-popular eateries like Bennigan's and Friendly's into bankruptcy. Even as the economy has recovered, most of these restaurants have struggled to regain customers. Millennials want fresh, cheap fastish food from chains like Panera and Chipotle. The Mexican chain's revenue more than doubled to $3.2 billion from 2009 to 2013. The days of young "singles" flocking to TGI Fridays happy hours are long over.
Even Brian Gies, Fridays' chief marketing officer in the U.S., said the company was stuck in a "combo-meal malaise" and admitted it needed to adapt to modern tastes.
"There are no silver bullets in this business," Gies said in an interview with The Huffington Post. "The economy and consumer behavior are constantly changing, you've got to change with it."
Sales are anemic at the 49-year-old company, which has more than 900 restaurants in 60 countries. The chain was sold in May by its longtime owner, hospitality firm Carlson Restaurant Inc., to two private equity firms for upward of $800 million.
Annual revenue at company-owned stores dropped 2 percent to $1.1 billion in 2013, according to numbers shown to HuffPost by PrivCo, a financial data provider on privately held companies. Including franchisees, sales revenue hovered at $2.7 billion last year, the same as the year before.
Gies declined to comment on those figures.
The "endless appetizers" promotion, which runs until Aug. 24, may eat into sales. But for the restaurant that claims to have popularized the term "happy hour" and the Long Island Iced Tea, the real money-maker may be alcohol.
"They're probably hoping they can make it up on drinks," said Joel Cohen, a restaurant marketing expert.
But a quick boom in booze sales may just further erode the struggling brand.
"If they're just up-selling the alcohol, the promotion just looks like a ploy," said Joseph Szala, a restaurant branding expert at the marketing firm Iris Worldwide."They're saying, 'We'll do anything to get you into a Fridays for a meal' -- it's too kitschy, too car sales-y. It's low class."
To survive, Fridays may have to raise prices, Allen said.
"That's the only way you can compete," he said. "A casual dining restaurant can never be as casual and as fast and convenient as a fast-casual one."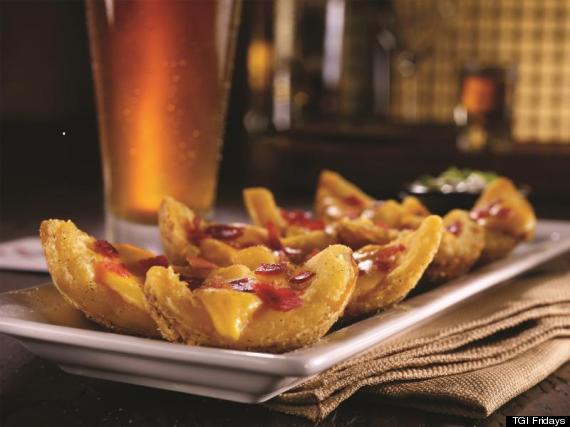 Potato skins is one of Fridays' 10 main appetizer options

Or it can jazz up its menu. Sure, Gies said the mozzarella sticks now include asiago cheese and a dusting of parmesan. And, yeah, the potato skins have more cheese and are "more potato-y," he said. But, according to Jeff Fromm, an advertising consultant at Barkley who co-authored the book Marketing to Millennials, the key to attracting the coveted 20-something consumers Fridays is losing to fast-casual chains is offering some culinary pizzazz.
"They're going to need to look at creating experiences -- creating flavor adventures," Fromm said. "Less uniqueness means bigger problems for Fridays."
Popular in the Community