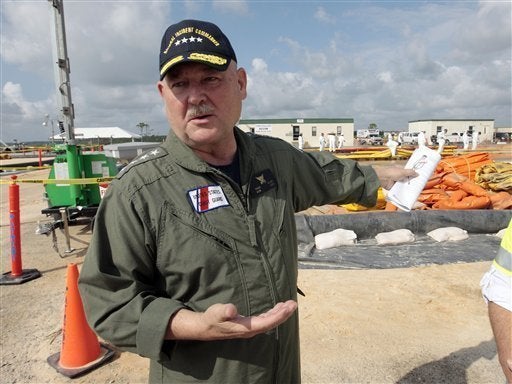 WASHINGTON — The government's point man on the Gulf oil spill calls it "an insidious enemy that's attacking our shores" and "holding the Gulf hostage."
Coast Guard Adm. Thad Allen tells CNN's "State of the Union" that there is some progress in containing the leaking well, but that "I don't think anybody should be pleased as long as there's oil in the water."
He says that oil company BP needs to understand that it must finish drilling a relief well or quickly cap or kill the leaking the well.
"I think everybody is anguished over this," Allen told host Candy Crowley. "You know, I've been working on the water for 39 years. This is just completely distressing, and it's very frustrating."
Crowley also asked Allen about reports that cleanup workers have fallen ill from exposure to the oil, and Allen assured her that protective equipment is available
"If it's not a safe place to work, we should pull our people back. I've been in touch with the Department of Labor and OSHA. We are working together with them in addressing the issues. Any place where there is a workforce safety issue or an environment issue, we should the people back."
Related
Popular in the Community