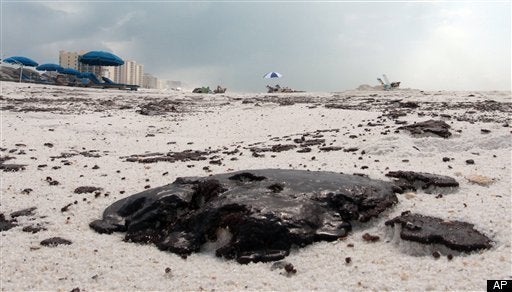 The good news is that National Incident Commander for the BP oil catastrophe, Admiral Thad Allen, yesterday announced new procedures to allow free media travel within the 20-meter boom safety zones if press and photographers follow "simple procedures for credentialing and provided they follow certain rules and guidelines." I was grateful that within a few minutes of filing my second request (I think the first did not go through), I received my "Access Confirmation Letter" by email.
The US Coast Guard and Joint Information Center have approved your Media Vessel Credential. You are authorized to travel within the 20m boom safety zone for media activities. Please be aware that the area is an operational area and there may be many boats engaged in oil spill recovery activities. This e-mail is the official media credential. There is no need to apply again as this credential is valid for the duration of the response.
As a possible "media felon" if I had willfully disobeyed the June 30 directive for a 65 foot "safety zone," I consider this very good news indeed and credit mainstream media, especially Anderson Cooper, CNN and the Associated Press for lobbying very effectively for free access of the press. A second directive, that allowed press access with permission from Unified Command, was issued after the flurry of protest about the initial restrictive rule . That did not fly with the media either. And so, we have the latest directive.
Believe me, I am not looking a gift horse in the mouth, but we still need to raise questions about the initial ban. Was it for "safety," "boom vandalism," or just to restrict photography? Allen is still saying that an exception to the new rule is "safety or security" concerns.
"I have put out a direction that the press are to have clear, unfettered access to this event, with two exceptions -- if there is a safety or security concern," Allen said in press release last night. "This boom is critical to the defense of the marshes and the beaches."
A few paragraphs down, referring to the old ban, the new directive reads, "the 20-meter safety zone was created to prevent boats from going over the top of booms; it is not intended to limit media access."
Except the second directive on July 3 clearly stated that boom vandalism was the main concern, and not boats going over the top of booms, although that was mentioned.
Last week Coast Guard Captains of the Port in the region put in place limited, small waterside safety zones around protective boom and those vessels actively responding to this spill. This was required due to recent instances of protective boom being vandalized or broken by non-response vessels getting too close. These 20-meter zones are only slightly longer than the distance from a baseball pitcher's mound to home plate. This distance is insignificant when gathering images. In fact, these zones, which do not target the press, can and have been opened for reporters as required.
and was followed up with photos of "vandalized boom" which were later retracted.
Boom may be "critical to the defense of the marshes," but there are hundreds of photos already out there that show how the boom has failed, is not deployed properly, and is not attended, as it should be. Deepwater Horizon JIC has this video of boom repair and deployment in open waters off the coast of Alabama in May on YouTube.
Things look pretty good, but here is what Barataria Bay, Louisiana looked like a few weeks ago, days before the initial boom ban. The marshes remained very vulnerable.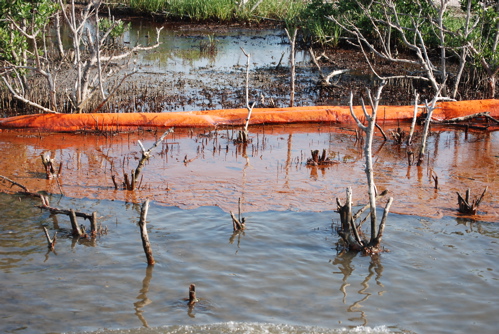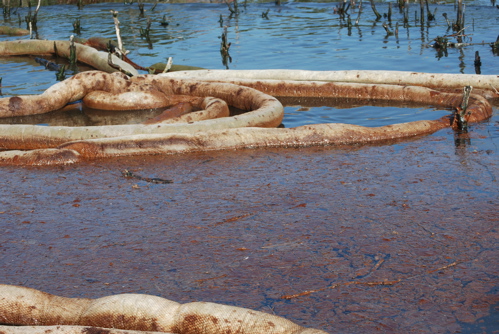 The question of media access has become a very confusing sequence of orders issued, retracted, clarified, and contradicted. It could be simply that the right hand does not know what the left hand is doing, but for a week or so, very serious questions about freedom of the press were raised.
I think we need to put that behind us and look to the future, but at the same time remain vigilant and not take our freedoms for granted.
On a final note, there may be a security flaw in the new credentials that are issued as a Word Document. It is a simple matter to edit the credential, change names and dates. I changed my name to "Joe Blow" in a few keystrokes.
The Coast Guard might want to look into that.
In the meantime, "media representatives can obtain credentials by providing their name, media affiliation, and contact information to the Unified Area Command Joint Information Center at UACNOLAJIC@gmail.com."
That is the very good news.
REAL LIFE. REAL NEWS. REAL VOICES.
Help us tell more of the stories that matter from voices that too often remain unheard.