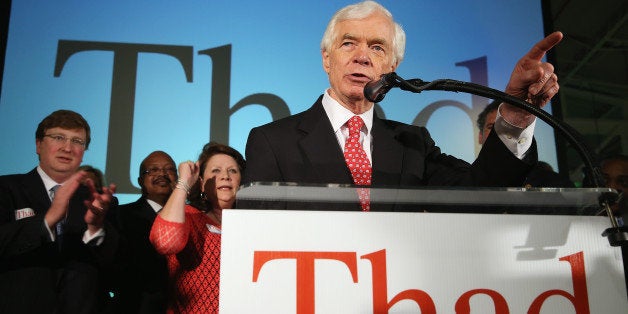 WASHINGTON -- Sen. Thad Cochran's (R-Miss.) appeal to African-American voters in his winning primary election runoff last month was funded entirely by a super PAC supporting his campaign.
According to a report filed with the Federal Election Commission on Tuesday, a super PAC called All Citizens for Mississippi received all $144,685 of its funds from the Mississippi Conservatives super PAC run by Henry Barbour, a lobbyist and nephew to former Mississippi Gov. Haley Barbour (R).
Bishop Ronnie Crudup of New Horizon Church in Jackson, Mississippi, runs All Citizens for Mississippi. He said previously that he had raised the super PAC's money from other sources.
"I raised money for our PAC; that's what PACs do," Crudup told the Clarion-Ledger on July 9. "And there is no doubt as part of that I raised some money from the Republicans, I raised money from African-Americans. I raised money from a number of sources."
Mississippi Conservatives super PAC was heavily funded by establishment Republican Party donors, including those closely connected to the Barbour family's political network in the state. This included Barbour himself and businesses and their executives that have relied on federal money secured by Cochran over the years, including Bollinger Shipyards and General Atomics. The super PAC also received contributions from the leadership PACs of Republican Sens. Mitch McConnell (Ky.), Rob Portman (Ohio), Bob Corker (Tenn.), Richard Burr (N.C.), Mike Crapo (Idaho), Roy Blunt (Mo.) and Orrin Hatch (Utah).
American Crossroads, the super PAC founded by Karl Rove, contributed $50,000 to Mississippi Conservatives as it transferred money to All Citizens for Mississippi -- even though the national super PAC pledged to stay out of the race following the close primary vote that forced the runoff. The Rove-linked super PAC gave $210,000 overall to Mississippi Conservatives.
All Citizens for Mississippi was instrumental in stirring the largely Democratic electorate in African-American communities to vote for Cochran in the runoff against tea party challenger Chris McDaniel, which was essential to Cochran's victory. The reliance on African-American votes by a Republican to win a GOP primary sparked racially-charged cries from McDaniel and his supporters of vote- buying and voter fraud.
The pro-Cochran super PAC ran advertisements on radio and in newspapers touting the senator's support for the African-American community. The radio ads calling for Cochran's election weren't reported to the FEC as required, nor are payments to radio stations or ad-buying firms.
In one radio advertisement, Pastor Siggers of Mt. Olive Baptist Church said, "I know that traditionally we as a community don't vote Republican, but for this special election we need to turn out in record numbers to push back against this Tea Party effort."
Siggers listed Cochran's support for black farmers, the Martin Luther King Day holiday and the historically black colleges and universities in the state as reasons to vote for the senator. "I urge you to vote Thad Cochran June 24th," Siggers states.
Campaign finance laws require independent expenditures -- the legal term for efforts calling for the election or defeat of a federal candidate-- to be reported to the FEC within 24 hours. The super PAC has not filed any of these 24-hour reports.
All Citizens for Mississippi did report on Tuesday that it had paid for advertisements to be placed in three newspapers: Jackson Free Press, Jackson Advocate and Mississippi Link. These advertisements also featured calls to vote for Cochran, but have not been reported to FEC.
The majority of the funds raised by the super PAC did not go for advertising, but to door-to-door, get-out-the-vote efforts. The group paid a handful of individuals, including operatives and politicians, in the heavily African-American area of Jackson to get voters to the polls.
Previous reports have noted that James "Scooby Doo" Warren, a top Democratic operative, ran the pro-Cochran get-out-the-vote effort. Warren told the Clarion-Ledger he was "putting it in place across the whole state." All Citizens for Mississippi paid Warren $35,000.
Also receiving funds to get out the vote were Bill Washington, who was paid $34,000, and Roosevelt Daniels, paid $20,000. Both are from Jackson.
Jackson Democratic state Rep. Credell Calhoun was paid $5,000 by the super PAC. According to the Clarion-Ledger, Calhoun drove around in a vehicle on Election Day plastered with "Thad" signs and calling, "Let's go vote," over a megaphone.
Beyond funding the efforts of All Citizens for Mississippi, the Mississippi Conservatives super PAC paid the Democratic firm Winning Connections $130,000 for get-out-the-vote phone banks. Winning Connections previously worked for Democratic politicians, including Barack Obama, and liberal groups like Planned Parenthood, the Brady Campaign to Prevent Gun Violence and billionaire environmentalist Tom Steyer's NextGen Climate Action Committee.
Following Cochran's narrow victory in the June 24 runoff, McDaniel alleged that the senator "stole" the election with "illegal Democrat votes." McDaniel has challenged the vote in a lawsuit.
McDaniel's conservative supporters have further alleged that the Cochran campaign or its supporters paid for African-American votes. The allegations were fueled by a statement by Stevie Fielder that the Cochran campaign asked him to pay $15 per vote for the senator. Fielder later partially recanted, calling his allegations "hypothetical."
The McDaniel campaign has presented what it claims to be 8,300 instances of fraud by Cochran voters and is currently pushing for the state to open poll records. Cochran's campaign has denied all allegations.
Calling all HuffPost superfans!
Sign up for membership to become a founding member and help shape HuffPost's next chapter
BEFORE YOU GO
PHOTO GALLERY
2014 Election: $500,000-Plus Super PAC Donors