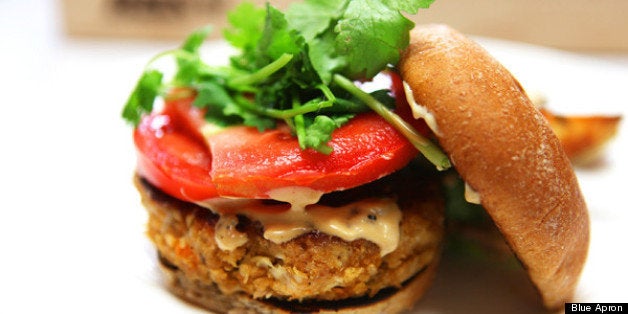 For as long as we can remember, burgers have had a place at summer dinners. Burgers have long meant ground beef, American cheese, ketchup, mustard, lettuce and a grill. But at Blue Apron, we mix up our all-American sandwich with inspiration from across the globe.
In the case of this mouth-watering Thai Chicken Burger, we start our renovation with the meat, using lighter ground chicken instead of the beef and move up through the flavorings -- lemongrass! ginger! -- finishing in the condiment department with hoisin-sriracha mayonnaise and sprigs of fresh cilantro.
Here's how we do it. First, you take the lemongrass, an essential ingredient in Thai cooking. It's sometimes a little bit hard to find at a regular supermarket, but you'll probably recognize the scent as soon as you cut into it and are transported to a Bangkok market -- or at least your local Thai restaurant.
Then peel off the tough outer part of the lemongrass as if it's a scallion and dice the pliable inside core. Chop up the garlic and ginger too.
The potato wedges are going to be the side dish on this one. What would a burger be without fries? Those we didn't mess with much, don't worry.
They get a sprinkling of fresh thyme leaves, a glug of olive oil, and some salt and pepper before heading into a 500°F oven for 20 to 25 minutes, where they'll cook and crisp up.
In the meantime, let's get back to the burgers. Wash your hands and mix the ground chicken, panko, chopped lemongrass, ginger, garlic, soy sauce, sriracha, sesame oil, half the hoisin and salt and pepper in a large bowl. Form this mixture into two beautiful hamburger patties. Wash your hands again. Heat a pan to medium and drizzle it with olive oil. Cook the burgers for five to six minutes a side.
Mix together the remaining hoisin and mayonnaise in a small bowl. Slice the tomato and wash the cilantro under cold water, then cut off any roots and long stems from the leafy tops.
Cut the burger buns in half (you can toast them in the hot pan if you want to!), and liberally spread the hoisin mayo onto the insides of the top and bottom. Add the patty and top with the heirloom tomato and a large bunch of cilantro, which takes the place of lettuce.
Serve with the potato wedges.