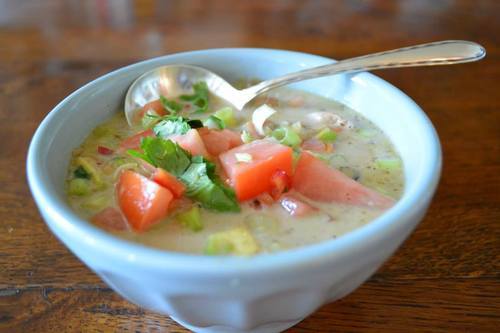 I came up with this recipe recently when I went over to Katherine and Barlow's shared home up on Mt. Tamalpais in Marin County. The deal was I'd bring dinner, they'd host. Their home is in the midst of the redwoods... so much in the midst there is actually a redwood tree coming up out of their deck. Cozy. That and all the sheepskin rugs on the deck add to the decadent air.
We set up dinner as a buffet, and of the variety of dishes I brought over, this was certainly the most popular.
Turn on oven to 425F. You'll want to pop the chicken in the oven to roast while you get the rest of the recipe ready. See below. I like roasting the chicken rather than cooking it on the stove top because I think the resulting taste is much deeper and more rich.
1 medium sized healthy, no-hormone chicken
1 tin of unsweetened coconut milk
2 heads of corn off their cob. (Or you could use one small package of frozen corn if in a bind).
1 little red chilles chopped finely
1 bunch of scallions chopped
2 avocados peeled and chopped
Roast the chickie for about 45 minutes... you know, till it's fully cooked and the juices run clear. Once done, set it aside and let it cool.
While waiting for the chicken to roast, get the salsa topping ready and gently mix them all together. (If you're serving the soup much later, hold off on the avocado til you're ready to serve so it doesn't get brown).
Then saute the onion in a soup pot with a splash of olive oil. Once the onions are glassy, add the garlic and corn. Cook for another minute. Add the chicken, lime juice, coconut milk, and chicken broth. Let gently cook for about 15 minutes. Test and add salt and pepper as deemed necessary.
Serve the soup in bowls and add the salsa on top.