As the nation continues to mourn the death of 27 people, including 20 children, in Newtown, Conn., one Texas restaurant owner is in hot water for racist comments made regarding the victims of the mass shooting.
Owner and chef of the Austin, Texas, restaurant Thai Noodle House, Eddie Nimibutr, posted a racist comment regarding the victims of the shooting at Sandy Hook Elementary School on Dec. 14.
Although Nimibutr's Facebook is inaccessible, the Austinist has a screen shot of the controversial comment.
SCROLL DOWN TO SEE SCREENSHOT
"I'm failing to give a damn about the CT shooting," wrote the Thailand-born Nimibutr on Friday. "I don't care if a bunch of white kids got killed. F**k Post-Racial bullshit. When kids from minority groups get shot, nobody cares. When Israel launched missiles at the school on Gaza, everybody was too busy jerking off. Why should i care about people who dont give a damn about me? Personal responsibility, right?"
After the racially-charged comments were met with harsh criticism, the owner/chef attempted to explain.
"I am no fool to just feel and just believe the hypocrisy in our society the way everyone told me how to," he later posted on Facebook, according to the SFGate. "Lots of people are mad at me for the thing I said. Some called with threat of violence. I laughed at the internet tough guys, but I reported to the police. I am educated and believe in my rights of the Freedom of Speech."
Later adding, "If you don't like me or my opinions, I suggest you to unfriend me and f**k off. I am pretty much sick of some people telling me what to think, how to think, or how to feel today, and if you don't like my foods, f**k off and eat someplace else," according to Gawker.
CultureMap food writer RL Reeves, Jr. attempted to contact Nimibutr at the restaurant, but was informed that Nimibutr no longer works at the location, according to CultureMap. Reeves was also told that Nimibutr was never the owner, even though he is listed as such in local directories.
This may be "a bit of damage control" after the controversial shooting comments, notes CultureMap.
Either way, the restaurant has taken a hit.
Reviewers took to Yelp to rally against Thai Noodle House, filing dozens of one-star reviews, according to the food blog Eater. Some have even threatened Nimibutr with physical violence.
LOOK: Here's a screenshot via Austinist (Warning: Explicit language)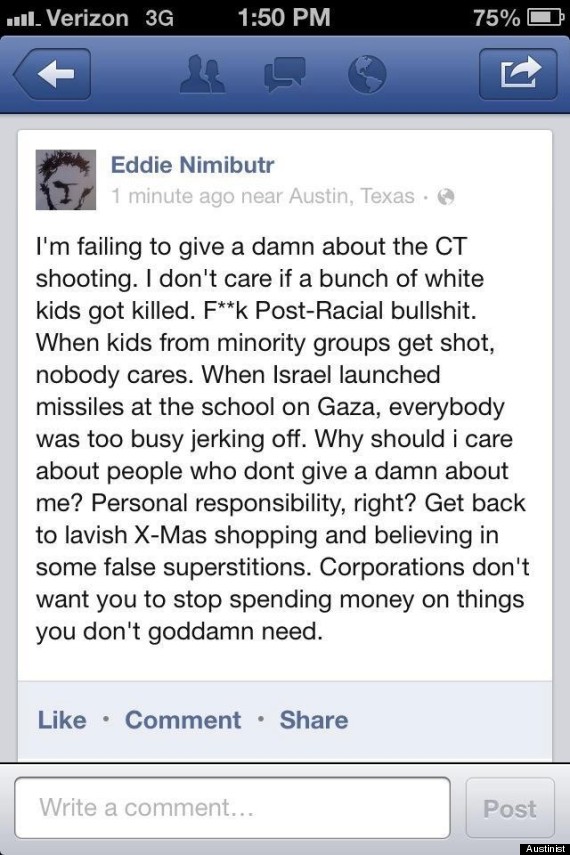 Calling all HuffPost superfans!
Sign up for membership to become a founding member and help shape HuffPost's next chapter
BEFORE YOU GO
PHOTO GALLERY
Companies Helping Sandy Victims