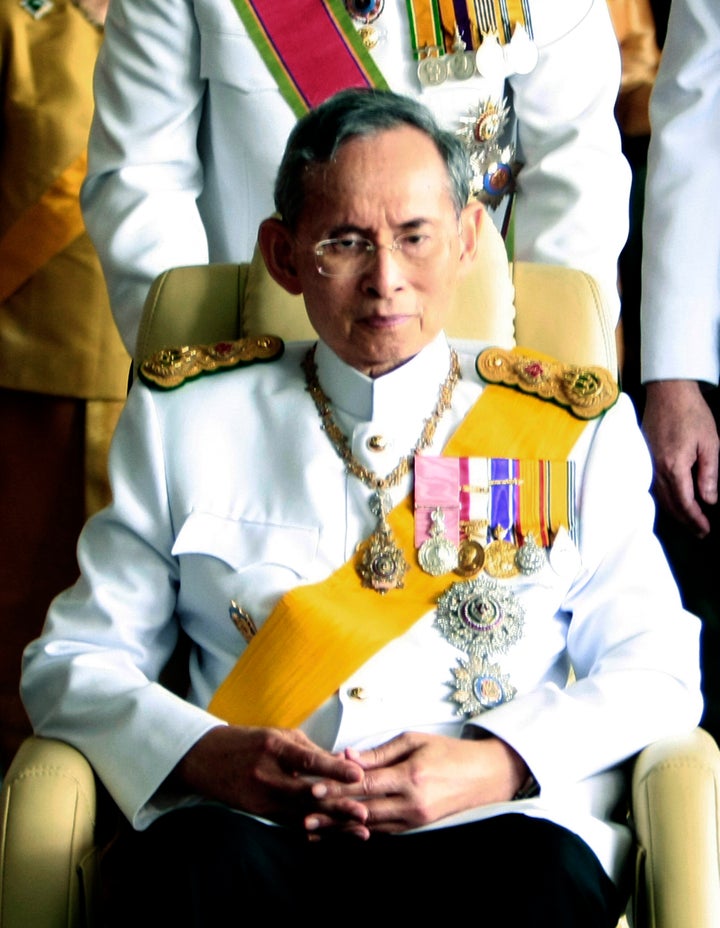 BANGKOK (Reuters) - Thai authorities have arrested and charged a U.S. citizen with insulting the country's revered monarchy, the latest of a growing number of people accused of breaching the world's toughest lese-majeste laws.
The Department of Special Investigation (DSI), Thailand's equivalent of the FBI in the United States, said Thai-born Lerpong Wichaikhammat, 55, had translated an article deemed offensive to the monarchy and posted it on his blog.
He was also accused of providing a web link to a controversial biography by an American author of 83-year-old King Bhumibiol Adulyadej, a book banned in Thailand.
Lese-majeste, or insulting the monarchy, is a very serious offence in Thailand, where many people regard King Bhumibol as almost divine. Each offence is punishable by up to 15 years in prison. The latest alleged offences also contravened the country's Computer Crimes Act, the DSI said.
"He denied all charges and we are preparing the case to submit to the court for prosecution," DSI Chief Tharit Pengdith told Reuters.
Critics say the law is being abused to discredit opposition activists and politicians, who mostly deny pursuing a republican agenda. The number of complaints, especially those lodged by the military, has jumped ahead of a July 3 parliamentary election.
The law has been a regular feature of the charged political atmosphere in Thailand in the past five years. The generals who overthrew Prime Minister Thaksin Shinawatra in 2006 cited his alleged disrespect for the monarchy among other reasons.
The king, the world's longest-reigning monarch, is a respected unifying figure and moral arbiter in Thailand. He has been hospitalized since September 2009, making only rare appearances. The army goes to great lengths to protect him.
Lerpong, who has dual Thai and American citizenship and is also known as Joe W. Gordon, was arrested Wednesday in the northeastern province of Nakhon Ratchasima. A spokesman for the U.S. embassy in Bangkok said he had been receiving consular assistance as of Friday.
David Streckfuss, a Thailand-based scholar who follows lese-majeste cases closely, said 397 known cases were submitted to the Criminal Court between 2006 and 2009, a 1,500 percent rise from the preceding 15 years, when cases averaged four or five a year.
Of those 397 cases, 213 decisions had been handed down and 40 were pending with the Appeals Court, Streckfuss told the Foreign Correspondents Club of Thailand Tuesday, adding that nine cases had been pending at the Supreme Court since 2005.
Recent arrests include students, political activists and academics, some of whom have faced pressure from authorities and even their own universities after calling for the lese-majeste law to be reformed.
Criticism of the law is taboo, as is public disclosure of the nature of the alleged offences, and local media rarely report arrests and convictions related to royal insults.
Army chief Prayuth Chan-ocha last month ordered subordinates to lodge lese-majeste complaints against three leaders of the "red shirt" anti-government movement which backs the opposition in parliament and paralyzed Bangkok with protests last year.
He also told army-owned Channel 5 television to devote more air time to royal programs.
(Reporting by Panarat Thepgumpanat. Writing by Martin Petty.; Editing by Jason Szep)
Calling all HuffPost superfans!
Sign up for membership to become a founding member and help shape HuffPost's next chapter