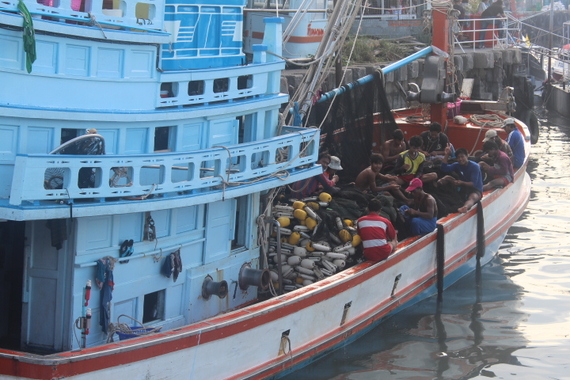 Thailand is known worldwide as a hotbed for modern slavery, something the Thai government has vowed to fix. But the situation is not getting any better. And in some ways, it's getting worse.

Thailand is home to a massive number of migrant workers, and the more than 1 million workers from neighboring Myanmar make up the majority. Migrant workers are often from poor rural areas, and desperately want to escape their bleak economic conditions and make a better life across the border.
Others, working in seafood processing factories, have told me they worked endless hours and were fed so little that hey began passing out regularly.
Despite a few crackdowns, Thailand has made no real progress in the fight against human trafficking. That's because neither side of the political isle has addressed the main barrier that inhibits efforts to end the problem: corruption.
Thailand is bedeviled by widespread corruption on both sides of the political isle. This was underscored recently in the case of Maj. Gen. Paween Pongsirin, a senior Thai police officer whose investigation into modern slavery led to 150 arrest warrants for individuals allegedly connected to human trafficking, including a lutenant in the Thai Army, reported The New York Times.
Paween Pongsirin said he has been forced to flee the country on fears of his safety, raising questions about the collusion between authorities and traffickers, noted The New York Times.
Indeed, the fact that a senior police officer in Southeast Asia's no. 2 economy has to go into hiding because he fears criminal syndicates - and possibly the military officials allegedly in bed with them - is nothing less than extraordinary. And it speaks volumes about the traffickers' power and influence in Thailand.
Corruption runs from the top on down. The average Thai police officer makes between $200 and $300 per month, which is not much higher than the country's minimum wage. That leaves many officers wide open to taking bribes and other corruption. Police are often reluctant to investigate cases in which they have to navigate complex laws. From their standpoint, they barely make enough to pay all their bills each month, let alone take on a years-long investigation for which they lack resources.
There are many good cops in Thailand. By Thai media accounts, Paween Pongsirin was honest and hardworking,and there are others like him. But there are also bad cops. One source who works on forced labor issues in Bangkok recently told me that in Mahachai, a densely populated and mostly Burmese suburb of Bangkok, police regularly shake down migrant workers for bribes, threatening them with jail if they don't cough up the cash. The government's implementation of martial law improved that particular situation slightly, but when the junta in April lifted martial law, things have gone back to the way they were, the source said.
There is also a cultural element. In Southeast Asia, animosities run deep, from one country to the next and from one ethnic group to the next. Much of the Thai population looks down on their less affluent neighbors in Myanmar and Cambodia, and researchers and rights advocates say police are often reluctant to prosecute their own countrymen for abusing a foreigner.
That was evident in what one Burmese woman in her 20s once told me. In an interview with slavery survivors near the Thai Border city Mae Sot, Phyo, a Burmese woman in her 20s, told me that she had been forced to work in a seafood processing plant near Bangkok. She was forced to work round the clock and began passing out for lack of food and sleep. She escaped and found a policeman while wandering down a road. Rather than help her, the cop simply arrested her. She was later deported. As far as she knew, the factory owner had not been charged with any wrongdoing.
Human trafficking in Thailand remains a serious problem. And without major reforms, the situation is unlikely to improve.
Matt Rusling is founder of Borderless News Online: "Southeast Asia on the ground. No armchair intellectuals."
www.borderlessnewsonline.com
Photo credit: Matt Rusling
Popular in the Community