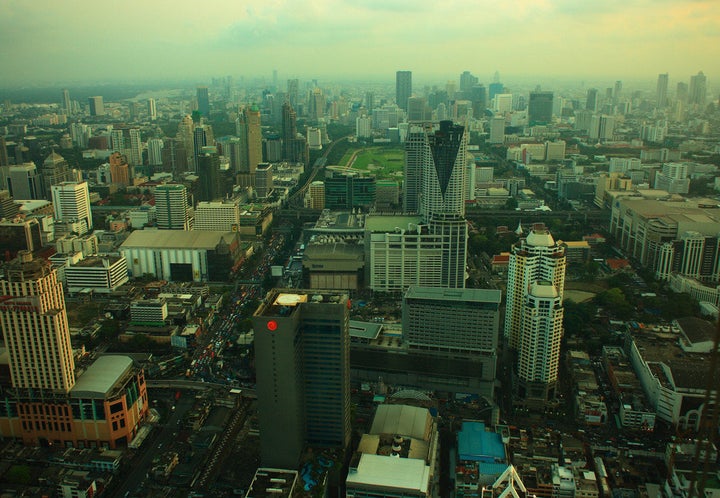 On Feb. 24, 2012 in Loei province, Thailand, a 14-year-old girl reported to police that her 38-year-old father, who had sole custody of her since 2008, had been raping her continuously for four years because she "liked to hang out with toms" and wouldn't listen to his instructions to stay away from them. She told police that the most recent rape had been on Feb. 11, 2012.
On Jan. 15, 2009 in Chiang Mai province, 17-year-old Orn-uma Wongprachit and her tomboy partner, 17-year-old Marisa Srisawa, were found dead. They had been stabbed over 60 times. Orn and Marisa worked at a karaoke bar to support their families. Police said they were killed by a man who was "attracted to one of the women and felt disdainful of the lesbian relationship."
On Aug. 9, 2006 in Nakorn Ratchasima province, Kritsana Krasaewik was assaulted and burned alive by her boyfriend and his three friends for allegedly "showing off" her girlfriend to her boyfriend. At the time of the report, she had suffered burns over 50 percent of her body and was in a coma.
Some of the victims were as young as 14, with ages ranging up to early 40s. The violence, extremely brutal, included multiple stabbing, burning, suffocation, strangulation, or shootings leading to death. Many of the lesbians and toms were raped. In two cases of double homicides, men who objected to the women's relationships killed the lesbian couples. Though the killings were verified and nearly all the victims identified, they were dismissed by the police as "love gone sour." Recognition of hate crime motives or human rights violations have gone uninvestigated, and in most cases the offenders have not been prosecuted.
Thailand has an outstanding record of signing and ratifying seven international treaties that guarantee respect for human rights, including the Convention on the Rights of the Child; the Convention on the Elimination of All Forms of Discrimination Against Women; the International Covenant on Civil and Political Rights; the International Covenant on Economic, Social, and Cultural Rights; and the Convention Against Torture and Other Cruel, Inhuman, or Degrading Treatment or Punishment.
While signatories to such treaties must be held accountable to the principles of human rights, clearly, signing such treaties is not enough. Upholding human rights takes more. Public education is critical. Training of first responders, including law enforcement, public health workers, teachers, and community leaders, to recognize the rights and human dignity of all -- including those who are or appear to be lesbian, gay, bisexual, or transgender -- is the bottom line.
"Love gone sour" is an unacceptable excuse, an easy dodge by the police to fulfill their responsibility to investigate and identify bias crime and persecute the offenders. To do so would bring justice for the victims and send a powerful message that discrimination and human rights violations will not be tolerated. Without this, the result is a message of disregard for the lives of LGBT people.
The International Gay and Lesbian Human Rights Commission (IGLHRC) last week wrote to the government of Thailand to express shock and outrage at this pattern of gruesome murders of lesbians and gender-variant women, those who identify as toms, between 2006 and 2012, and to demand an immediate investigation.
In the letter to Thailand's Inspector General of Women's Affairs and Family, the Commissioner General of the Royal Thai Police, and the Minister of Foreign Affairs, IGLHRC demanded that Thai police stop dismissing the 15 murders as crimes of passion, love gone wrong, or the fault of the victims. We strongly urged the Thai Government to order an immediate investigation of the killings and rapes of lesbians and toms and make public the results of this investigation. These crimes represent a callous disregard for humanity. The failure to prevent or properly investigate these killings is blatant evidence of poor governance and violation of international human rights law.
In our letter we made eight specific recommendations to the Thai government:
Order an immediate investigation of the killings and rapes of lesbians and toms in Thailand, and release the results publicly.
Ensure that the Royal Thai Police and the Office of the Attorney General of Thailand bring to justice the perpetrators of these horrific crimes.
Develop and implement a system of monitoring and reporting future incidents of homophobic and transphobic violence, where victims and their partners, friends, and family members can report violence without fear of reprisals or threats to privacy.
Provide resources to train and sensitize personnel in the law enforcement and criminal justice systems about equality before the law regardless of sexual orientation and gender identity, and to ensure that those investigating or receiving reports of violence recognize the motives of perpetrators.
Popular in the Community