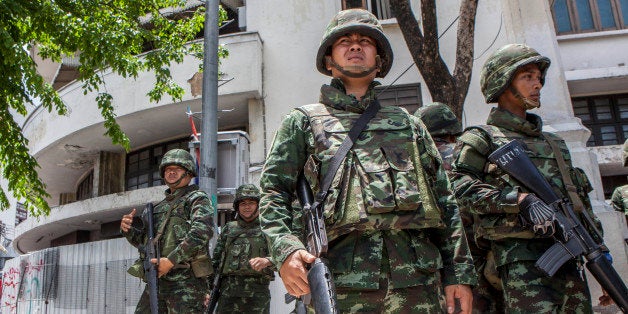 BANGKOK, May 23 (Reuters) - Television screens went blue and up flashed the army's emblem, normal programming stopped and Thailand held its breath. For anyone looking forward to their favorite show, it was going to be a long wait.
Half-an-hour later - around 4:30 p.m. on Thursday - army chief General Prayuth Chan-ocha appeared on all channels and said the army was taking control of government so Thailand could "be at peace again".
One of the first actions taken by the generals now running the country was to impose sweeping censorship across the media.
The crackdown on the media appeared to be more vigorous than after the last of Thailand's frequent coups, in 2006, perhaps, according to some observers, due to greater opposition to the army's action and a more defiant "blogosphere" online.
"Measures became more aggressive after the coup announcement and now critical opinions are not allowed to be published, broadcast or circulated," said a television presenter at a state-run station, who declined to be named for fear of breaking the law. "The military have threatened prosecution for any defiance."
Prayuth's announcement was followed by bulletins from the army's own channel, interspersed with patriotic martial music.
Radio and television stations were ordered to suspend normal programming and air only military broadcasts and official content. Media outlets that tried live streaming online through YouTube channels were soon closed.
The blackout extended to foreign broadcasters including CNN, the BBC and Aljazeera. By mid-afternoon on Friday, none were back on air.

NO STRANGERS TO CENSORSHIP
Thai journalists are no strangers to censorship. Despite an often raucous media, Thailand has draconian lese-majeste laws designed to protect the monarchy and frequently ranks near the bottom of press freedom indexes.
But reporters and editors are bristling at the new restrictions.
"Now who's backwards? Thailand or Myanmar?" asked one local print reporter. Neighboring Myanmar scrapped media censorship just two years ago after decades of military rule.
Soon after the coup a local journalist wearing a green media arm band issued by the Thai Journalists Association stood defiantly next to khaki-clad soldiers with red duct tape placed in a cross sign over her mouth.
When the state-owned Thai Public Broadcast Service tried to stream news online the army shut it down. Soldiers escorted the station's deputy director, Wanchai Tantiwithayapitak, out of the building and detained him for hours before he was released, according to local news reports.
The coup follows nearly seven months of unrest, the latest chapter in a decade-long crisis that has seen supporters of former premier Thaksin Shinawatra and protesters drawn from Bangkok's middle class and conservative establishment taking turns to try to bring down governments they oppose.
Twenty-eight people have been killed in politically related violence since protests flared up in November, although the demonstrations had been largely contained to a handful of rally sites in and around the capital. By Friday, the rallies had been dispersed.
Until Tuesday, when Prayuth had declared martial law, both pro and anti-government camps had their own television stations broadcasting around the clock. The anti-government People's Democratic Reform Committee (PDRC) group broadcast rambling speeches from its leader, Suthep Thaugsuban, while pro-government "red shirts" aired rallies and news conferences.
Both were accused of disseminating hate speech and silenced.
The army also warned Thais against using social media to incite violence or "make the situation worse" and established a special unit to monitor it.
But the military said it would not block social network sites including Twitter and Facebook. Hashtags such as #ThailandCoup and #ThaiCoup were trending as locals and expatriates shared updates on developments.
Censorship of print media has been less specific and most dailies carried articles with commentary challenging army rule. The military has authority to ban the publication, distribution and sale of information it deems inflammatory or distorted.
At Kinokuniya, a bookstore in Bangkok's Siam Paragon shopping mall, employees said they had received an internal order on Monday to remove copies of eight books from the shelves, including some about Thailand's political divisions.
Not everyone opposed the military clampdown.
"If the army didn't do this Thailand's problems would have gone on. My friends and I cheered the news and sang along to the military songs on television," said Narissa Longsiri, an office worker from Bangkok who took part in anti-government rallies.
"The only way hate speech and propaganda was going to end was with drastic measures." (Additional reporting by Juarawee Kittisilpa, Viparat Jantraprapaweth and Simon Webb; Editing by Alan Raybould and Alex Richardson)

Related
Popular in the Community