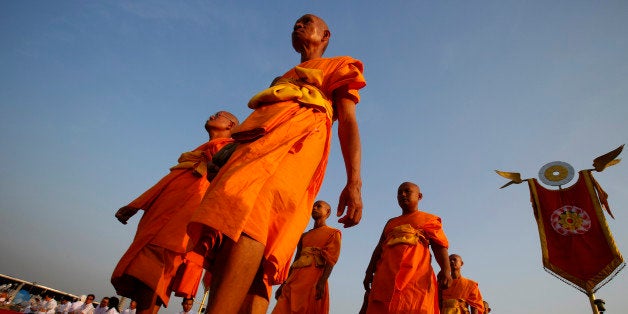 Think Buddhist monk, and bodyguards and bomb threats probably don't spring to mind. But that's exactly what Phra Buddha Issara is dealing with as he mounts a campaign to overhaul Thailand's religious institutions. The activist monk has earned plenty of enemies since he launched a campaign to clean up Buddhism in Thailand, urging the country's 300,000 monks to be more transparent in their financial dealings and the religion's governing body, the Supreme Sangha Council, to crack down on wrongdoing.
Thai Buddhism, much like Thai democracy, is in a state of upheaval. "There is more open crisis in the Sangha than has been seen in living memory," said Michael Montesano, a Thailand expert at the Institute of Southeast Asian Studies. "This is a crisis in yet another Thai institution."
Monks have long been revered in a country where 95% of the population is Buddhist. They have their own fast-track lane at the airport and designated priority seats on the metro. But in recent months, there have been tales of monastic misbehaviour that would seem to belong in the most gossipy tabloids.
REAL LIFE. REAL NEWS. REAL VOICES.
Help us tell more of the stories that matter from voices that too often remain unheard.
Read more on www.theguardian.com