That's the silent slogan of Thailand -- an untapped gem for the budget-conscious, adventure-hunting and insight-seeking traveler.
Europeans and Australians flood the inexpensive, cultural and exotic lands, but Americans have been slower in the game to realize the country's multi-faceted potential.
Let me introduce you to the many experiences a trip to Thailand can guarantee, leaving pennies on the table:
Be it snorkeling in gin-clear waters, biking on casual or mountainous trails, all-level jungle trekking or zip-lining through the canopies of northern rainforests, Thailand has plenty of adrenaline-rush-inducing activities to tickle your adventure bone.
Bikes -- riding you to waterfalls, caves or breath-taking scenic views -- can be rented for two dollars a day, or for less than $15 you can have an elephant do the pedaling through humble villages and surrounding forests for you.
Trekking tours, which do any or all of the above activities, are popular in the north, and a three-day, all-inclusive trip (activity, lodging, meals, and a native, English-speaking guide) is just $45 small ones.
Off land, snorkel in sparkling waters as the Thai sun paints your skin a bronze glow, or grab a scuba tank and sink deep into rare marine species and gorgeous coral reefs. You'll spend a fraction of other diving trips, and be able to enjoy a 40 oz. bottle of Thailand's native beer along the beach for $2.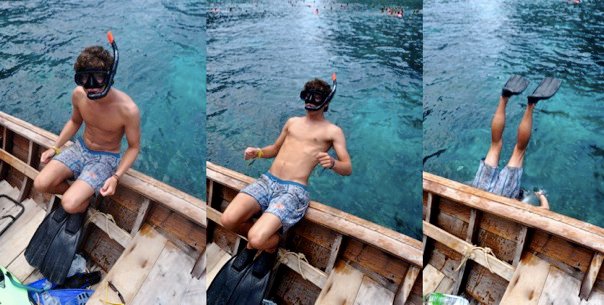 With over 31,000 temples, spoken as "wat" in Thai, the country is brimming with religious conviction.
Elaborate in detail and overwhelming in spirituality, temples have deep historical significance while continuing to play an integral role in the everyday life of Thai people and their Buddhist endeavors.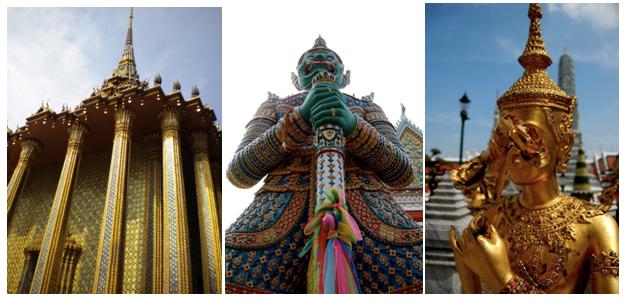 Temple-hop your way to a better understanding of the 2,500-year-old religion and its primary elements: the Four Noble Truths, the Noble Eightfold Path (the steps to end suffering) and meditation.
While admiring the stunning beauty and uniqueness of each holy place, reach out to any of the monks who study within temple confines. They are beyond willing to answer any questions your inquisitive heart might have, and in turn, feel privileged to practice their English with your curiosity.
Get to know the words "mai phet," meaning "not spicy" in Thai, and even then, be prepared for a fiery inner-mouth experience. With chili pepper accompanying every table setting, breakfast included, the Thai people have a tolerance for spice that demands to be tamed for tourists.
The four main tastes in traditional Thai dishes are hot, sour, sweet and salty, and it's in their combination that Thai food is spectacularly delicious and unlike other cuisines of the world. Pad Thai, curry and fried anything-under-the-sun are familiar plates, and seafood, with Thailand being a coastal country, is a common plate addition.
Eating out, even in the touristy of areas, will run you under four dollars, and that's on a binge. You can just as adequately fill your stomach with a dollar's worth of street food. Be it fried rice, fried noodles or the famous [fried] Thai crepe, most people will tell you Thai street food surpasses food atop a tablecloth any day.

Unwind and Relax
The islands of Thailand, all 1,430 of them, are drop-dead gorgeous. Gazing into infinitely turquoise waters is sure to mesmerize your awe-inspired eyes and emanate inherent relaxation. Nestle yourself in sand and sun on any of the buzz islands: Ko Samui, Ko Phi Phi (where they filmed Leonardo DiCaprio's film The Beach), Ko Pha Ngan (where the ever-famous Full Moon Party is held), Ko Tao or Ko Samet. There are also plenty of less-discovered islands to explore, if you're still feeling up for conquering the country.
Indulge in the art of Thai massage -- a coveted mastery that originated from the time of Buddha. The technique aligns the energies of the body, and in a somewhat interactive massage, the therapist uses his or her hands, feet, knees and legs to move you into a series of yoga-like stretches. In almost every part of the country, you can get a Thai massage, and unless you put yourself into a westernized hotel, you can get away with paying seven dollars for an hour massage.
Popular in the Community