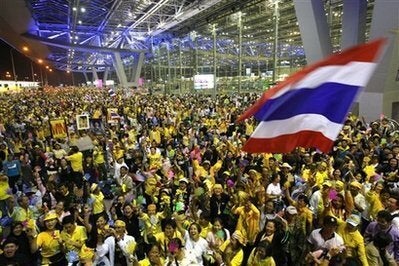 BANGKOK -- As anti-government protesters ground parts of Bangkok to a halt, vivid yellow stickers began to appear on noodle carts and shop windows.
"Buea Mob," they read. Bored of the mob.
It's easy for detractors to dismiss the People's Alliance for Democracy as a boarish mob. Marching in roaring packs, gripping batons and iron stakes, they seized two airports and the Thai prime minister's compound. Its enforcers have been nabbed with Uzis and Molotov cocktails and have appeared on Thai TV firing pistols at rivals.
But the alliance is much more than a sophisticated street mob. Its success is owed less to brute force than to the hidden donor network that sustained its government-toppling campaign. As Bangkok heals in the uprising's wake, alliance leaders are not revealing their financiers, even as airlines, government officials and others mount plans to seek damages in court.
The damage claims, still emerging, could eventually top $5 billion USD, a figure that's well above Bangkok province's $1.3 billion annual budget. Though police are pursuing charges, they admit that suing the group's core leaders for damage caused by violent enforcers will be tricky.
"I don't have clear picture of their finances. I don't think anyone does but a few (alliance) leaders," said Thitinan Pongsudhirak, a leading political analyst at Chulalongkorn University in Bangkok. "It's completely opaque."
Quiet for now, the alliance remains on alert in case its hard-won demands are unmet. They set out to purge any politician connected to deposed Prime Minister Thaksin Shinawatra, who they say is deeply corrupt and manipulates Thai politics from afar. During the alliance's campaign, two Thaksin-allied prime ministers and his favored political party fell under corruption charges.
In many regards a success, the campaign was also quite expensive. For four months, the group operated a mini-city inside the prime minister's "Government House" compound. It became a sprawling tent city for up to 10,000 protesters that offered free meals, portable toilets and showers.
The grounds also became headquarters to the ASTV satellite "news" service, essentially a propaganda outfit advertising the cause throughout Thailand. It is owned by protest chief and media mogul Sondhi Limthongkul, who also publishes a newspaper under his Manager Media Group umbrella firm.
The alliance's funds and ASTV's finances are deeply tangled, analysts say. Most of the alliance's donations, Sondhi told Thai media, have been funneled through ASTV.
As the protests roared, ASTV broadcast alliance leaders' speeches and little else. From a stage inside the seized compound, they delivered larynx-shredding rants on Thaksin and the ruling elected party. Leaders also assailed the neutral media, commanding supporters to only trust ASTV. Alliance guards, at times, angrily confronted protesters tuning into other outlets on portable radios and televisions.
The channel still commands a fanatical fan base. "It's the only way we can receive the message," said Bordee Gaewprapun, a 36-year-old alliance volunteer who helped hand out fried eggs and basil-fried chicken at the seized Don Muang International Airport. "I've only donated my labor. It's the upper class that keeps us going. They have the capacity to."
In its role as protest fundraiser, ASTV kept the alliance's donation hotline flashing on screen around the clock. More revenue has come from a $5.50 monthly service offering daily protest alerts via text message. Another MTV-style service charged 16 cents to broadcast a text message to ASTV on-screen. One example from late November: "KILL THAKSIN KILL THAKSIN KILL THAKSIN."
Occupying the compound, Sondhi told Thai media, cost roughly 1 million baht (about $28,400 USD) each day, which includes the cost of running ASTV.
Thitinan, the political scientist, is dubious of that figure, suspecting the cost could have run twice as high. Another Thailand-based academic and author, Chris Baker, finds it reasonable. "This is a middle-class movement with a target group that's pretty well off," Baker said. "Raising a million a day is not so outrageous."
It's unclear whether any of the donations will be taxed. "There's a sense of impunity among PAD leaders," Thitinan said. "Even the law (could not) get them to leave Government House. Forget the tax."
Though outsiders are forced to speculate about the alliance's funds, it is known that ASTV-parent Manager Media Group is in bankruptcy proceedings and burdened with $133 million in debt. In November, the firm skipped a civil court hearing with creditors, potentially opening up its assets to seizure. (The donation influx during the protests' late-year peak, however, may have boosted its bottom line.)
For now, the alliance's financial secrets are hidden inside its Kasikorn Bank account number, 008-1-095353, flashed on ASTV countless times for its donors' convenience. Also advertised: A Bank of America account number for U.S.-based alliance sympathizers.
A backlash is taking shape, with a government spokesman alleging that three well-known Thai firms - Bangkok Bank, agribusiness giant Charoen Pokphand and the Saha Group - have fed cash to the alliance and must offer a public apology. The firms offered meek denials.Thaksin himself has threatened to expose other corporate backers. But the alliance is braced for the counterattack. Its chief spokesman Suriyasai Katasila, said the group began raising a legal defense fund long before the airport raids that signaled its "final war."
While Thai protesters' total drain on Thailand's economy is still fuzzy, some damage estimates have emerged:
* Thai Airways claims roughly $4.5 billion for the eight-day siege of the Suvarnabhumi international airport, its hub. The airline plans to sue. * A low-cost carrier, Thai Air Asia, at one point claimed nearly $9 million in lost revenue. The airline is still deciding whether it can sue. * About $98.1 million USD per day in lost export revenues, according to a Thai export consortium. Airports were seized for seven days. No lawsuit announcement yet. * At least 1 million tourism-related jobs have been lost or will be lost, according to Olarn Chaipravat, a deputy economics minister. * The prime minister's compound sustained more than $700,000 in landscaping damage along, according to the government. The National Security Council estimates stolen hardware, including computer servers and databanks, amounts to roughly $1.1 million. Uzis, laptops and golden Buddha statutes were also looted from the compound. * Citing political unrest, Moody's Investors Service lowered Thailand's economic outlook from "stable" to "negative."GlobalPost.com launches January 12, 2009.
Related
Popular in the Community