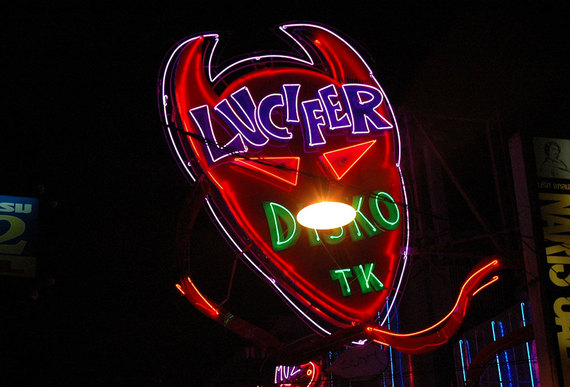 Pattaya is a hellhole. Granted, I stayed there 10 years ago, but Thailand's pleasure dens aren't known for their reformation and rehabilitation. If anything, I imagine this particular seaside town has gotten seedier and scummier, with drugs and prostitution around every corner, and thugs eyeing up tourists like midnight snacks.
Economic downturns certainly don't help such situations. When has a moral interzone ever shrugged off its iniquity when the clientele goes even further downscale?
That's exactly the issue in Pattaya, where hotels are "struggling to survive" due to "Chinese travel agents" pushing for reduced room rates. The issue is the city's reliance on Chinese tourists, who were actively courted in recent years to make up for the loss of European and Russian visitors.
Which makes complete sense. The past years have seen Goa explode as Russia's favorite hedonist hotspot, and well-heeled Europeans find better bargains closer to home. Those euros that still come into Thailand are diverted to the islands, favored by youngsters on gap years and fleeing flat economies at home. If they do somehow wind up in Pattaya, 22-year-old British yobs aren't exactly high-end hotel guests.
The Thai Hotels Association (THA) Eastern Chapter said some local hotels, which may not have strong marketing networks and cash flow like big international chains, had slashed their room rates after a lot of pressure.

Many five-star local hotels sell their rooms at 2,200 baht per night to survive, while four-star hotels charge about 1,400 baht and lower-grade hotels charge only 800 baht.

"Many negative factors have dragged down the hotel business in Pattaya since 2014. Room rates are down by 30-40% from 2013," said Sanpech Supabowornsthian, president of the Eastern Chapter.

Last month, the occupancy rate of local hotels in Pattaya stood at 30%, with some seeing occupancy as low as single digits. However, international hotel chains ran around 65-70%.
Travel agents live and die on booking commissions, and they're the first to smell blood in the tourism waters. During those rare times when they're blessed with bargaining power, they don't hesitate to strongarm hoteliers and other local tourism interests.
According to the Post, Pattaya has about 2,000 hotels with 136,000 rooms. If I had to guess, I'd say half are whorehouses. So, good luck Pattaya. I'm no prude, but you're getting what you deserve.